Bannon runs away with Sebago Fun Run
SEBAGO — While Dan Bannon left little drama in his win at Saturday's Sebago Days Fun Run, there was plenty of excitement when runner-ups Tim Moore, Drew Hill and Dave Sheldrick approached the finish line.
Bannon torched the field with a time of 11 minutes, 38 seconds.
Moore (12 minutes, 21 seconds) had enough kick left to hold off challenges by Hill (12:25) and Sheldrick (12:26).
Carlotta Petersen was the first female finisher, placing 12th overall in 14:37 followed closely behind by Liza Mockeridge in 14:39.
"Congratulations to all the participants! What a great turnout on a perfect morning for the Fun Run. We would like to thank our volunteers for their continued support: Kate Cutting, Michele Rowe, Linda Christensen, Maureen Harriman, Harvey Dutil and Chris Balchunas, also the Sebago Days Committee, all of our generous sponsors and a donation from Ben McKenney," Race Directors Jeff and Marie Cutting said.
Here's how runners and walkers fared on the cool, yet sunny morning:
Dan Bannon, 11:38
Timothy Moore, 12:21
Drew Hill, 12:25
Dave Sheldrick, 12:26
Bob Zager, 13:16
Nicholas Ernst, 13:30
Alex Lamontagne, 13:38
Arthur Donohue, 13:47
Brad Donohue, 13:54
Brian Ladd, 14:09
David Juhlin, 14:21
Carlotta Petersen, 14:37
Liza Mockeridge, 14:39
Luke Blais, 14:43
Nico Russo, 14:59
Keith Fitzpatrick, 15:07
Cyndee Gruden, 15:12
Jake Blais, 15:21
Ethan Chadwick, 15:54
Libby Blais, 15:55
Hannah Chadwick, 16:32
Kimberly Kelly-Brewster, 16:37
Everett Yannelli, 16:47
Karen Hoyt, 16:51
Josh Kenney, 16:54
Brian Kavanaugh, 16:59
Pauline Webb, 17:00
Sasha Gruden, 17:28
Della Blais, 17:39
Tori Girardin, 17:42
Molly Juhlin, 17:56
Alice Doughty, 18:00
Katie Kavanaugh, 18:01
Alexander Amrhein, 18:02
Bella Smith, 18:18
Danica Chadwick, 18:19
Bryce Girardin, 18:20
Andrew Amrhein, 18:21
Juliet Fitzpatrick, 18:23
Timothy Donohue, 18:23
Adam Davis, 18:27
Philip Fitzpatrick, 18:30
Kevin Kavanaugh, 18:34
Annika Amrhein, 18:39
Roshni Amrhein, 18:40
Kelly Winslow, 18:44
Daniel Crouse, 19:01
Walt Bannon, 19:37
Joshua Crouse, 19:48
Grace Yannelli, 20:09
Will Cefalo, 20:12
Kristin Cefalo, 20:13
Noah Rodriguez, 20:35
John Lynch, 20:39
Helena Sheldrick, 20:46
Katie Davis, 20:49
Colleen Lepre, 21:00
Randy Luoma, 21:24
Dan Proctor, 21:27
Janna Botka, 22:31
Joe Balchunas, 23:00
Samantha Alfiero, 23:06
Ashley Alfiero, 23:07
Eleanor Botka, 23:22
Brooke Enokian, 23:38
Katie Enokian, 23:42
Nina Rodriguez, 23:43
Elaine Zimmerman, 23:43
Mark Swanson, 23:44
Olivia Lindsay, 24:45
Alanna Doughty, 24:45
Wendy Cox, 25:19
David Longden, 25:23
Kathy Rodriguez, 25:41
Olivia Hoyt, 25:44
Hannah Hoyt, 25:45
Wendy Moon, 26:30
Julia Donohue, 27:43
Nan Carney-DeBord, 28:00
TJ Carney-DeBord, 28:00
Lisa Anderson, 28:05
Erica Anderson, 28:06
Megan Anderson, 28:07
Scott Wyper, 29:13
Aislin Wyper, 29:13
Ronan Davis, 30:47
Ronny Davis, 30:47
Cindy Smith, 31:31
Ed Keenan, 32:42
Tracey Keenan, 32:42
Judy Dutil, 33:27
Paula Longden, 33:37
Anika Donohue, 33:57
Ellie Donohue, 33:58
Brooke Donohue, 33:59
Ann Moulton, 34:50
Matt Moses, 35:50
Ben Moses, 35:50
David Donohue, 37:58
Timothy Smith, 40:43
Anita Chadbourne-Field, 40:44
Eilene Chadbourne, 40:44
Sheila Googins, 41:46
Jeannette McGurk, 41:47
Stephen Googins, 41:48
Cy Bailey, 42:50
Sean Bailey, 42:50
Kristie Rodriguez, 43:40
Josh Mancino, 43:42
Claudia Campbell, 44:57
Daniel Borst, 44:58
Age Group Medal Winners
10 & Under: F- Bella Smith, M- Nico Russo
11-13: F- Katie Kavanaugh, M- Jake Blais
14-17: F- Libby Blais, M- Tim Moore
18-29: F- Hannah Chadwick, M- Drew Hill
30-39: F- Molly Juhlin, M- Bob Zager
40-49: F- Liza Mockeridge, M- Dave Sheldrick
50-59: F- Karen Hoyt, M- Brian Ladd
60-69: F- Nan Carney-Debord, M- Walt Bannon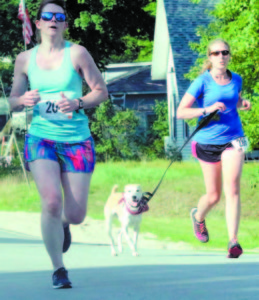 70 & Over: F- Eleanor Botka, M- David Juhlin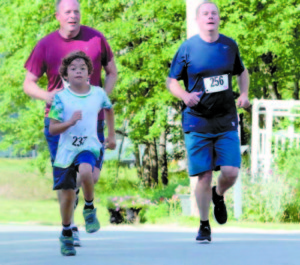 Please follow and like us: