2012 Dam Jam Line Up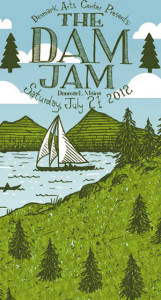 When: Saturday, July 21, 3 to 10 p.m,
Where: Bicentennial Park, Route 160, Denmark. In case of bad weather, music will be moved inside the Denmark Arts Center.
Cost: $10, ages 12 and younger are free. Tickets may be purchased at the door or in advance at The Denmark Arts Center, Bridgton Books (Main Street, Bridgton) or Morning Dew (Bridgton).
What: Art by Randy Regier, six bands and world-famous magician JB Benn. Who is he?  JB is one of the best magicians in the world. With his own TV shows on the A&E and Discovery channels, JB has performed for kings and queens, as well as major celebrities and the rich and famous. JB specializes in close-up magic, that you can touch with your hands and see right in front of you. And it is amazing stuff. Most magic gives off a whiff of the trick when you see it. Not this stuff!
Who: Scheduled musical performers include:
• Samuel James — "…A roots troubadour of the highest order, James will sing you a song with raw, sweat-pouring soul. He'll tell you a story enrapturing you to the point where you'll almost forget he's a musician…"
• The Toughcats — A timeless band that far exceeds your expectations. A mix of old-timey bluegrass, heartwarming indie rock and classic pop rock attributes, they're sure to soothe your soul.
• The Milkman's Union — "…The Milkman's Union is an enigmatic three-piece based in Portland, which is most easily characterized as Indie-rock, idiosyncrasies abound. Drawing from classical, jazz, electronic, and various non-western music, rock grooves with deft melodic hooks and rhythmic flourishes that combine for a unique sound…"
• Cokeweed — Self-described players of music genre "Psychedelic Art Garage," Cokeweed will put you in the mood. Infusing psychedelic rock with soul and blues, the band's sound is reminiscent of early Classic Rock.
• Micah Blue Smaldone — Songwriter, vocalist and guitarist, Micah Blue Smaldone does it all. A founding member of the punk band, "The Pinkerton Thugs," Smaldone is mostly known for his rich solo music. He draws his inspiration from a wide variety of music, from neo-traditional folk to country blues. He just finished touring with Cokeweed.
• Junco — In the summer of 2011, "Junco" was formed, consisting of musicians from Fryeburg Academy's award-winning ensembles. Joining lead singer/songwriter/guitarist Bobby Sheehan were: drummer Jon Dana, lead guitarist Seth Eastman, bassist Kelsey Sheehan and oboist Dan Stackhouse.
Together, the group produced its first CD, "Original Arguments," which was released at a performance at the Leura Hill Eastman Performing Arts Center at Fryeburg Academy on Saturday, June 30. Junco blends a diverse collection of musical styles. While rooted in the sounds of alternative rock, strong influences of folk and jazz are also present.
"Basically, we're a group that comes from all sides of the spectrum. Dan is classically trained; Jon and I have been playing jazz since we were little; Bobby taught himself almost everything he knows; and Seth has played rock since he was little. And even though we are so different, we bring out the best in each other," said member Kelsey Sheehan. "For instance, Bobby will come into a rehearsal with a new song he wrote and he plays a little bit of it so we get a feel for it and then we just play and it ends up sounding amazing. Nobody is really told what to do, we just all work off of each other to make a cool piece of music which is something that rarely happens in a band. It's just so cool to be able to create this kind of music without really discussing anything."
Beer garden
Bray's Brewpub & Eatery in Naples will occupy the town gazebo from 3 to 9 p.m. The beer garden will offer a variety of brews, as well as pulled pork sandwiches and other treats from the barbecue.
You must be 21 years of age or older to consume alcohol, so please remember to bring your ID if you would like to sample the formidable brews!
Kids' Tent
There's only so much dancing infants, toddlers and kids can do, so Dam Jam will offer a special Kids' Tent, where youngsters can be creative.
For more information, go to the Denmark Arts Center website at www.denmarkarts.org
Please follow and like us: