William W. Haynes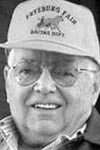 SARASOTA, FLA. — William Walter Haynes, 89, of Waterford, died Dec. 28, 2011 after a brief stay at Sarasota Memorial Hospital.
He was born in Waterford on Aug. 5, 1922, the son of Harry N. and Carrie (Hamlin) Haynes. He was educated in Waterford schools and graduated from Bridgton Academy in 1941. He enrolled in the ROTC program at the University of Maine in 1942, but was called to serve on March 5, 1943. Upon entry into the U.S. Army-Air Force, he was sent to Curtiss-Wright Aeronautical School and served as a crew chief and aerial engineer on B-25s. Upon his discharge as a sergeant on Jan. 25, 1946, he returned to Waterford where he married Diane K. Burnham of Harrison on June 22, 1946.
He worked on the farm with his father through the remainder of the post-war decade but went back to the university on the GI bill in 1950. He was one of eight in the state that year to be awarded an A&P scholarship to study agricultural economics. He graduated in 1954 at the school's 100th commencement with a degree in Agricultural Economics and Farm Management. He began his poultry career with Corbett Enterprises in Winslow. As part of the management team, he was responsible for numerous broiler-growing operations throughout southern and western Maine, including his own which, at its peak, totaled 32,500 birds on a three-month rotation. The company went through several ownerships including Ralston-Purina Co. and Fort Halifax Poultry Co. He retired in 1984.
Bill continued to carry on his family's farming tradition raising dairy and beef cattle, horses, chickens and pigs as well as timber on the South Waterford land that was first purchased by his grandfather, William H. Haynes, in 1874. Three of his great passions were steers, state fairs and his harness horses, especially trotters. He maintained a large stable and actively campaigned them throughout Maine and New England. He would often travel to the spring sales in Ohio, where he would purchase injured horses and patiently nurse them back to health and then on to an active and often successful racing career. Bill was honored at the 2011 Oxford Fair for Uncle Amos, which was the Maine Trotter of the Year in 1972.
He was an active member of the Oxford County Agricultural Society for more than 50 years, twice serving as its president. He also was a longtime trustee of the West Oxford Agricultural Society (Fryeburg Fair) as well as director of Harness Racing until his death and a lifelong member of the United States Trotting Association. Additionally, he was a member of the South Waterford Grange No. 62 where he was honored with a 50-year Golden Sheaf certificate in 2008 and a member of the VFW. During the 1950s and 60s, he held the U.S. Postal Service star route contract for mail delivery between Harrison and Waterford.
Upon the death of Diane in March 1989, he married Judith Williams Munn on Oct. 19, 1989. This year marked the 23rd year they had wintered in Acadia, Fla.
He is survived by his wife of Waterford; two sons, William Harry of Waterford and Frederick Henry of Gray; two grandchildren; and a sister, Ruth Chute of South Paris.
He was predeceased by sisters Helen Haynes and Mildred Noyes.
A graveside burial in the family plot at Elm Vale Cemetery in South Waterford will be held in the spring.
Please follow and like us: