William C. Prouty, 88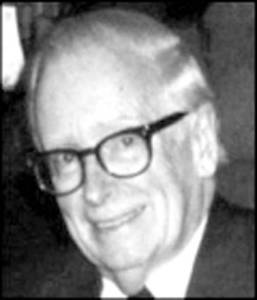 WEST HARTFORD, CONN. — William Carl Prouty, 88, of West Hartford, Conn., passed away suddenly of natural causes on Sept. 6, 2012, in Raymond.
He was born in Portland on Aug. 8, 1924, the son of Clayton and Rebecca Prouty of Cape Elizabeth. He spent his childhood in Portland and at Sebago Lake. He graduated from Harvard University in 1946 and served in the Army Air Force in World War II as a First Lieutenant. He was stationed in a number of countries including India and France. In France, he met his wife, Chantal Prouty (Munier) and married shortly thereafter.
Following his service and college education, he became a member of the Society of Actuaries. He was employed by Aetna Life & Casualty in Hartford, Conn., where he worked in a number of positions as an actuary. He retired from the Aetna as a senior vice president of the Aetna Employee Benefits Division.
Following his retirement, he spent many years enjoying his summer home on Crescent Lake in Raymond. He and his wife enjoyed the opera, and saw many performances together at the New York Metropolitan Opera. He also served as a past President of the Connecticut Opera Association.
He is survived by his wife, Chantal Prouty; his children, Carl Prouty of Granville, Mass., Stephen Prouty of Wethersfield, Conn. and Georges Prouty of West Newbury, Mass.; and three grandchildren.
Visiting hours were held on Wednesday, Sept. 12, 2012, at Hall Funeral Hall, 165 Quaker Ridge Road, Casco. A funeral service will be held on Thursday, Sept. 13, 2012, at 11 a.m., at the Spurwink Church at the Riverside Cemetery, located at the corner of Spurwink Avenue and Bowery Beach Road, Cape Elizabeth. Interment will be immediately following the service at the Riverside Cemetery.
Please follow and like us: