Why Avesta can't build elsewhere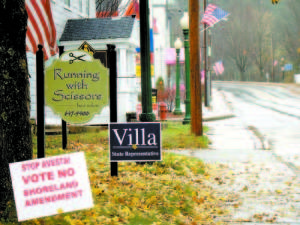 By Gail Geraghty
Staff Writer
Location. Location. Location. It's the mantra for fixing the value of real estate. But in the case of Avesta Housing, Inc.'s plans to build low-income housing for the elderly and disabled, it's the primary reason cited by residents who oppose their plans.
So just why is it that the housing agency cannot consider building its proposed three-story housing project, with 24 one-bedroom apartments, anywhere else than the former Chapter 11 property at 247 Main Street? Many residents have said they'd be happy to support the project, if only it were proposed for an off-Main Street location in the downtown.
The answer lies in the site-specific nature of the funding it received for the $4 million project from the Low Income Housing Tax Credit (LIHTC) program, administered through MaineHousing. According to Avesta Communications Manager Mindy Woerter, when it applied to the LIHTC for funding for the Bridgton project, "We had to select a specific site," she said.
"Based on our site evaluation process, feedback from both funding entities, and the LIHTC scoring criteria, Avesta opted to pursue the Main Street site in November of 2011 as we felt it was more competitive," Woerter said. Neither the LIHTC program, nor Rural Development (its other funding source) required the project to be built on Main Street. But once Avesta's application was approved by MaineHousing, the housing agency was obligated to focus all their designs and planning for the project based on the 29,185-square-foot Chapter 11 property it listed in its application.
"The (LIHTC) funding is site specific, which means we cannot transfer the funding commitment to another site," said Woerter.
The funding from USDA Rural Development is not site-specific, she added.
"Beyond that, we're interested in developing the Main Street site for several reasons," Woerter said. "The project will replace a run-down building with one that's attractive and fits into the context of the rest of Main Street. The project will also be more environmentally friendly to the nearby brook by turning pavement into green space. The project will also meet a critical need for affordable housing for seniors in Bridgton and allow them to live in a community where they have access to goods and needed services. All of these features will add to the vitality of the downtown area by allowing for more people to live and shop downtown, and by encouraging other businesses and organizations to invest in the downtown area."
Questions of location set aside, Woerter said the Avesta project in Bridgton "meets several goals laid out by the town of Bridgton in its comprehensive plan, downtown revitalization plan and site plan review ordinance, so we feel it's an ideal fit for the kind of growth Bridgton wants to foster." She added, "These smart-growth principles of allowing people to live in downtown areas where they can be members of the community and easily access services also fit with Avesta's mission."
Please follow and like us: