Wellness retreat promises to lift spirits, strengthen hearts
By Dawn De Busk
Staff Writer
BRIDGTON — A testament to how much women benefit from and bond at the Mainely Women Wellness Retreat is demonstrated in a few ways, including women returning year after year.
"Forty or 50 ladies come together and get to know one another. We celebrate sisterhood, have lots of fun. A lot of women come in wanting to change their lives. It is not uncommon when they leave on Sunday for the ladies to cry because they have made 10 new friends or 20 new friends," according to Beth Bielat, founder of the retreat in Vacation Land.
"Also, we have people who sometimes come in last minute on Friday. They get a day pass on Friday, and then on Saturday they come back with a bunch of friends," she said. "At the end of the retreat, we have stomachaches from laughing so hard."
There should be a lot of laughter with activities like the blindfold canoe race and a joke-telling pajama party. The Saturday night lobster bake will have a delicious side dish of musical entertainment performed by Kenny Channels.
Inanna, an all-women percussion and vocal ensemble, will hold drumming circles and also perform for the participants. There will be offerings such as healing through sound, loving your immune system, boosting self-worth and desirability. In addition to a group hike on Friday morning, there will be plenty of opportunities for wooded walks or water recreation.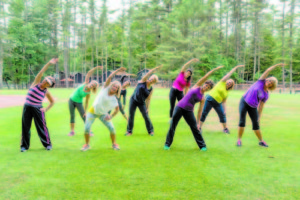 "It is a very transformational weekend," Bielat said of the annual event that includes health, fitness, spirituality, social activities plus arts and crafts.
The Mainely Women Wellness Retreat has been happening for 15 years. However, this will be the first time that the retreat will be held at Tarry A While Resort in Bridgton.
"It is a great location. The staff is wonderful. The food is great. It is very classy. The waterfront is overlooking Highland Lake," she said.
The retreat starts on Thursday, Sept. 6, and wraps up on Sunday, Sept. 9. There is still time to register for this retreat that will ensure some self-time and self-improvement as well as expanding one's social network. People can register for the four-day retreat by viewing the website, www.MainelyWomen.com. To view the schedule, scroll to the bottom of the "About Us" page.
There are a few different options for participating in the retreat: Women can choose to attend the entire retreat or buy a day pass, or pay for a couple of classes held at this new venue.
"Last minute signups are welcome," Bielat said.
It is important to know that the lodging and meals at Tarry A While are not included with the retreat, she said. So, people should contact the resort to make those arrangements, she said.
The retreat has a rich history, including the involvement of Joan Lunden, the former co-host of Good Morning America, when the retreat was held at Camp Takajo on Long Lake in Naples.
Bielat has ties to the Lake Region. She and her husband began the business Bushido Karate Dojo & Fitness Center in Casco Village. During the summer, she offers martial arts classes at Migis Lodge. Bielat makes a living as a life-wellness coach, has authored books and has a seventh degree black belt. She now resides in Andover, Maine.
Bielat is looking forward to this year's wellness retreat.
"The facilitators who teach the fitness classes are amazing. They've been working together for 15 years. They are among the most spiritual, talented, acclaimed trainers in the state, in the country. We offer everything from yoga to breath work," she said.
The mornings start out with Tai Chi and meditation classes before breakfast.
"One of the highlights of the weekend is my trademark, which is LifeBreath. I have been doing it for 30 years. It is a high-level personal health tool to help transform their lives. It is physically rejuvenating and recharging, and it helps with mental focus," she said. "Emotionally — it helps people to let go of the past. Spiritually — it helps people connect."
She urged women to check out the retreat, even if only for a day.
"Men are better at taking time for themselves than women are. They go golfing or fishing. Women are not as good at setting aside time for themselves. This is a special time to hang out with their sisters," she said.
For more information or to register, visit www.MainelyWomen.com or call Beth Bielat, 310-0626.
Please follow and like us: