'We wanted to prove ourselves' — Raiders rally in second half to beat Hornets, advance to state final
By Wayne E. Rivet
Staff Writer
TURNER — Way back in late August, David Turner issued a challenge to his football team.
There were many blank stares and disappointed faces as players slowly walked off their home field after losing 36-14 to Class D Lisbon.
"I remember saying we were going to find out what we're made of. Find out what type of people we are. Find out what type of player you are when you're in adverse situations," Coach Turner said.
Saturday night, the Raiders answered that question.
They are tough, physically and emotionally.
They are talented at all levels, combining brute force with agility and speed.
They possess great team chemistry, quick to pick up someone when they've made a mistake and understanding it takes everyone to achieve success.
And most of all, they believe in each other and their coaching staff.
The Raiders stared down adversity Saturday night, banded together as they did all season, and earned the right to play the game they've "loved since we were little" one more time.
Junior running back Calvin Southwick, who had been held in check for most of the night by a hard-hitting, stingy Leavitt defense, bowled over two defenders at the goal line to score with 1:58 left in regulation to lead Fryeburg Academy to a thrilling 20-13 win over the Hornets.
Winning their first regional title, the Raiders (10-1) advance to the Class C state championship game this Saturday against North champ Nokomis (7-4) at Fitzpatrick Stadium in Portland at 2:30 p.m.
It's been 53 years since a Raider team reached the football summit, and the first time FA is vying for a state title under the Maine Principals' Association tournament.
"It was hard-fought. We were just fortunate to come out on top," Coach Turner said. "Since Aug. 13, we've just kept fighting and fighting. We wanted to practice in the dark, and we've done that — we're playing in the last game. It's a good feeling. I'm really happy for these guys. They've earned it."
As expected, the rematch between the top two clubs in the South was intense, physical and well-played. Both defenses dominated, as the Raiders intercepted two passes while the Hornets put up a goal-line stand, forcing FA to settle for a field goal try — that they missed.
Unexpectedly, there were elements that had dramatic effects upon the game.
The shocker was the passing of Leavitt assistant coach Peter Casey on the eve of the big game. The 54-year-old, who died of natural causes at his home, was passionate about the game and his players.
"His personality filled a room with warmth and kindness," according to Casey's obituary. "He loved people."
Casey's son, Tommy, is a sophomore Hornet lineman and linebacker (the same position his dad played as an All-American high schooler, and later UMO letterman).
To honor their coach, Leavitt players wanted to stay on track. They wanted to play Saturday night, not put the game off to Monday. And despite a field covered with a couple of inches of snow, they wanted to play at home — and not move the game to Lewiston High School's turf field as they did the previous week against Cape Elizabeth due to poor conditions in Turner.
All day, workers pushed snow off Leavitt's field. It was soggy. It was muddy. Nothing new to the Raiders.
"Snow, rain, mud — it makes no difference. With those types of conditions, you just have to adjust and focus on your technique. We did that," Raider captain Reese Kneissler said. "We pounded the ball and stopped them defensively — that was the key."
Never leaving any stone unturned, Coach Turner and his staff talked to Raider players about Casey's passing and what to expect early in the contest.
"When we told them yesterday (Friday), there was a somber tone. We tried to point out to them (Coach David Jones put it quite eloquently) that when you play football, although we are playing Leavitt tomorrow night, they are our opponent but we are all football players. It's a family. It's a brotherhood," Coach Turner said. "So when something like this happens, it affects all of us. The way Leavitt handled this, the way their coaching staff handled this, the way Tommy Casey handled it and played tonight, you feel for them and you feel for his family. We had to come out and play, as well. We wanted to play our best game, hoping that playing our best game would honor him and honor the game (as Coach Jones said)."
A week ago, Leavitt leaned on its running game to pound Cape Elizabeth, and stuck with that same formula early against the Raiders, finding lots of success on sweeps to the left with Damion Calder.
The opening drive stalled inside FA territory as sophomore quarterback Wyatt Hathaway's fourth down pass was picked off by Raider linebacker Jack Campbell.
Fryeburg looked ready to flip field position when senior quarterback Oscar Saunders zipped a pass to Caleb Bowles out to the right sideline, ending up good for 28 yards. But, the dreaded yellow hankies started to fly, and fly often in this one. Back-to-back holding penalties stalled the Raider drive.
Calder went back to work for Leavitt, ripping off consecutive 21-yard gains, putting the Hornets in the red zone. Leavitt kept pounding the ball against the FA front, and eventually scored with 30 seconds left in the first quarter as Allen Peabody broke the plane from two yards out. Stephen Gray's extra point was good.
"They were just beating us. Bad technique. Again, they were amped up. We were amped up, and maybe a little too amped up. We started to calm down and started to focus on what's my responsibility? What's my assignment? I need to make this play, not every play," Coach Turner said. "It was tough and it was physical. Early on, they were playing with a lot of emotion considering everything that happened. We felt we had to curb that, stem the tide."
Linebackers Reese Kneissler and Tucker Buzzell agreed.
"I thought we came out a little soft. We beat them last time and we had that going through our heads. Our fundamentals weren't as good as we wanted them to be," Kneissler said.
"I don't think we were very good with our fundamentals at the start. We were all hyper and wanting to make a big play, and not really doing our job," Buzzell added. "We knew the sweep was their best run play. They had success early, but we toughened up and eventually stopped it."
The Raiders wasted little time to answer Leavitt's score. Bowles bailed the Raiders out of a gaffe on the kickoff as miscommunication by returners allowed the ball to bounce between them and the Hornets swarmed to make the stop on the FA-6. Bowles caught a 12-yard pass from Saunders to provide some breathing room, then ran for five more yards to end the quarter.
If Leavitt was guessing that the Raiders would continue to run the ball to dig out of the field position hole, they guessed wrong. Saunders went deep to senior wideout Nathan Knapp, who made the over-the-shoulder snag and raced 78 yards for a touchdown with 11 seconds off the clock.
"We (Oscar and I) looked at each other and I knew I could beat the guy in front of me," Knapp said.
Saunders saw the same thing. "I took a chance and it worked out. I thought this was one of our best passing games all year."
Eddie Thurston booted the extra point, and the game was tied.
The defenses then dug in and gave up very little. The quarter was a turning point for the Hornets on two fronts.
First, a bad break. Quarterback Wyatt Hathaway was lost midway through the period when he suffered a knee injury, trying to scramble away from Raiders Josh Frye and Kneissler.
Then, a good break. As Saunders was set to unload a pass, he was pulled by his shirt to the ground. Saunders tried to flick the ball over the middle, but the pass was intercepted by Riley Parmenter. With a personal foul penalty tacked on the return, the Hornets set up at the FA-19 with 1:50 left in the half.
Fryeburg tightened up as Liam Chisari and Eli Mahan (who lead the team in tackles with eight) made big stops to force a fourth down play. With 28 seconds left, reserve quarterback Hunter Hayes — just a freshman — showed cool and accuracy under fire, lofting a deep ball that sailed just over the fingers of Caleb Bowles to senior wide receiver Oren Shaw for a score. Gray's extra point dinged the goal post, but the Hornets lead at the break.
Trailing at the half was something new for the Raiders.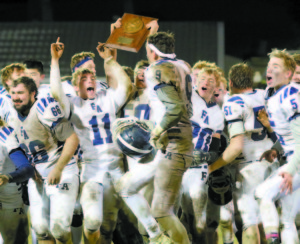 "At halftime, we talked about that we hadn't had a comeback win all year. This was the first one. We were a little ticked off that we were behind. We like getting a lead and then letting the defense do their thing," Buzzell said.
Coach Turner added, "I don't think we even noticed. We allowed them that touchdown, gave them that one. We just needed to play defense, the way we can."
Raider D rises to the occasion
Fryeburg proved the old adage, "Defense wins championships," to be true.
Playing with fire and discipline, the Raiders took command. They shut down the Hornet run game, and didn't surrender a second half first down.
"When they lost Wyatt (Hathaway, the Hornet's starting quarterback), that cuts down a lot of their offense. The freshman (Hunter Hayes) played well. He came in and threw a touchdown. But, Wyatt has been running that team all year. He's a dynamic player, who is a run and passing threat. So, that hurt them," Coach Turner said. "But, they have a great defense, which kept them in the game. It was tough sledding for us on offense."
The Raider D provided the break the team needed to even the game. On third down, Hayes fired a pass to the right, but it was picked off by Nathan Knapp, who returned the ball to the L-36.
With the game in the balance, Saunders took it over.
He completed a 10-yard pass down the sideline to Dawson Jones, and then ran for another five yards. At the L-18, Saunders rolled right and passed along the sideline, where Bowles leaped to make a catch. He was drilled by Leavitt's Gray, but held on as he hit the goal line pylon for a touchdown. The extra point failed.
Over an eight-minute span in the third and fourth quarters, seven flags were tossed. Neither team could find a rhythm, or a break.
"Both teams were physical, which I think contributed to the flags (most of them were holding penalties). Overall, I thought our guys stayed composed. We had two cases in the first half that we were looking at 1st-and-30, yet we made some plays and got within seven yards of a first down. Our guys kept working," Coach Turner said. "It's a physical, emotional game. We have an emotional group of kids, but that's part of why we are such a good defense and play well. They do play with emotion."
Fryeburg had a chance to break the tie early in the fourth quarter. With the defense providing great field position (and Leavitt took a 15-yard penalty), FA started at the L-24. Behind a strong push from the line, the Raiders moved the ball to the L-3, and on fourth down, Saunders appeared to score the go-ahead TD.
But, wait — flag down. The Raiders were flagged for not having enough players on the line of scrimmage. So on fourth down, Coach Turner called for a field goal try. The 26-yard try by Thurston missed.
Leavitt dodged the bullet, and took over on the 20-yard line.
"If I was to do it all over again, I would have gone for it, just to keep them pinned down if we missed. But, I felt, 'why not?' We're down there, defense is playing great, they weren't moving the ball in the second half, and I thought we could make it," Coach Turner said.
Leavitt dug themselves a hole when they were flagged for holding. Back at the L-10, Eli Mahan dropped Hayes for a three-yard loss, followed by big hits from Kneissler and Josh Frye forcing a third down pass. Hayes misfired. Leavitt punted with 5:11 left in the game.
"They're a good defense, so there was no guarantee we would go down there and score," Coach Turner said. "I felt Oscar took over. He ran hard, he picked the right holes, we had good blocking up front, it was big.
It was Oscar Time.
Wanting to make amends for his interception that set up Leavitt's second score, Saunders took control. After completing a sideline pass, the senior ran the ball five straight times, covering 35 yards.
"Our line has been phenomenal all year and our running backs job is to find the hole. I thought we did a good job, except for the penalties," Saunders said.
"I felt there was a point in the second half we took over up front. We started to get more of a push," Coach Turner added. "Oscar was running hard, making some nice reads. We kept putting it in his hands."
Earlier, it appeared Calvin Southwick might become a spectator rather than a runner when he suffered a hit to his ankle. But, he returned and made an impact. Following a good surge by the line, Southwick scored the game winner.
"Nate (Knapp) told me to slap some ice on it (ankle) and get back into the game. I had so much hype going through me, it was fine," Southwick said. "It was tough running up inside. I came out in warm-ups and my cleats had mud up to my ankles. Down at the goal line is a tough place to be because they were stacking up everyone on the inside. We needed for everyone to do their job and to just keep pushing."
Thurston's extra point was good.
With under two minutes left, Leavitt went to the air in hopes of a miracle. Hayes completed his first toss to Camden Jordan for nine yards. But, there would be no fantastic finish for the Hornets — Eli Mahan and Josh Frye saw to that. They brought the heat, forcing quick and errant throws, and a flag for intentional grounding. Mahan finished the job with a sack on fourth down, setting off the first of several celebrations along the Raider sideline.
"We knew if we could get pressure on the quarterback, throwing the ball would be very difficult. Plus, we have a lot of dependable defensive backs who we know can stay with their guys. If we do our job, they will do their job," Frye said. "Every single day after practice, our strength and conditioning coach comes out and we do 10 to 15 minutes of cardio or stretching to make sure that we are game-ready. I feel it's been a very key part to our stamina being high, playing both sides of the ball nonstop. We were really motivated, and we trust the guys behind us to make plays."
As players hugged and sported huge smiles as captain Tucker Buzzell lifted the championship plaque above his head, the Raiders felt they were now a step from accomplishing their ultimate goal — winning the state title.
"We played in three inches of snow and then a bunch of rain so tonight was just a typical game for us," Southwick said. "I've been with these guys since we were little kids and to get to this point, it's incredible. Hard work does pay off. After the past two years, losing in the same spot (semifinals), it feels so good to get past that point."
"It was pure elation!" Kneissler added. "All these guys have worked so hard. It's a great moment."
"It was a little deflating when we had big plays brought back by penalties, but we just kept our heads up and kept playing," Buzzell said. "When we lost that first game, we wanted to get on a streak. We're still going. We've worked really hard to get to this point."
"It's an incredible feeling. We go to practice every single day, work our butts off, hit each other, and for the fact we haven't won a state championship in nearly 60 years, to be the first team to go out there and win this game to move on to States and look at the banner in our gym, it's an amazing feeling," Frye noted. "What really motivated us was that no one was choosing us — we were always the underdog no matter what game we were in. If there was a big game or small game, it always seemed like, 'It's just Fryeburg Academy. We're going to go down there and win by X amount.' We wanted to prove ourselves."
Indeed, the Raiders proved they are the best in the South.
Now, there is just one more test to pass — can they win it all?
When asked what the team needs to do this Saturday to win that elusive crown, players were in agreement — "We need to improve on everything, especially the penalties."
"Offensively, I think there are times we get complacent. When we have drives that we're on, we're on. We need to do that every drive next week," Buzzell added.
Coach Turner admitted he hasn't slept much over the past few weeks as he prepared his club for the next game. Now, there is just one more chess match to win — beat Nokomis.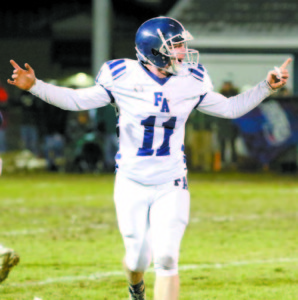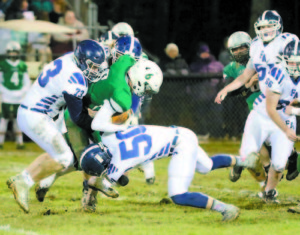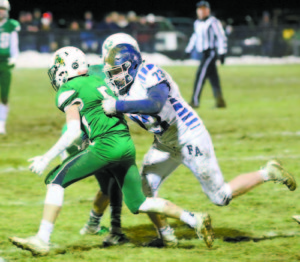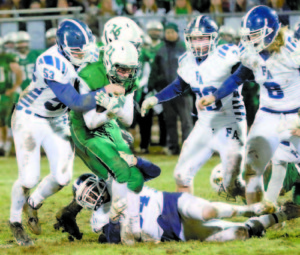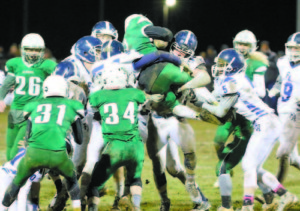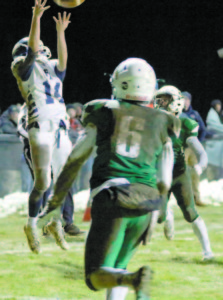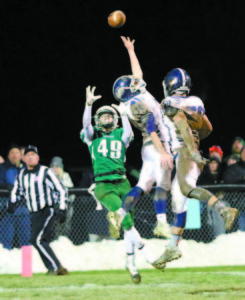 Please follow and like us: