Vivian Mary Moores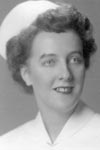 GLOUCESTER, MASS. — Vivian Mary Moores, 82, of Gloucester, Mass. and Center Lovell, passed away on Friday morning, April 8, 2011, at Putnam Farms, Danvers, surrounded by family and caring friends.
Born on Fogo Island, Newfoundland on April 18, 1928, she was the daughter of the late Wilfred and Nellie (Payne) Verge.
Vivian graduated from high school in Newfoundland and studied nursing at Herbert Reddy Memorial Hospital in Montreal. In 1952, she moved to Boston and later to Annisquam in 1954. She received her bachelor of science degree in Nursing (magna cum laude) from Salem State College in Massachusetts and her master of science degree in Nursing with a Gerontology Nurse Practitioner specialty from the University of Massachusetts, Lowell. Vivian also undertook advanced studies at Harvard Medical School in clinical medicine and physiology for nurse practitioners. For many years, Vivian was a staff nurse at the Addison Gilbert Hospital in Gloucester, Mass. and later a clinical supervisor and classroom instructor at the AGH School of Nursing. She then worked as a Registered Nurse and Nurse Practitioner for the Haverhill Visiting Nurses Association, specializing in geriatric home care, health monitoring and grant development. She was a member of Sigma Theta Tau (National Honor Society of Nursing) and the American Nurses Association.
Vivian approached life with a profound sense of duty to others, characterized by her deep devotion to her family and her commitment to the care of elderly people in her community. She identified fully with her Canadian and Newfoundland heritage, completely enjoying her trips "back home," and visiting often in her mind through cherished memories as her health declined. Vivian was a consummate craftswoman and leaves a legacy of beautiful quilts, braided rugs, embroidery and tatting. Her menu of comfort foods such as turkey dinners, country ribs, date crumbles, coffee cakes and peanut butter bars will last forever in the minds and on the waistbands of those who knew her.
Vivian loved her time spent in Maine with her family, and later in life as a resident of Center Lovell, Maine as she pursued her passion for bottle collecting and antique furniture. Put simply, she lived life in full, with honesty and spirituality, always placing others before herself, and exemplifying peace and dignity, and will live on as those who knew her strive to do justice to the standards she set.
Although her voice is quiet now, its echoes can still be heard on a tranquil Maine lake at dawn and seen in clear, trusting eyes of senior citizens. Many heard her message of the beauty which lies in simplicity and integrity.
She is survived by her former husband, Carl Moores of Gloucester, Mass.; her two sons, Ian W. Moores of Rockport and Keith Moores of Manchester-by-the-Sea, Mass; five grandchildren and two step-grandchildren; and a beloved niece and nephew.
She was predeceased by two sisters, Elizabeth Strong and Pauline Howell.
Her funeral service will be held at the Annisquam Village Church at a later date, followed by interment in Mt. Adnah Cemetery, Annisquam, Mass.
In lieu of flowers, contributions may be made in Vivian's memory to the Annisquam Village Church, 820 Washington St., Gloucester, MA 01930 or Hospice of the North Shore, 75 Sylvan St., Suite B-102, Danvers, MA 01923.
Funeral arrangements are being conducted by the Greely Funeral Home, 212 Washington Street, Gloucester, Mass. For online condolences, please visit greelyfuneralhome.com
Please follow and like us: