Virginia D. Tobin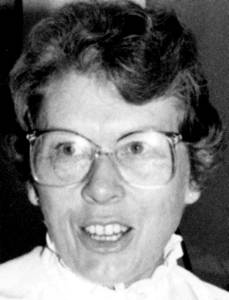 GRAY — Virginia (Ginny) Deering Tobin, 82, of Gray, passed away on July 2, 2012.
Ginny was born on April 21, 1930, to Donald and Marion Meserve Deering. She graduated from Gorham High School in 1948 and Northeast School of Business. She worked for The First National Baking Company and later for the Gray-New Gloucester school system. She was loved by the students and the people whom she worked with there. After retirement, she worked at King and Bartlett Sporting Camps where her husband, Jim, was a guide.
In her early years growing up on Deering Farm in Scarborough, she developed a love for animals, especially her favorite horse, Billie Beck, and beagle dogs. She loved spending her summers at Sebago Lake helping Aunt Margaret out with the camps.
She married the love of her life, James P. Tobin on June 10, 1950. During their 62 years together, they both loved the outdoors — hunting, fishing, skiing and spending time at their camp on the North Branch of the Dead River.
Ginny and Jim loved to travel. They shared many memorable trips including taking their fifth wheeler to Florida and Alaska. They also traveled to Hawaii, British Columbia, the Bahamas and took many fishing trips to the Great Lakes, Quebec and canoe trips down the Allagash, Moose River and more.
She was a member of the Gray American Legion Auxiliary.
Ginny is survived by her husband Jim of Gray; three sons, Terence of Panama City, Fla., Timothy of Bridgton and Thomas of Gray; two grandchildren; and several nieces and nephews.
She was predeceased by her parents; and brother Donald Deering Jr.
Graveside services will be held at 11 a.m. on Saturday, July 14, 2012, in Gray Village Cemetery. Pastor Darwin Vail will officiate. Arrangements entrusted to Wilson Funeral Home, Gray. www.wilsonfuneralhome.us
In lieu of flowers, donations may be made to: Gray Fire and Rescue, 125 Shaker Rd., Gray, ME 04039.
Please follow and like us: