Village Folk Festival seed to be planted in August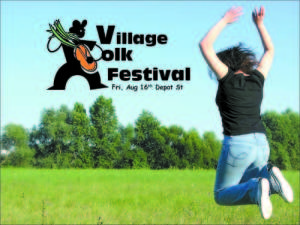 By Wayne E. Rivet
Staff Writer
Lucia Terry and Nicholas Chalmers hope to plant a seed this August, which will later bloom into an event that people will make part of their summer festivities.
Village Folk Festival is their "shared vision" for Bridgton.
After being away from his hometown, Chalmers returned to his old stomping grounds and immediately noticed major "cultural changes."
The library had developed a "courtyard," where on any given sunny day, chairs and tables are occupied by people of all ages, either surfing the Internet on laptop computers or tablets, or others flipping through pages of their newest release.
A magnificent theater had replaced a crumbling movie house. An old Army center was transformed into a vibrant community center.
A new intown park emerged, complete with a scenic covered bridge — an example of a community coming together to make a project a reality, as well as creating a monument in memory of a man (Robert Dunning), who held his town close to his heart as a volunteer and public servant.
And, a farmers' market thrived, bringing many talented individuals to one center, where they could sell their wares to consumers who value fresh products at a reasonable cost.
"There are a number of incredibly talented people in this area. They're in nooks and crannies, hard to find, but they're out there. We want to bring them all together," Chalmers said. "A lot of creative force out there."
Chalmers and Terry hope to tap into that unique "creative force" in the form of a folk festival.
Every neighboring town seems to have their own "fair" week.
Last week, Harrison held Old Home Days.
This week, it is Sebago's and Lovell's turn.
Next week, Casco will hold its town festival for the 78th time.
Several attempts have been made in previous years to put Bridgton on the summer fair map, but results have been somewhat mixed — good intentions, good efforts but low turnouts.
So, Terry and Chalmers plan to take a different approach. The focus will be on locally-grown food, local crafts, educational and participatory demonstrations and homegrown music talent.
"We want to celebrate the area's unique charm through its history and people and their many talents and skills. We don't want to be another 'Old Home Days.' We want to do something different — homegrown, homemade, a day of music," Terry said. "We want to focus on local artisans, farmers and craftspeople, who can provide hands-on demonstrations for everyone — young and old."
Because planning started a bit late, Terry and Chalmers said Village Folk Festival 2013 will simply be a "taste" of what's to come.
"We're starting small with the expectation of growing the festival year after year," Chalmers said.
The Village Folk Festival is scheduled for Friday, Aug. 16 from 3 to 10 p.m. on Depot Street — rain or shine. A portion of the street will be closed off to vehicle traffic.
"The big missing piece this year will be vendor booths. We're trying to get as many people as we can. We started late in the planning season, and many people are already committed this year to other events," Terry said.
The "smaller scale" 2013 lineup will include a "garden-to-table" cookout featuring local meats and vegetables, as well as a bean recipe contest. Several local restaurants have already signed on including Campfire Grille, Black Horse Tavern, Olde Mill Tavern, Depot Street Tap House, Standard Gastropub, Tom's Homestead and Ricky's Diner. Bean entries will likely be judged by members of the Bridgton Board of Selectmen.
There will also be a silent auction.
Musicians interested in performing on the Depot Street stage should contact Linda at lintcoop@yahoo.com
For those home garden enthusiasts, farmers, craftspeople and artists interested in being part of the festival, contact Lucia Terry at terry.lucia@gmail.com
Please follow and like us: