Verna Vose
EASTPORT —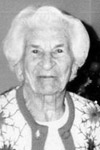 , 102, died Sept. 25, 2010 while living in Pittsfield, at the Sebasticook Valley Health Care Facility with her younger sister Ada, who is 99.
Born in Eastport on April 8, 1908, while Teddy Roosevelt was completing his second term, Verna graduated from Shead Memorial High with high-level math skills, and even greater basketball skills. During the thriving '20s in Eastport, she worked for several firms as a bookkeeper until the hard times of the '30s took her to Portland in search of work to help support her family. In 1936, she met and married Ralph Vose, also formerly of Eastport, and they moved to Stoneham, Mass. where two sons, Bob and Don, were born in 1945 and 1946. A loving mother and homemaker until 1964 when the boys graduated from high school, she and Ralph moved to Bridgton to the old Brigham property, where Ralph subsequently retired from his executive role in the St. Johnsbury trucking company to join Verna in a happy retirement.
A tireless volunteer in Bridgton, she once logged more than 2,000 hours in one year at the Bridgton Hospital. Widowed in 1975, she stayed in the Bridgton area until the early 80s when she moved to Boynton Beach, Fla. to be near her older son Bob. She returned to Maine in the late 90s to resume living in Eastport with her sister Ada until they both subsequently moved to the Sebasticook Valley Health Care Facility.
She is survived by her two sons, Bob of Jupiter, Fla. and Don of Boxford, Mass.; a granddaughter; nieces and nephew.
Donations in her memory may be made to the Doberman Rescue Unlimited, 52 Tenney Road, Sandown, NH 03873.
Arrangements are in the care of Mays Funeral Home, Calais and Eastport. Condolences and memories may be shared at www.maysfuneralhome.com
Please follow and like us: