Upton designs winning Lovell race logo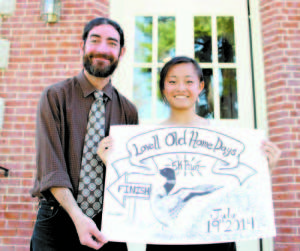 Alison Upton, a junior at Fryeburg Academy, submitted the winning design for the Tenth Annual Lovell Old Home Days 5K Run t-shirt.
As part of the competition, students are asked to incorporate the themes of Lovell and running into their artwork.
Alison lives in Lovell, is a member of the Honor Society, plays lacrosse, enjoys graphic design and loves spending sunny days on Kezar Lake.
For creating the winning design, Alison receives a $100 prize, as well as the pleasure of seeing her artwork on shirts around town!
Steve Pullan, the Academy's art teacher, assisted the committee in making the selection.
This year's run is on Saturday, July 19 at 9:45 a.m. Only the first 100 registered runners are guaranteed a T-shirt, so please sign up early. Applications are available in local stores or by contacting race director Stan Tupaj at stan@fairpoint.net or 925-1500.  Registration is also available online at www.Running4Free.com
Visit www.lovell5k.com for more information, photos and past records.
The 5K run precedes the Old Home Days Parade and begins the day's festivities. Family members are encouraged to cheer the runners along the route, enjoy the parade and participate in all of the activities at the Lovell Athletic Field, including the popular (and free) Lollipop Run for children.
Please follow and like us: