Uppermost House: The man in the middle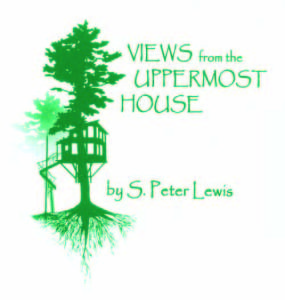 By S. Peter Lewis
BN Columnist

On a quiet afternoon two weeks ago, I did something I'd never done before, a wonderful something, a something so precious that most men never get to do it. With the late spring sun streaming in the window and a hot cup of coffee in my hand, I sat down at the kitchen counter and wrote out two Father's Day cards, the first to my dad, and the second to my son.
This is a rare thing. A mathematically rare thing. Because you need three men and a great-grandchild for it to work. And we just happen to have that setup in our family now, with the arrival last year of my son's new daughter, Sophie.
And so I am a man in the middle. At one end is my father, who has been a father for 54 years. In the middle I stand, a father for 29 years. And at the youthful end is my son, a father for just over one year (366 days, he'd tell you, smiling from ear to ear).
I sat looking at the two cards, marveling at both the opportunity and the huge swelling lump in my chest. How many men get to do this? And how many men get to love two fathers this much? Oh how thankful I was!
While both cards were honorable and kind, the card to my son had a more dignified air, with a sophisticated italic font and praise-laden words meant to encourage him and to spur him on to good works. I added something so sappy at the end that I needed a tissue to finish it.
The card to my father was rather silly (a family tradition), with a cartoonish font and goofy artwork that somehow involved a cat (another common theme in our family). I ended it with this cheerful encouragement: "I hope your food dish is full, your water bowl is clean, and your litter box is fresh." I realize that without the context this may seem a bit odd to you, but trust me, I'm sure my dad got a bit choked up over it, and he probably had to blow his nose halfway through reading it.
Neither my father nor my son is perfect; and, of course, I too am flawed. But we share many good things, not the least of which is the great hope that our children will be better than we are. Not richer, or smarter, or more successful in the way our backward world defines it, but rather more faithful, more committed, more joyful, more loving, more willing to pour themselves empty for the sake of others.
And for me this isn't just wishful thinking, but a passionate, heart-burning, falling-on-my-knees determination. The apostle Paul exhorted the leaders in the church in Corinth with these words: "Be on the alert, stand firm in the faith, act like men, be strong. Let all that you do be done in love." That is the prayer and exhortation that I pour into my son, with this addendum, And do it better than I have!
When I look into my granddaughter Sophie's eyes I can see into the future. Sure, it's a bit fuzzy, but things are becoming clearer as I watch my son grow and mature as a husband and father. Yes, my boy knows how to change the oil in his truck, but he also knows how to change a diaper. And no, he won't buy a cheap garden hose (it kinks), but neither is he likely to pacify his daughter in the future by throwing money at her and then running off to hang out with the boys. Sophie's future looks bright.
And so I licked the envelopes and sealed them and slide them carefully to the edge of the counter to go out with the next morning's mail. And I wiped my weepy eyes and thanked my dad for having me, and my son for being mine.
Please follow and like us: