Trevor Robinson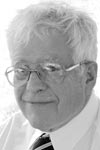 AMHERST, MASS. — Trevor Robinson, 82, died on May 12, 2011 at the Fisher Hospice Home following a stroke that took place in Maine.
Trevor was born on Feb. 20, 1929 in Springfield, Mass., the son of Thomas F. Robinson and Helen Alice Dalton Robinson. Trevor grew up and started school in Chicopee. He finished his high school education at Exeter Academy and went to Harvard University, where he graduated with a bachelor's degree with honors in 1950 and his master's degree in 1951.
In 1952, Trevor married Laura Barme of Boston, Mass.
Trevor continued his education at the University of Massachusetts, receiving a master's degree in education and earned his Ph.D. in plant biochemistry at Cornell. They moved to Amherst in 1961 when he accepted a position at UMass, and lived the rest of his life there.
An expert on alkaloids, Trevor wrote The Organic Constituents of Higher Plants and The Biochemistry of Alkaloids. Besides his teaching and research at UMass, he was a gentle and effective negotiator on the Grievance Committee there.
Trevor also loved building furniture and reproducing musical wind instruments from those he measured in museums in Europe and Boston. He wrote The Amateur Musical Wind Instrument Maker to assist others in doing the same. In addition, anyone who went to a Valley Light Opera production probably saw a prop he made, such as the ship's wheel now in the hall of his house.
In recent years, Trevor enjoyed buying and selling antique tools via the Internet. He is remembered fondly by all who had the pleasure of visiting his impressive workshop. Trevor was a skilled cook and gardener and enjoyed preparing delicious meals from different ethnicities.
A devoted member of Mt. Toby Friends Meeting, he held every position there (except treasurer). He was a member of the committee that built the meeting house and he is remembered for his hand in the design of the worship benches and a signing table.
An avid traveler, Trevor took his family on many adventures in the United States and Europe during the summer months, and enjoyed sabbaticals in Hamilton, Ontario; Liege, Belgium; Graz, Austria; and Norwich, UK. From an early age, Trevor spent summers in Bridgton, the town his grandfather grew up in. He was a supporter of the Lakes Environmental Association and an active participant in events at the Narramissic Historic Farm.
Trevor was a beloved husband, great father and grandfather, and a mentor to so many students, colleagues, and fellow tool collectors over the years.
He is survived by his brother Peter; his wife Laura and their children June (Cassidy), Heather (Friedman) and Mark; and six grandchildren.
A memorial service will take place on Saturday, June 25 at 2 p.m., at the Mount Toby Friends Meeting House (Route 63, 3 1/2 miles north of North Amherst). All are welcome.
Please follow and like us: