Town has a new calling card…'Love always, Bridgton'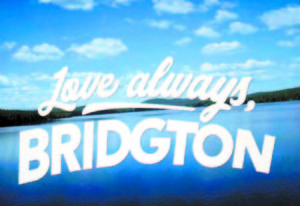 By Wayne E. Rivet
Staff Writer
When Diana Nelson of Black Fly Media was looking for a catch phrase for Bridgton's new marketing venture, she found it carved into the side of Pleasant Mountain.
L-O-V-E.
"It's the best billboard ever created," Nelson told about 130 people gathered in the Mayfair Theater of the Magic Lantern Monday for a special reveal of Bridgton's new tagline.
Through research and interviews with business owners, residents and tourists, Nelson found a prevailing theme — people have a true love for the town.
Thus, the tagline, "Love Always, Bridgton."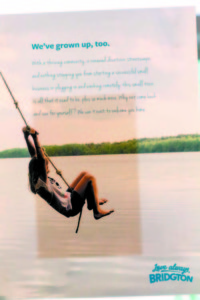 Monday's "reveal" included the premiere of a two-minute film "celebrating the town we love." The video captured a number of Bridgton's scenic spots, while also featuring interviews with Lee Eastman, owner of Everlast Roofing on South High Street, Carrye Castleman-Ross, owner of Depot Street Tap House, and resident Jim Dillon.
The video can be seen on the town's redesigned website: bridgtonmaine.org
The town hired Black Fly Media of Portland to define Bridgton's unique characteristics from which to build an integrated branding and marketing campaign, which includes logo and advertising design, public relations and social media outreach through 2017.
The towns' campaign goals include creating a sense of pride among existing residents, encouraging young families to return home, attracting active retirees and enticing developers and investors to look to Bridgton for their next project.
"This is our Renaissance and the perfect time to launch this national campaign; real estate prices and interest rates remain low, development is happening and you can walk in any direction and hit a body of water," said Bridgton Town Manager Bob Peabody, who opened the reveal program. "We're not just a pass through town on 302 – Bridgton is a destination and we want everyone to know about us."
Peabody said the marketing effort was prompted by the 2014 Comprehensive Plan, which laid out strategies for improving buildings and streetscapes, growing the full-time population and local economy, and enhancing day-to-day life in Bridgton.
Taxpayers raised $19,000 in the 2016–17 budget to hire Black Fly. In the current budget, $25,000 from the TIF money is being used for Phase 2 of the project, Peabody pointed out.
"They hit the ground running in February to research, interview, film, write, design and bring to life a brand that honors Bridgton's past and present, while also inviting a new generation of neighbors and business owners to see their futures here," Peabody said.
The marketing research included months of interviews with selectmen, business owners, townspeople, realtors, developers and young families that grew up here, but now live away.
The research revealed that beyond its lakes and hiking trails, Bridgton's unique characteristics were three-fold: affordability (Nelson said Bridgton is one of the most affordable mountain towns in the country), practicality (with a hospital, small businesses, "you don't have to leave town to live here") and an indescribable love for Bridgton that is felt by all, but for different reasons.
The word "LOVE" has served as the town's unofficial billboard since the 1940s when a group of locals carved the ski trails, spelling the word on the side of Pleasant Mountain, now known as Shawnee Peak.
"I wasn't sure that any town could own the word 'love' until I saw this campaign," Peabody said. "But when we first saw this work, we were blown away. We couldn't wait to share it."
Peabody hopes this effort will reignite a sense of pride for current residents and continue the attraction of new families, entrepreneurs, businesses and investment to the town.
"With only 5,200 year-round residents and a population that doubles in the summer, not everyone wants to see the same thing happen in town," said Greg Watkins, Bridgton Board of Selectmen chairman. "But this tagline is universal and was unanimously approved by our entire board."
Watkins, who felt the video "hits the nail on the head" as to what makes Bridgton a "hidden gem," added that, "regardless of what you envision for Bridgton's future, love is what keeps us here or keeps us coming back."
Diana Nelson, director of communications for Black Fly Media, closed out the event encouraging people to take photos of their favorite Bridgton spots and send them to Black Fly for possible inclusion in other promotional material.
Material already created include posters and postcards. All attendees left the theater with a "swag bag," which included a bumper sticker and postcard. Photos of the promotional posters were posted on a private community page, which received over 3,000 views.
Bridgton joins a small handful of other Maine municipalities that have invested in successful branding and marketing campaigns, including Lewiston/Auburn, Moosehead Lake, Westbrook and Biddeford/Saco.
Since 2014, several new buildings have popped up downtown and a Main Street streetscape project is in the works to complement recent improvements on Depot Street. The town is actively investing in many improvements and is pursuing a new and expanded wastewater/sewer system and improved broadband service.
"It is fantastic to see the town investing in smart economic growth and the creation of new jobs so that our young people can come back to live and work in the place they call home," said Sue Mercer, executive director of the Greater Bridgton-Lakes Region Chamber of Commerce.
Please follow and like us: