Top 10 sports stories
By Wayne E. Rivet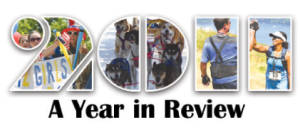 Staff Writer
As a new sports chapter begins here in the Lake Region with the arrival of 2012, let's take a look back one more time at the top stories of 2011:
10. Dropping down? When a sports program compiles a 10-61 record over eight seasons and begins to lose student interest, it is time to take a hard look at options and solutions. Lake Region football is at a crossroad as the New Year arrives. Athletic Director Paul True will seek public input tonight regarding whether it is in the best interest of the football program to drop down a class, from "B" to "C." The move, True believes, will allow the program a chance to rebuild while also offering athletes a chance to be "competitive." The only drawback to the shift would be no playoff appearance for the Lakers. After a 0-8 season in 2011 and shrinking numbers, the Lakers hardly seem prepared to unseat perennial powers or programs headed on the way up for a playoff spot in Class B West. So, a move down could make the Lakers more competitive (not be behind 24-0 or 30-0 at the half each week) and thus breathe new life into the program. A decision to petition the Maine Principals' Association to reclassify must be made by Jan. 25.
9. Sports done right. Andrew Carlson of Casco proved that good people can finish first in sports. Andrew admits he has never been one of the best athletes on the field, so to distinguish himself from other athletes, he focused on sportsmanship, work ethic and leadership.
"I believe that athletic ability declines as one gets older, but something such as sportsmanship never will," he said. "I always keep my head up during sporting events, whether we are losing or winning, it is always important to keep a good attitude. I always try to encourage my teammates, in track and cross country."
Andrew was one of three Maine student-athletes to receive the Hood Good Sport Scholarship in recognition of his good sportsmanship and positive influence in the community.
Dan Dors, who coaches varsity cross-country, said Andrew "is one of the top student-athletes I have had the pleasure of coaching over the past 50 years."
"He is a born leader — someone who I could always count on for putting forth an excellent effort. No matter what sport Andrew was involved in, he was always respected by his teammates," Coach Dors said. "Andrew was always very coachable. I can't think of a better person to receive this award — a truly outstanding young man. He will be a success at whatever he chooses to do in life."
8. Still breaking records. Every year, a Bridgton 4 On The Fourth Road Race record falls. 2011 was no different. While Colin Peddie's record has stood the test of time (24 years), the 2011 race saw a record number of entries (1,910) and finishers (1,850). If interest continues to grow and the race remains blessed by good weather, Race Director Jim Cossey could be faced with turning people away in 2012. To insure the safety of all participants, the race can only accommodate 2,000 competitors. 2012 could be the year the cap is reached.
This year's race had a couple of interesting twists. Peddie was the honorary starter, while five members of a Coast Guard unit made a trip to Bridgton to run, just a day after arriving on a cutter from Norfolk, Va. to Portland. Also, two longtime cyclists used the race to celebrate their long climb back to sports participation. The two friends — Mark Arnold and Bill Dexter — were struck while riding their bicycles on Route 113 in Fryeburg in July 2010. Both suffered serious injuries, but recovered to run Bridgton. They were joined by other family members, taking part in the race as Team Dexter.
Tom McNulty of Raymond refused to let distance keep him from running a four-miler. Stationed in Afghanistan, McNulty and fellow servicemen ran a four-mile out-and-back course on July 2, starting at 4:45 a.m. It was 80 degrees at race time. A longtime 4 On The Fourth runner, McNulty received a 2011 Bridgton race t-shirt from Race Director Cossey.
7. Close, but just short of the prize. As their respective seasons progressed, players and coaches realized something "special" was happening. Lake Region returned to girls' basketball dominance with a 17-3 record, losing to eventual state champion Leavitt in the Class B West semi-finals. Entering 2012, the Lakers — with a talented core group of juniors and sophomores — have made a statement that they will be a top challenger to Leavitt this season, starting 6-0 and dominating the opposition.
The Fryeburg Academy field hockey team nearly accomplished something no other Raider team had done
before — earning a Number 1 seeding. A late season loss dropped the Raiders to second, opening the door for York to claim the top spot. The Raiders had a high-octane offense fueled by speedsters Sage Hennessy, Christina DiPietro and Maddy Smith that enabled FA to beat York and roll to 12 wins. Unfortunately, the Raiders stumbled in their home playoff quarterfinal game to Mountain Valley, 2-0.
6. Simply, the best. Although their respective teams were unable to claim state titles, five athletes saw their long hours of work, their determination and their talents push them to the top of their sports. State champions included: Fryeburg Academy wrestlers Stefan Emery and Connor Sheehan, who both went undefeated; Lake Region alpiner Jack Tragert, who won the giant slalom title; Fryeburg Academy's Jamie Gullikson, who cleared the bar at 9-feet 6-inches to win the Class B pole vault title; and FA's Silas Eastman defended his cross-country title this fall. A junior, Eastman will be a favorite to win three straight crowns in 2012. Congratulations!
5. Safety vs. opportunity. Like any mother, Pam Melville wanted what was best for her nine-year-old son. The boy is autistic, and baseball was her son's "lifeline."
"The sport connects him with other children, and is the only 'normal' environment he has a chance to be part of," she said.
The boy's baseball season, however, was cut short when the local league suspended him after he allegedly tossed his helmet and bat. Some parents complained to town officials, who ultimately handed down the suspension. Bridgton Town Manager Mitch Berkowitz said the decision was solely based on other players' safety, not the child's "underlying medical condition."
4. Ignoring time. Jane Gibbons of Sweden refuses to let Father Time dictate her life. Jane became the seventh person to complete the game, "Red-lining," hiking all the trails (total of 1,420 miles) in the Appalachian Mountain Club (AMC) White Mountain Guide. At the age of 74, Jane accomplished this task on Wednesday, July 6, on the Black Angel Trail at its intersection with the Carter-Moriah Trail.
What's next? Jane enjoys doing trail work with the Maine AMC chapter and occasionally leads hikes for the New Hampshire and Maine chapters. She co-led an excursion to Bryce and Zion National Parks for AMC.  She intends to "red-line" Marita Wiser's book, Hikes in and around Maine's Lake Region, some of which she can do with her five-year-old granddaughter, Soleil Huang-Dale of Fryeburg and Soleil's parents, Greg and Jenny Huang-Dale.
Jane hikes regularly with women from the North Conway-Jackson area and bikes on Thursdays with a mixed group from that area.
3. Finally, a reality. There were times when the idea of developing a first-class sports complex in Bridgton was simply a pipedream. Too many financial and environmental barriers. Too much government (state and local) red tape. Not enough support. Bridgton Recreation Advancement Group's (BRAG) Founding Fathers ran out of gas — 10 years of trying to get the idea from a blueprint to a reality can be both frustrating and tiresome — and handed the baton to a new group led by Bill Macdonald, Dan Edwards, Jon Evans, Larry and Lyn Carter and others. Their enthusiasm and hard work paid off in October as Sports Field Inc. of Monmouth "cut" infields for new major league, Babe Ruth and softball diamonds at the BRAG sports complex. Financing came from several sources, from the Kendal C. and Anna Ham Charitable Fund to a Major League Baseball grant (an assist goes to local resident Dave Bush, who is a major league pitcher) to the Carter's fundraising to build a softball field in memory of their late daughter, Laurie.
Work continues at the site — located just off Route 302 (near Lampron's) on Brag Way or off Home Run Road (off Sandy Creek Road). Backstop fencing has been installed, and dugout construction continues.
Although the fields will remain quiet in 2012 as the grass matures, BRAG officials hope to hold some type of celebration. Soccer play could begin in the fall.
2. Ironman. Mike Galoob of Peace Dale, R.I. claimed the title of Lake Region "Ironman" with a record-setting effort at the Great Adventure Challenge in August. Ironically, Galoob, 37, almost didn't sign up for the triathlon because he doesn't own a suitable kayak. Galoob borrowed one at the last moment and scorched the 84-participant field in record time — 1 hour, 58 minutes, 30 seconds.
"I hadn't done any multi-sport races before so I wasn't sure what to expect. I was hoping to be competitive in the bike and run legs," Galoob said. "I've been riding and running all summer and have done a couple of bike and running races. I didn't know how competitive the kayak leg would be. I saw some very fast boats in photos of previous events, and the paddling course record is quite fast."
Once Galoob found a good kayak, he located a camping site nearby and packed up his family for a weekend trip to Maine.
"I hadn't practiced paddling in years and the boat was very tippy and uncomfortable for me. I was surprised how sore my legs were when I finished the paddle," he said. "It took several miles into the bike ride for them to start to recover. But while I felt pretty terrible during the switch from paddle to run, I think it was ascending the ski slope at the end that was truly difficult. It was hot and steep, tough to keep moving, let alone trying to do it quickly. I'm still sore this morning (Monday)… It was a perfect venue to bring your family and friends, and was all the better in raising money for a good cause."
Organized by Rob Knowles, the Great Adventure Challenge is a fundraiser for Good Neighbors.
1. Diamond perfection. When Fred Apt took over the Fryeburg Academy varsity softball program, few people would ever have predicted the Raiders would become somewhat of a dynasty. Since a 1-15 season, the Raiders steadily climbed the ladder. They became a playoff team but lost in the semifinals. Since then, the Raiders became a dominant force. After winning state titles in 2008 and 2009, the Raiders returned to the finals in 2010, but lost to Hermon.
With an experienced cast back in 2011 — led by seniors Ashley Watkins, Kelsey Sheehan, Charlotte Lewis, Michelle Rascoe and Karissa Watkins — and a rookie fireballer (Sarah Harriman) on the hill, the Raiders captured their third state title in four years with a 5-2 victory over Bucksport.
Coach Apt and his Raiders reached "perfection" with a record 20-0 season. If asked what his formula for success is, Coach Apt would likely whittle off — hard work, solid player leadership, a commitment to "doing the little things right" and a belief in a "philosophy and system." Although the Raiders lost several key players to graduation, FA will be one of the teams to beat in 2012.
Please follow and like us: