Top 10 People of 2011
By Wayne E. Rivet
Staff Writer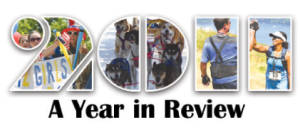 "Some people want it to happen; some wish it would happen; others make it happen," — Michael Jordan, former NBA star.
Every week, people shape the news that appears on these pages. Some people strive to better their community, while others play a major role in shaping this little corner of the planet.
Some people intrigued readers with their fascinating stories of hope, pursuit of a dream and inspiration.
Others left a mark that will long be remembered, even after these pages turn a shade of yellow.
People who captured our attention in 2011 included:
10. Entrepreneurial spirit. Elihu Upham, Joanna Kinsman and Dan Edwards taught us never be afraid to chase a dream.
Elihu Upham has held a wide array of jobs during his lifetime — from welder to a fisherman to assisting at a funeral home — but he found working as a talk show radio host was his forte. Tapping into the Internet, Upham developed his own radio station. He  broadcasts his signature show, "Keeping Up with Upham," and plays music featuring many area artists.
When she was in middle school, Joanna Kinsman of Fryeburg was asked what she wanted to do when she was older. She jotted down, "fashion designer," thinking it was "a cool answer." Today, the former Fryeburg Academy grad and star athlete has launched her own luxury bikini line, which has been featured in major fashion shows.
Sometimes, timing is everything. Dan Edwards started a book project, but had to put it on a shelf because he was busy with Internet marketing work. When he lost his job, Edwards revived the project. Combing his talents as an illustrator and writer, Edwards produced a fascinating tale, Mr. McFrawley's Traveling Show. The book is described as "a fun adventure story for all ages about the importance of family, the need for a place to call home, and the fact that everyone is, deep down, just a little freakish." Edwards plans to write a second book.
9. Rob Knowles. After 22 years working to better the lives of those with intellectual disabilities in western Maine, Rob Knowles retired from Good Neighbors, Inc. in March. Yet, he will continue to have a positive impact on the organization, now and into the future by directing the successful Great Adventure Challenge — a triathlon centered at Shawnee Peak in August. This year, the event attracted 83 competitors. Proceeds benefit Good Neighbors to help pay for the little things, such as birthday gifts or trips to the movies, not covered by state and federal assistance.
8. Gordon McLaren. For years, Gordon McLaren of Harrison had been an advocate for kids as a baseball program leader and umpire. When his liver was compromised by disease and Gordon finally received a "second chance" at life through a transplant in 2011, he became an advocate for organ donation. While recuperating, Gordon manned an information booth at area events and carnivals, speaking on the benefits of organ donation. Gordon talked about how he is "living proof" how organ donation can change a person's life. Just months after his transplant, Gordon ran and walked in the Old Home Days race.
7. Bob Levesque. Some people complain about rising taxes. Bob Levesque of Casco decided to lead a charge to hold the SAD 61 budget at no increase in the wake of a very bad economy. When Levesque asked friends to help finance a newspaper advertising campaign to identify various issues involving the school district, he was floored by the response. Levesque proposed amendments to the recommended budget articles, calling for reductions that would result in a zero increase budget. His efforts failed, but so did two proposed budgets.
Taxpayers finally approved a budget in August, but a message had been sent by a weary taxpayer base. New SAD 61 Superintendent Kathleen Beecher hopes to avoid another stalemate between the school system and taxpayers by opening lines of communication through meetings and a "blog" on the SAD 61 website. What can taxpayers afford and how can the school district be more efficient are two topics that will certainly receive plenty of discussion as the next budget is formulated.
6. David Rohde. At maybe his darkest moment, Fryeburg Academy graduate David Rohde held onto his high school memories as a means of hope. An award-winning writer and investigative reporter for The New York Times, Rohde returned to Fryeburg Academy in April to share his story about being held captive for months by a Taliban group in Pakistan. Rohde and his wife co-authored, A Rope and A Prayer. His story and his talk about how an education at Fryeburg Academy opened doors to a successful career as a journalist proved to be very inspirational.
5. Patrick Phillips. Out of the blue, circumstances change and people move on to other jobs. Patrick Phillips envisioned that SAD 61 would be his final educational stop. However, a change in the state's retirement program forced the SAD 61 superintendent to rethink his future. Phillips announced in April that he would leave the Lake Region to accept a higher-paying position as Superintendent of Schools for RSU 23, which includes Saco, Dayton and Old Orchard Beach.
Phillips' tenure at SAD 61 proved to be quite challenging. The challenges included: a state effort to consolidate school systems; renovation and construction at the high school; changing the high school curriculum to a 21st Century Learning approach, in response to the school being on a state list for underachieving; and seeking out greater efficiencies to offset over $6 million lost in state aid.
4. Joanna Moore. Some people talk about helping others. Joanna Moore of Naples has made it her life's work. Moore was the recipient of WCSH-TV's "6 Who Care" award for her work with CrossWalk Community Outreach, a highly successful faith-based food ministry in Naples that has grown tremendously since its start from the back of a pickup truck in the fall of 2008. Each month, on alternate Mondays, the program serves over 300 local families and donates over 3,000 pounds of food.
"It's pretty basic," Moore said in a November front-page article. "When you put your hand out to help, it comes back. That's why I hate the word clients. I like to use the word neighbors. And it takes the involvement of the entire community to make it a success."
CrossWalk doesn't base their assistance on income, but on need, knowing that many people who don't qualify as very low income still need help. "If someone comes in and they're humble enough to ask for help, they get it," Moore said.
Along with the 20 to 25 hours she spends involved with CrossWalk (she also writes grants), Moore works part-time helping homeless teens at the Preble Street shelter in Portland. 
3. Alan Manoian. Bridgton's Economic and Community Development Director, Alan Manoian, having weathered the schism caused by the McDonald's controversy the year before, began 2011 strongly enough. He convinced selectmen to invest nearly $60,000 in grant funds to help investors redevelop the historic William Perry House — it was unprecedented to use CDBG funds on a privately-held building — and his oversight of improvements to the downtown sewer system were rewarded by the state's relicensing of the system from 32,000 to 40,000 gallons a day.
The Comprehensive Plan Committee he'd been working so closely with on a weekly basis had formally endorsed form-based codes, which Manoian had been promoting since his hiring in October of 2008. He helped convince selectmen and Town Manager Mitch Berkowitz to fast-track a referendum vote (which passed) allowing for much smaller lot sizes on Main Street, thereby paving the way for Avesta Housing Company to seriously consider replacing the blighted Chapter 11 building with a $4 million affordable housing complex for senior citizens (Avesta hasn't yet submitted any plans).
But then the Comprehensive Plan Committee got impatient when Manoian failed to respond quickly enough to their requests, and sent a strongly-worded letter of concern. Manoian, whose mother's health had become an increasing source of concern, decided it was time to leave, and, on Nov. 15, submitted his resignation effective Jan. 2. Before leaving, however, he promised to deliver a draft form-based code — and made good on that promise on Dec. 27.
2. Scott Finlayson & Mark Lopez. Two men found themselves in the eye of a historic storm as Bridgton debated whether or not to ban big box stores and fast-food/formula restaurants.
In one corner, Scott Finlayson never expected to lead a grassroots effort to fight commercial development that would forever change the "character" of Bridgton. "This is about what we're going to give away and what we're not going to get back," he said.
In the other corner, Mark Lopez sought to develop a McDonald's restaurant. A member of the town's Economic Development Committee, Lopez saw the citizen initiative petitions as detrimental to Bridgton's future. While the petitions on the surface targeted "big box" stores and fast-food restaurants, the standards would also limit the expansion capabilities of some existing businesses. Lopez called the petitions as "Anti-American."
The spirited and heated debate also attracted the attention of bigger media outlets. In March, the verdict came. Residents rejected the citizen petitions. Meanwhile, as the calendar turned to 2012, there has been no activity on the McDonald's construction front.
1. Eula Shorey. As the late David Hancock once said, we all should leave this world a better place than when we arrived. Eula Shorey left her signature on the Lake Region as a local leader, a caretaker of history, and someone who truly loved and was passionate about her community. At the age of 97, Mrs. Shorey passed away in November.
In early spring, she was named one of Maine's "Great Women," along with 14 other dignitaries including U.S. Senators Susan Collins and Olympia Snowe. Mrs. Shorey brought a strong voice to community affairs and was passionate in her work with the Bridgton Historical Society. As editor, she guided this newspaper by preaching the importance of professionalism and integrity. Her influence, both on staff as well as the paper's approach to covering the news of the Lake Region, resulted in The News receiving General Excellence honors — the Maine Press Association's highest award.
We at The News will keep memories of Mrs. Shorey close to our hearts and continue to pursue the news in an honorable way as she would demand and expect from us.
Please follow and like us: