Top 10 economic stories of 2010
By Gail Geraghty
Staff Writer
The economy was in a recession, but locally things were stirring as new economic developments made their way onto the pages of The Bridgton News.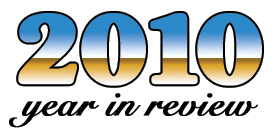 10) Ecomaine woes — The towns of Bridgton and Harrison were the lone dissenters on the ecomaine Board of Directors when they voted early in the year to borrow $4 million for a revolving line of credit. Throughout the year Harrison Selectmen have been critical of ecomaine, saying they charge member towns more than non-member towns on tipping fees. Harrison Selectmen vote to explore withdrawing from ecomaine, but later decide to investigate the matter further.
9) Fowler Street auto repair facility — Khalid Adem's appeal of a planning board decision to deny his application for an auto repair facility at 3 Fowler Street was heard by the Bridgton Zoning Board of Appeals on April 22. A final decision was not reached then, but the ZBA, as the planning board had before them, repeatedly cited a lack of information and documentation, in complicating their rulings on points of the law. Adem, who has said he and his family have long been in the auto repair business, has continually issued verbal assurances that he would meet all the requirements of state and local laws. Neighbors have countered that such a business is a poor fit for the densely-packed neighborhood, and they have cited noise, erosion, traffic, safety, parking, pollution and groundwater concerns.
8) A new courtyard for Bridgton Library — Columbus Day weekend 2010 marked a milestone in the 115-year history of the Bridgton Public Library, when the grand old building once again turned its face toward Main Street. The Oct. 9 ribbon-cutting of the $82,000 project was a true grassroots effort, funded by tons of donated labor by local contractors, the design vision of downtown landscaper Lucia Terry, and the enthusiastic support by the library's board of trustees who raised $27,000 to date through local donations from residents and businesses.
7) Bridgton talks of bringing back Narrow Gauge — The Maine Narrow Gauge Railroad & Museum approached Bridgton and other towns in May about taking over some of its museum-quality locomotives and rail cars now in storage. The effort is encouraged by members of the local Return of the Rails, with the idea that the old Depot Street railroad yard could serve as the end point for a resumption of a three-quarter mile of track. Later in the year, when a deadline looms for Bridgton to make a formal proposal, the town opts to wait until the newly-formed Bridgton Economic Development Corporation is fully up and running.
6) Restoring a grand, old building — Richard G. Stevens Jr. of Bridgton announces plans to buy and restore the old Bridgton Hospital on Main Hill, with consulting help from Sweden consultant and investor John P. Smith. The 1876 building, known as the William Perry House, had been neglected for years and was falling into disrepair. Stevens plans a grand opening next spring, but is still looking for a suitable mix of tenants to fill the space.
5) Blues & Suds return to Pondicherry Square — The revitalization of Pondicherry Square in downtown Bridgton got a shot in the arm with the news that Robert Prindall will be opening a micro-brewery and pub in the historic Masonic Hall. Prindall plans to open by late spring or early summer of 2011, and will benefit from a high-tech sewer system design made possible by the town of Bridgton. "I was really impressed with the potential" the sturdy, 1867 wooden-floored building had for a full-time brewery operation, Prindall told the Bridgton Planning Board in November. "I can definitely put a brewery in here," he told the board.
4) David Allensen named 2010 'Grocer of the Year' — The efforts by Tony's Foodland owner David Allensen to stay competitive with supermarket giant Hannaford Supermarket by expanding space and upgrading displays were rewarded when he was named 2010 Grocer of the Year by the Maine Food Means Business Summit held at the Samoset in Rockland. Tony's Foodland topped major supermarkets like Hannaford and Shaw's as well as big distributors. Tony's Foodland was nominated for the award, and the Maine Grocers Association Board of Directors, consisting of 18 members, selected the top grocer for 2010.
3) Save the Red Iron Bridge — The fight to Save the Red Iron Bridge over Fryeburg Harbor began with an appeal by Selectmen to Maine Department of Transportation officials, then continued with a grassroots campaign led by Dian and Ed Jones of North Fryeburg. State officials, believing the bridge isn't needed, want to tear it down. Sen. Dave Hastings' support is enlisted, and when the state nixes a proposal to replace the bridge, the town considers taking it over. A decision on that has been put off until next spring.
2) McDonald's gets green light in Bridgton — News came in June that developer Mark Lopez was working with McDonald's Corporation to site a scaled-down version of their restaurant across from Hannaford Supermarket. After months of contention and controversy, the Bridgton Planning Board approved the plans in December. Resident Scott Finlayson began circulating a petition for two ordinance amendments that would ban formula restaurants and limit retail building sizes to 20,000 square feet. The issue of wetlands at the site became a hot topic. Lakes Environmental Association took a stand opposing the development, saying it would negatively impact Willett Brook. And state Department of Environmental Protection officials asked the developer, Mark Lopez, to investigate alternative sites. The DEP is expected to rule in February or March on the project's wetlands permit application.
1) Naples Bay Bridge replacement — Maine Department of Transportation officials estimated the cost for replacement of the Naples Bay Bridge in February at $9.7 million, $2.7 million over the original hoped-for budget. Voters agreed to go along with paying any local share for above-the-ground improvements. Groundbreaking took place in November, and immediately concerns were raised about traffic delays. The swing bridge will remain in operation through summer 2011and construction of the bridge will begin in September  2011. The whole project should be complete by May of 2012.
##########
Top 10 environment stories
What a year it was for environmental issues, as the Greater Bridgton area continued to put issues related to the environment front and center:
10) LEA celebrates 40th anniversary — LEA celebrated its 40th anniversary in May against a backdrop of accomplishments that have helped lakes throughout Maine and well beyond. LEA's most valuable contribution has been to teach citizens, landowners, kids, developers and municipal officials about lakes and watersheds and how to protect them. Despite all of the education and public awareness, the last few years have seen septage dumped at Sebago Lake, horrendous clear cutting on Long Lake and the relentless spread of milfoil.
9) Lake Region Greenprint — Voters in eight Lake Region towns agree to participate in a Greenprint land use planning effort being undertaken by Loon Echo Land Trust with funding from the Maine Trust for Public Land. The towns involved are Bridgton, Casco, Denmark, Harrison, Sebago, Fryeburg, Raymond and Naples. A steering committee has been leading the effort since than, and will soon report back on mapping efforts that will identify areas in the towns that should become priorities for conservation efforts.
8) Major Meltdown — As of Feb. 25, ice conditions on Sebago Lake have never deteriorated as fast as they did the previous weekend. One person, several ATVs and snowmobiles went through the ice, and the second day of the annual Sebago Lake Rotary Ice Fishing Derby had to be cancelled. Higher-than-average temperatures, dangerous pressure ridges and "subsequent honeycombing" of the ice made it unsafe, Game Wardens said.
7) A Pleasant finding — Maine Department of Environmental Protection (DEP) announced in November that the once-infested Pleasant Lake in Casco is now free of variable-leaf milfoil and officially off the state's list of infested water bodies. "Removing Pleasant Lake from the list shows how committed volunteers supported by a state-run effort can out-gun one of the most persistent aquatic plants to infest Maine lakes," said Andrew Fisk, director of DEP's Bureau of Land and Water Quality. "The Pleasant Lake/Parker Pond Association undertook a multi-year, methodical program of hand-pulling plants and laying barriers along the pond-bottom."
6) Brownfields investigation of Memorial School — It may not be necessary to tear down the vacant Memorial School in Bridgton after all in order to redevelop the site. The draft report of a Brownfields study the town had done on the Depot Street school and former railroad yard site is complete, and it shows that the 20-acre site and school building is "not a substantial environmental threat," according to Alan Manoian, Bridgton's Director of Economic and Community Development.
"It looks much better than we thought. Relatively speaking, this former railroad yard site is pretty clean," Manoian said. The asbestos issue in the school building itself "is not as bad as first thought," and polychlorinated biphenyls, or PCBs, are not present in the school's window caulking.
5) Bob Dunning Bridge dedicated — Builder Andy Buck gave a moving tribute to Bob Dunning, a well-known craftsman who restored and enhanced many of the historic homes in the Lake Region, as the Bob Dunning Memorial Bridge was dedicated in late November. The event marked the first-phase completion of a system of nature trails in the 66-acre Pondicherry Park in the center of Bridgton. The park is a partnership between Loon Echo Land Trust and Lakes Environmental Association.
4) Quarry application opposed — A March application for a quarry and rock crushing operation by Chet Home on Little Mountain in West Bridgton led to an immediate call by concerned citizens for a moratorium on such operations in town. Voters passed the moratorium on June 8, and a committee has been working since that time to come up with a local ordinance on mineral extraction operations. The moratorium was extended this fall by selectmen.
3) Weather conditions hurting lakes? — Warm water temperatures cause concern that Woods Pond may be turning into a "frog pond," and several landowners point to the need to better control water levels at the dam. A committee is formed to study the issue and the Lakes Environmental Association is enlisted to help with water monitoring.
2) LEA pushes Naples on clearcutting — Lakes Environmental Association Executive Director Peter Lowell expresses outrage to Naples Selectmen over a major clear-cutting on Long Lake, calling it the worst shoreland violation he's seen in his 40 years with LEA. Selectmen agree to push for higher financial penalties against John Chase, who completely cleared around 123 feet of shorefront on Big Bear Point that was basically forested. State environmental officials initially had recommended a $10,000 fine, which Lowell called woefully inadequate. The case is still in the courts awaiting a decision.
1) Crisis on Lower Songo River — Boaters and businesses alike became alarmed this summer when the Lakes Environmental Association proposed closing the Songo Locks to prevent the spread of invasive milfoil to Brandy Pond and Long Lake. After meeting with state officials, it was decided not to close the locks, but to greatly increase boat inspections. LEA said the Lower Songo River milfoil infestation is "nasty," and will inevitably spread to the Upper River and the lakes beyond, given the amount of boat traffic that goes through the locks each summer. LEA is now seeking state funding to address the situation further.
#######
15 Minutes of Fame
Not everyone enjoys 15 minutes of fame, but these people (or in one case, an animal) did in 2010:
10) Gets her 'Golden Apple' — Donna Morton of Casco, wife of Casco Town Manager David Morton, is given the Golden Apple Award by Nassau Broadcasting (99.9 The Wolf) and wins a ride in a huge stretch limousine. Donna also was treated to dinner on the town and flowers. She has been a teacher at the Manchester School in Windham for many years.
9) Lights, camera, action! — Bridgton became the backdrop of a film project in May by New York University student Caitlyn Coady, a Bridgton resident and Lake Region High School graduate. Members of her film crew made stops at various spots including the Bridgton Hospital Guild Thrift Shop and Beth's Kitchen Café. The filming was part of Coady's thesis work.
8) Miracle Moose — A major rescue effort helped rescue a bull moose that fell through the Moose Pond ice in March. Game Wardens went out in an ice boat and lassoed the moose, who was able to climb out and stand, and then ran off into the woods, to the cheers of a crowd gathered on the Moose Pond Causeway and nearby camps.
7) Claims her diploma after 64 years — Phyllis Wakefield was the first female in 50 years to receive a diploma at Bridgton Academy in May. The Maine native attended Bridgton Academy in 1946, but was unable to finish her senior year due to her pregnancy. In May, she received the diploma, 64 years later. Phyllis grew up in Lovell and was a day student.
6) Early Christmas Gift — Army SPC Nathan Dougherty of Bridgton was lucky enough to meet and pose for a picture with President Barack Obama when the President visited Bagram Air Force Base in Afghanistan Dec. 3. Nathan is a 2003 graduate of Lake Region High School who has been deployed for 12 months from Fort Campbell in Kentucky.
5) LR grad earns 'Idol' gold ticket — Jessica Cunningham, 2004 Lake Region grad and Bridgton resident, received a gold ticket to Hollywood during the American Idol audition held in Boston. She competed in February in Hollywood.
4) A cut above the rest — Ben Rand, a former resident of Casco and 1998 Lake Region grad, won the Gold Medal in the Cutural Olympiad held in Vancouver, British Columbia. He won for his ice sculpture of a woman holding a dove with a starburst underneath her. It took 10, 300-pound blocks to create.
3) A Long overdue honor — Edith Beal of Bridgton, who served as a WASP during World War II, receives a long-overdue Congressional Medal of Honor for her service during the war. Edith Smith, as she was known during the war, had the principal duty of pulling targets for gunnery practice. She piloted an AT-6.
2) Harrison boy gets face on cereal box — Devin Riley got his face on a Wheaties cereal box after being first-place winner in the children' division of the second annual Hannaford ice Fishing Derby, which raised $15,000 for the United Way and the Maine Department of Inland Fisheries and Wildlife. Devin was a third grader at Harrison Elementary School at the time.
1) Alice Fogg called a hero — Eighty-three-year-old Alice Fogg of Napels may not think of herself as a hero, but that's what she was called when she was honored in November by the Naples American Legion for her work in making over 3,500 neck pillows over two years for injured soldiers fighting overseas. She started out on an old pedal-powered sewing machine and eventually upgraded to an electric sewing machine. She continues her efforts to this day.
Please follow and like us: