Tim Even defends Run by the Lake 5K title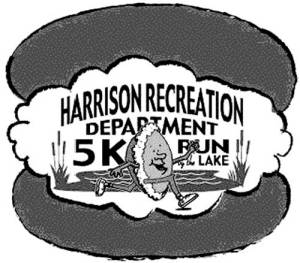 HARRISON — What a difference nearly a week made for Tim Even.
Even, a former University of Southern Maine and Fryeburg Academy runner, posted a top 10 finish in Bridgton under sweltering humid conditions last week, then defended his Harrison Run by the Lake 5K title as heavy rain fell.
Even's winning time was slightly behind last year's mark (16:45 to 17:19), but was well ahead of 2011 winner Eric Darling, who posted a 17:32.
Halee Phelps, 16, of Westbrook was the first female to cross the finish line on Depot Street in 21 minutes, 53 seconds.
The Run by the Lake race saw another jump in attendance despite the weather as 193 finished, up from 163 in 2012 and 124 in 2011.
Run by the Lake 5K, Harrison
1. Tim Even, 24, Stoneham, 17:19
2. Eric Darling, 40, Shelborne, Vt, 17:32
3. Josh Grenier, 24, Otisfield, 18:04
4. Brett Albright, 39, Brooklyn, NY, 18:31
5. Mark MacDougall, 18, Naples, 19:01
6. Arno Bommer, 53, Houston, TX, 19:03
7. Timothy Cushing, 27, Bridgton, 19:24
8. Patrick Ridlon, 42, Casco, 19:50
9. Michael Mayles, 18, Bridgton, 19:55
10. Jonathan Cushing, 30, Bridgton, 20:20
11. James Duyel, 16, 21:09
12. Matthew Beauchesne, 17, Harrison, 21:16
13. Dimito DiBiase, 15, Harrison, 21:18
14. Mack Telfer, 16, North Bridgton, 21:28
15. Jason Savard, 36, Salem, NH, 21:30
16. Halee Phelps, 16, Westbrook, 21:53
17. Anna Lastra, 15, Bridgton, 22:00
18. Bill Grenier, 52, Otisfield, 22:20
19. Erin Seavey, 32, Newburgh, 22:31
20. Hannah Perkins, 18, Sebago, 22:36
21. Steve Bioren, 46, Harrison, 22:51
22. Logan Hallee, 13, Harrison, 23:01
23. Bob Wentworth, 59, Fryeburg, 23:03
24. Allan Sparn, 54, Madison, CT, 23:06
25. Charles Patten, 36, Harrison, 23:12
26. Scott Baldwin, 49, Scarborough, 23:14
27. Kelly Roberge, 33, Harrison, 23:16
28. Sarah Kopaciewicz, 21, West Newberry, MA, 23:18
29. Daniel Chizmar, 11, Lewiston, 23:40
30. Mike Simoneau, 65, Livermore, 23:43
31. Kelsey McLaren, 23, Harrison, 23:50
32. Emma Stearns, 15, Camp Pinecliffe, 23:57
33. Gillian Lubin, 15, Camp Pinecliffe, 23:58
34. Jessica Childs, 17, Westbrook, 24:06
35. Justin St. John, 21, Harrison, 24:09
36. Jacob Beauchesne, 15, Harrison, 24:11
37. Matt Laracy, 14, Braintree, MA, 24:11
38. Adam Tuomi, 22, Harrison, 24:12
39. Misty Brown, 41, Wilmington, NC, 24:13
40. Sami Orciari, 16, Hope Valley, RI, 24:14
41. Mitchell Laracy, 11, Braintree, MA, 24:17
42. Sarah Terrano, 14, Westbrook, 24:26
43. Elizabeth Sykes, 11, Lynnfield, MA, 24:53
44. Chip Tuomi, 60, Harrison, 24:43
45. Denise Chicoine, 44, Newton, MA, 24:46
46. Patrick Burke, 43, Chester Springs, PA, 24:48
47. Kristen Charette, 48, Fryeburg, 24:55
48. Alan Kinerson, 61, Gray, 25:05
49. Tobie Feigenbaum, 38, Harrison, 25:13
50. McKinley Murphy, 15, Harrison, 25:15
51. Serena Kleeman, 15, Harrison, 25:17
52. Scott Dvorak, 49, Bridgton, 25:20
53. Bobbi Surette, 22, Harrison, 25:22
54. Rosemary Orciari, 45, Hope Valley, RI, 25:54
55. Pamela Baldwin, 51, Gorham, 26:00
56. John Cross, 62, Bridgton, 26:02
57. Sara Wetzler, 14, Camp Pinecliffe, 26:23
58. Beth Frechette, 47, Harrison, 26:26
59. Margaritt McNulty, 61, Standish, 26:30
60. Hunter Labossiere, 12, Waterford, 26:32
61. Juliet Fink, 16, Chatham, NH, 26:34
62. Abigail Davis, 15, Fryeburg, 26:35
63. Sarah Bressler, 14, Camp Pinecliffe, 26:37
64. Beverly Milberg, 14, Camp Pinecliffe, 26:38
65. Diana Thompson, 49, Medfield, MA, 26:57
66. Linda Davis, 63, South Casco, 27:01
67. Allison Taber, 31, Harrison, 27:09
68. Sarah Patten, 35, Harrison, 27:11
69. Bill Wood, 60, Harrison, 27:12
70. Nicholas Houch, 12, Newton, MA, 27:14
71. Marcie Hilden, 31, Oxford, 27:15
72. Riley Burke, 12, Chester Springs, PA, 27:17
73. Harmony Locke, 31, Norway, 27:21
74. Kim Desanctis, 37, Stoneham, 27:26
75. Anthony Dinizio, 29, South Burlington, VT, 27:33
76. Mike Murrin, 47, Harrison, 27:36
77. Lori Laracy, 47, Braintree, MA, 27:38
78. Brenda Sawyer, 53, Oxford, 27:42
79. Colton Dover, 10, Murrysville, PA, 27:43
80. Alyssa Bommer, 10, Houston, TX, 27:46
81. Kenneth Johnson, 37, Holden, MA, 27:48
82. Katie Hallee, 9, Harrison, 27:50
83. Ray White, 44, Fryeburg, 27:51
84. Amy Milo, 39, Harrison, 27:54
85. Benjamin Sykes, 9, Lynnfield, MA, 27:56
86. Andrew Dabczynski, 59, Provo, UT, 28:00
87. Sarah Boucher, 48, Fryeburg, 28:02
88. Barbara Morrissette, 59, Norway, 28:07
89. Morgan Menezes, 14, Westbrook, 28:10
90. Kiersten Hilton, 14, Westbrook, 28:10
91. Charlotte Markstein, 15, Camp Pinecliffe, 28:17
92. Scott McLaren, 52, Harrison, 28:38
93. Alicia McGinnis, 36, Harrison, 28:44
94. Samuel Schena, 8, Lynnfield, MA, 28:48
95. Miranda Murphy, 17, Harrison, 28:51
96. Perri Sucoff, 14, Camp Pinecliffe, 28:53
97. Kyra Gould, 21, Harrison, 29:05
98. Hannah Urken, 14, Camp Pinecliffe, 29:34
99. Bethany Silberstein, 14, Camp Pinecliffe, 29:35
100. Marianne Strickland, 52, Harrison, 29:46
101. Anita Day, 57, Fryeburg, 29:48
102. Unknown runner, 29:50
103. Peter Brown, 10, Harrison, 29:51
104. Mary Clare Casey, 54, Duxbury, MA, 30:04
105. Laurie Ramsay, 47, Fryeburg, 30:07
106. Pamela Kinney, 49, Scarborough, 30:12
107. Mae Milo, 11, Harrison, 30:17
108. Sarah Pierini, 11, Harrison, 30:38
109. Josh Laird, 26, Waterford, 30:40
110. Elizabeth Hallee, 7, Harrison, 30:42
111. Roger Lowell, 64, Bridgton, 31:06
112. Morgen Ray, 13, Harrison, 31:09
113. Patrick Bigelow, 45, Harrison, 31:10
114. John Ebinger, 10, Harrison, 31:38
115. Jennifer Hepner, 14, Camp Pinecliffe, 31:43
116. Jessica Stern, 15, Camp Pinecliffe, 31:44
117. Maddy Schaffer, 13, Camp Pinecliffe, 31:48
118. Nicole Strasssberg, 13, Camp Pinecliffe, 31:49
119. Sarah Stier, 12, Camp Pinecliffe, 31:50
120. Emily Cataldo, 11, Norwood, MA, 32:19
121. Mackenzie Schena, 11, Lynnfield, MA, 32:23
122. Juliet Stern, 13, Camp Pinecliffe, 32:26
123. Julia Blawner, 14, Camp Pinecliffe, 32:28
124. Sydney Tress, 15, Camp Pinecliffe, 32:29
125. Jamie Roback, 15, Camp Pinecliffe, 32:31
126. Steve Jones, Harrison, 32:35
127. Daisy Kahn, 13, Camp Pinecliffe, 32:44
128. Lily Leibner, 12, Camp Pinecliffe, 32:45
129. Cherri White, 40, Fryeburg, 32:55
130. James Plante, 13, Harrison, 33:02
131. Katie Fortuna, 22, Harrison, 33:13
132. Sherry Page, 38, South Paris, 33:35
133. Janet Guidi, 59, Harrison, 33:38
134. Kayla Nowell, 24, Waterford, 33:43
135. Kathy Hallee, 42, Harrison, 33:48
136. Katie Libby, 30, Oxford, 34:10
137. Dick Beauchesne, 53, Harrison, 34:13
138. John Micavich, 70, Westford, MA, 34:23
139. Katie Ebinger, 13, Harrison, 34:32
140. Olivia Kneller, 17, Harrison, 34:34
141. Brooke Telfer, 10, North Bridgton, 34:36
142. Jonathan Hoff, 45, Bethel, 34:41
143. Eleanor Hoff, 8, Bethel, 34:42
144. Jessica Wilkey, 34, Lovell, 34:54
145. Mae Hoff, 6, Bethel, 34:57
146. Shanta Hoff, 41, Bethel, 34:58
147. Marcia Uhl, 60, Fryeburg, 35:26
148. Jay Milo, 48, Harrison, 35:44
149. Drew McLaren, 24, Harrison, 35:48
150. Cassidy Patten, 16, Harrison, 35:51
151. Deby McLain, 60, Harrison, 36:24
152. John Pribram, 72, Charlottesville, VA, 36:32
153. Sarah Johnson, 38, Holden, MA, 36:36
154. Sarah Chase, 14, Westbrook, 36:57
155. Melissa Lord, 46, Harrison, 37:12
156. Debbie Howe, 67, Waterford, 37:52
157. Marissa Cataldo, 8, Norwood, MA, 38:15
158. Jill Cataldo, 42, Norwood, MA, 38:22
159. Adam Tsapis, 49, Harrison, 38:52
160. Noah Pierini, 11, Harrison, 39:22
161. Katie Murrin, 13, Harrison, 39:32
162. Jordan Smith, 7, Sweden, 40:22
163. Jennifer Smith, 36, Sweden, 40:23
164. Ezra Tsapis, 4, Harrison, 40:41
165. Katherine Kruse, 41, Fairfax, VA, 41:05
166. Nicole Burke, 8, Chester Springs, PA, 41:17
167. Hailey Kruse, 11, Fairfax, VA, 41:19
168. Jo Steeves, 37, South Paris, 41:44
169. Mikenzie Pierini, 9, Harrison, 41:59
170. Emily Tantleff, 14, Camp Pinecliffe, 42:25
171. Julie Pavell, 13, Camp Pinecliffe, 42:26
172. Hannah Fink, 13, Harrison, 42:27
173. Priscilla Ormsby, 71, Jay, 42:37
174. Kasey Schena, 7, Lynnfield, MA, 42:38
175. Molly Cataldo, 6, Norwood, MA, 42:39
176. Heatha Schena, 41, Lynnfield, MA, 42:40
177. Matthew Kruse, 6, Fairfax, VA, 43:04
178. Runner #333, 43:05
179. Terra Coffin, 41, South Paris, 43:16
180. Sophia Milo, 9, Harrison, 43:25
181. Angie Milo, 45, Harrison, 44:40
182. Julia Plante, 15, Harrison, 44:41
183. Hannah Murrin, 13, Harrison, 44:41
184. Mike Telfer, 51, North Bridgton, 44:42
185. Jessica DiBiase, 33, Harrison, 44:59
186. Kelly Ridley, 47, South Paris, 47:10
187. George Finch, 64, Harrison, 47:15
188. Trish Murrin, 46, Harrison, 49:12
189. Maggie Pierini, 9, Harrison, 50:50
190. Lisa Hjelm, 55, Harrison, 51:05
191. Betty Ebinger, 80, Harrison, 51:15
192. Glenn Thompson, 50, Medfield, MA, 56:10
193. Judy Sparn, 53, Madison, CT, 56:10
Age Division Winners
Boys 1 to 5: Ezra Tsapis, 4, Harrison, 40:41
Girls 6 to 12: Elizabeth Sykes, 11, Lynnfield, MA, 24:33
Boys 6 to 12: Daniel Chizmar, 11, Lewiston, 23:40
Girls 13 to 19: Anna Lastra, 15, Bridgton, 22:00
Boys 13 to 19: Mark MacDougall, 18, Naples, 19:01
Women 20 to 29:  Sarah Kopaciewicz, 21, West Newberry, MA, 23;18
Men 20 to 29:  Josh Grenier, 24, Otisfield, 18:04
Women 30 to 39: Erin Seavey, 32, Newburgh, 22:31
Men 30 to 39:  Brett Albright, 39, Brooklyn, NY, 18:31
Women 40 to 49:  Misty Brown, 41, Wilmington, NC, 24:13
Men 40 to 49: Eric Darling, 40, Shelburne, VT, 17:32
Women 50 to 59:  Pamela Baldwin, 51, Gorham, 26:00
Men 50 to 59:  Arno Bommer, 53, Houston, TX, 19:03
Women 60 to 69:  Margarittt McNulty, 61, Standish, 26:30
Men 60 to 69:  Mike Simoneau, 65, Livermore, 23:43
Women 70 to 99:  Priscilla Ormsby, 71, Jay, 42:37
Men 70 to 99:  John Micavich, 70, Westford, MA, 34:23
Please follow and like us: