Tiffany C. Jordan-Westberry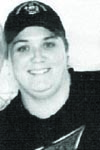 BALDWIN — Tiffany C. Jordan-Westberry, 28, of Baldwin died on Thursday, Aug. 25, 2011 at her mother's home in Sebago after putting up a valiant fight battling Burkitt's lymphoma.
She worked many different jobs, but her favorite was at Grondin's, where she ran the loader and other heavy equipment.
She enjoyed being a mother to her two girls, riding her motorcycle, hunting and being with her family playing games and eating. She helped her sister take care of her horse. She wouldn't ride, but loved to brush him.
She was a person who enjoyed life and wanted everyone to have fun too. She had a quick sense of humor and was great with numbers. If you didn't want Tiffany to tell you the truth, you didn't ask her the question! She was loved by all and will never be forgotten.
She is predeceased by her grandfather Rodney H. Garland Sr., her great-grandmother Gertrude A. Douglass, and her second dad Rodney H. Garland Jr.
She was survived by her husband of seven years, John Westberry Jr.; her daughters, Jade M. Westberry and Devon J. Westberry; her mother, Shirin G. Bachelder; her father, Forest E. Bachelder; her brother, Damon R. Jordan; her sister, Desirae' K. Bachelder; a grandmother, Loann E. Douglass; and many other family members.
A graveside service will be held at the Haley Cemetery in Sebago on Tuesday, Sept. 6, at 3 p.m.
In lieu of flowers, please make a donation to the Lymphoma Foundation.
Arrangements by Watson, Neal & York Funeral Home, Cornish.
Please follow and like us: