Third Annual Bluegrass Festival at Narramissic Saturday
The Bridgton Historical Society is sponsoring the Third Annual Bluegrass Festival at Narramissic, the Peabody-Fitch farm located in South Bridgton this Saturday, Aug. 3, rain or shine.
Gates open at 2 p.m., with music from 4 to 8:30 p.m. Featured artists include Erica Brown and the Bluegrass Connection, Tricky Britches and The Hemingways.
Erica Brown developed an interest in music at an early age. At the age of seven, she was competing in fiddle contests with kids twice her age. At age nine, she was traveling throughout New England, Canada, and even Louisiana with the Maine French Fiddlers. Erica also performed as a special guest with Mac McHale And The Old-Time Radio Gang for five years. Currently, she has her own bluegrass band, Erica Brown and the Bluegrass Connection, which performs all over New England. Erica is also a member of The Stowaways, Darlin' Corey and The Record Family Band.
Erica was a member of the Bates College "Fighting Bobcats" Orchestra for five years and was a member of the Maine All-State Music Festival for two years. She has competed in and won numerous fiddle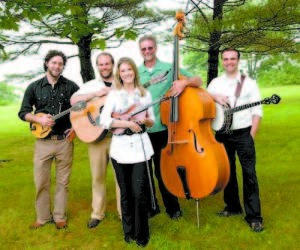 contests throughout New England and Canada. In 2003, she was awarded Junior Female Entertainer of the Year by the Maine Country Music Association and in 2006 she received the Harold Carter Memorial Award from the Down East Country Music Association.
Her talent for combining the precision of classical music with the spontaneity of country and bluegrass fiddle makes for a fun-filled performance every time she plays.
Steve Roy is a multi-instrumentalist from Portland. While he is most well known for his bass playing, he also plays and teaches mandolin, guitar, and fiddle. Bluegrass Now magazine calls him a "dangerous weapon." Steve also performs regularly in a wide variety of jazz, rock, country, rockabilly, and folk groups, and sometimes as a solo artist.
Matt Shipman currently resides in Portland, and is a performer and teacher of acoustic and traditional music. He has been teaching guitar and mandolin at a Community Music School in Yarmouth for five years now and has been performing for around 10 years. He also enjoys playing bouzouki, tenor and clawhammer banjo. He is currently working on a recording centered around Celtic finger-style guitar.
Ken Taylor has been performing with Erica for eight years playing acoustic bass and adds some vocals for the group. Ken keeps the band tight with arguably the most solid bass playing in the New England area. He originally started as a guitar player with an interest in folk music but was soon sidetracked into bluegrass. Ken plays like an old master, his style is powerful, his timing is right-on and his love of music shows in every performance.
Read McNamara started playing banjo at the age of 18 while at college. As he puts it, "Everyone else played guitar. After my grandfather died, I inherited his old Gibson banjo, so I started playing that to change things up a bit." The ancient tones of bluegrass struck a chord with Read, and he and the four other members of his college band began immersing themselves in all things bluegrass.
Tricky Britches: Rooted in old-time country, with a bluegrass kick and the bounce of a street-corner jug band, Tricky Britches will put some swing in your step from the moment you hear them. Songwriting chalk full of down-home harmonies and dirty licks, their original material harkens back to humble beginnings sawing out mountain tunes on the Portland, Maine, sidewalk.
Tricky Britches formed in 2009, playing on street corners across the country, simply as a means of paying for a road trip. Suddenly there were weddings, parties, and dances to be played, and before the boys knew it, Tricky Britches had gained too much momentum to be stopped. As time went by they focused more on songwriting and original material, which the majority of their recorded tracks are. Their influences include John Hartford, Hank Williams, Bill Monroe, The Stanley Brothers, The Grateful Dead, The Everly Brothers, and American traditional folk music.
Members include: Jed Bresette on guitar, bass and vocals; 
Seth Doyle on mandolin, guitar, harmonica and vocals; 
Tyler Lienhardt on fiddle, washboard and vocals; and 
Ryan Wilkinson on tenor banjo, guitar, bass and vocals.
Admission is $15 for adults; members of the Bridgton Historical Society, $12; $5 for children 5 to 12; and children under age 5 free. Food and beer will be available for purchase. Bring your blankets and chairs.
Tour the 1797 farmhouse and blacksmith shop, enjoy the spectacular views of the White Mountains. For more information e-mail info@bridgtonhistory.org
Visit www.bridgtonhistory.org for a map to Narramissic.
Please follow and like us: