Theresa J. Perron
GORHAM — Theresa J. Perron, 75, of Gorham, passed away on Jan. 2, 2011.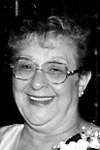 What constitutes a full life? If you asked Theresa Perron she would have likely told you that having a loving spouse and family, a strong and enduring faith and a keen sense of humor are key. In this way, she accomplished a truly good and full life.
Theresa was born in Winterville, to Camilla and Donald Pelletier on Feb. 20, 1935. She attended St. Dominic's and Portland High School. In 1953, she married the love of her life and soulmate, Raymond (Skip) J. Perron on Aug. 17.
Theresa worked as a C.N.A. at Mercy Hospital for a number of years. She was involved in VFW Ladies Auxiliary in Portland. She was a talented cook and loved to feed her family as well as anyone who entered her home. She enjoyed crafts and spending time with friends and family in both Maine and Florida. Even with her illness, she was a devoted wife, mother and grandmother, who seldom missed a family event, game or performance.
Theresa was sadly preceded in death by her son, Peter J. Perron; and her nine brothers and sisters.
Besides her devoted husband, Theresa is survived by her sister Rita Gaudet; and her children, Jeff Perron of Bridgton, Bruce Perron of Windham, Mark Perron of Harpswell, Linda Scala of Windham, Angela Perron of Phippsburg and David Perron of Gorham; her 10 grandchildren; her three great-grandchildren; and many nieces and nephews.
Funeral services were held on Thursday, Jan. 6, at Saint Joseph's Church on Stevens Avenue in Portland. Christian burial followed at Calvary Cemetery in South Portland.
Arrangements are by Independent Death Care of Maine. To offer words of condolence, sign a guest book and share memories, go to the obituary page at www.independentdeathcare.com
In lieu of flowers, donations may be sent to: The Gibson Pavilion, Maine Medical Center, 22 Bramhall Street, Portland, ME 04102 or Mercy Hospital, 144 State Street, Portland, ME 04102.
Please follow and like us: