The 'gold' drought is over, Lakers clip Eagles for state hoop title
By Wayne E. Rivet
Staff Writer
BANGOR — When the playoffs started, Lake Region players followed a ritual as they went through their layup warm-up drill.
As each player approached the backboard, he said, "You've got my back. I've got your back."
So when leading scorer and rebounder Jack Lesure was saddled with early foul trouble forcing him to the bench in Friday night's Class B state championship basketball game, his teammates raised their games.
"We are confident in whomever we have out on the floor," senior captain Nate Smith said. "The team may feed off Jack and my energy at times, but everyone is confident in what they can do."
Fellow senior Nick Wandishin agreed. "We've been saying all year that we are a deep team and at any time someone else can step up. We proved that," said Wandishin who had a solid game with 8 points and 5 rebounds. "We have great chemistry. Because we have been playing together for a number of years, we know each other's tendencies and we trust each other."
The Lakers oozed with confidence, especially during a dramatic third quarter surge — a 16-0 run — that propelled them to a 63-47 victory over North champion Ellsworth to claim the school's third boys' Gold Ball.
Smith tossed in 14 points and collected 7 rebounds.
"We wore them down in the first half with tons of pressure, and then once we got some turnovers in the second half, we got momentum and it went crazy from there," Smith said. "We pride ourselves about our defense. We give the highest effort possible. Everything we do is about effort."
There was no shortage of intensity and all-out-effort to start the second half. After struggling to amp up the game's tempo in the first half, the Lakers put their foot on the gas pedal in the third quarter and floored it. They scored 16 straight points, blowing open a 28-24 halftime margin to 44-24 before the Eagles finally snapped their drought with 2:55 left in the period on a Nick Bagley drive and free throw.
"We finally got the pace to where we wanted it. When we play that fast, that's when we are at our best. They had layups that were contested. They made them earlier, but now we had the speed of the game going faster and they missed," said Laker Coach John Mayo, who capped off his first year at the varsity helm with a state title. "It was a matter of time before we started getting after it. We just went for it. They believed from that point on."
Ellsworth Coach Pete Austin later commented that the Lakers simply had too much quickness and length for his club to match over the course of 32 minutes.
With Lesure back in the lineup, the Lakers ratcheted up their defensive pressure forcing seven Eagle turnovers, and got their running game rolling.
Nick Wandishin, who showed great hands catching some zipped passes in the low post, netted two fastbreak layups, while Marcus DeVoe snapped out of a cold shooting start (1-of-8 from the field in the first half, including no treys) to knock down a part of jumpshots to trigger the decisive run.
"It (the third quarter) went perfectly. Nate (Smith) saving the ball out of bounds was crazy. I watched it 30 times on our way home. It was unbelievable. Everything just fell into place. It allowed me to have a really good third quarter. They had a good first half and slowed us down. They had a good half-court defense, so when we weren't attacking, we were just standing outside the 3-point line passing the ball around," Lesure said. "We wanted to get out and run, and we didn't stop. It knocked them back onto their heels, and we kept our foot on the gas pedal. Tyler (Walker) picked up the pace, and Marcus hit two huge shots to get it going. He needed to keep shooting. We really believe in him. If he misses 10 in a row, we know he will hit the next one. We have trust in him. He's done it all season long."
DeVoe's pull-up shot appeared to be behind the arc (video later proved his feet were indeed behind the 3-point line), but game officials ruled it a two-pointer.
"No one saw it. A referee told me he wasn't in position to see it," said Coach Mayo as officials called a timeout to discuss whether the shot was a 3-pointer.
While the Laker offense had fans delirious, it was the all-out hustle defensively that put the team in the driver's seat to claim the state title.
First, Smith dove toward the sideline for a loose ball and tipped it backward. There, Lesure gained control, drove to the hoop, scored and sank a foul shot to push the lead to 18.
"Nate has been solid, but not always the one that goes to the floor. The fact that he did it at the right moment was incredible," Coach Mayo said.
Next up, Lesure pulled off his Superman impersonation, chasing down an Ellsworth player and at full speed diving to tip the ball out of the Eagle's hands, saving a layup.
"I was so mad at myself for turning the ball over. I didn't want his basket to be on my conscience. I was going to do whatever I could. I hoped he would keep the ball in his right hand because if he went to his left, I wouldn't be able to tip it away. As soon as I saw him put it down with his right, I went after it. I think I flew for a couple of seconds," said Lesure, who scored 8 of his 14 points during the pivotal third quarter. "Alex was at halfcourt when I started my slide, and he was there to pick me up before I came to a stop. He's always been there for me. At halftime, I was upset because of the calls. He came up to me and held me behind the others heading out for warm-ups and said, 'You have been there for me all the time. Now, I've got your back. It touched my heart. Every person on the team came up to me and told me, 'I've got your back.' To have that kind of relationship is something I will never forget. It opened up my eyes. It was more than basketball."
Finally, junior guard Tyler Walker lunged for a loose ball and crashed into press row, knocking a table backwards. Ellsworth recovered the loose ball, but before an Eagle could blink, Walker was right back in the action, giving him little space to operate.
"For me watching it, the kid was right in front of me and Tyler comes leaping out at him like a tiger chasing its prey. The kid didn't know what to do. Tyler tipped the ball and off we went," Coach Mayo said. "We just changed our pressure a little bit in the third quarter, and we did a great job denying the ball and getting into the passing lanes. When Jack dove after the ball, I knew that Ellsworth wasn't going to deny him or us."
Up 46-29 entering the final eight minutes, Coach Mayo impressed upon his players to stay aggressive. They had delivered a knockout punch in the third quarter (an 18-5 run), and Coach Mayo did not want his club to think the game was over then and allow Ellsworth up off the mat.
"In a state championship game, you don't hold back. I've seen too many games where teams come back. I knew they would make a run at some point. They're a very good team," the coach said. "We didn't change anything. We talked about keep pushing it, make the right passes but don't force anything."
The Lakers never gave the Eagles much breathing room. Two Alex Langadas inside buckets (6 points, game-high 9 rebounds) helped push the lead to 22 with 3:55 left.
When Lesure picked up his fifth personal seconds later, he went to the bench and had a chance to experience something he rarely has.
"Most games, I would have been upset to pick up that fifth foul. But, when I looked up at the scoreboard, I actually felt some relief. I sat down on the bench and shared the moment with my other teammates, which I don't often get a chance to do. Watching those final minutes was unbelievable," he said. "Alex and I started talking about what we were going to do when the buzzer sounded. Alex suggested the slide. If the fans like it, I'll do it."
He did. After Langadas awkwardly landed a cartwheel near midcourt, Lesure went into a slide toward the Laker cheerleaders.
The celebration was on — some 30 years in the making.
"My thought was take a deep breath now and relax. Wow, we did what we had set out to do. To watch these guys run around the gym, the smiles 1 through 15, how happy they were was the excitement," Coach Mayo said. "All the hard work, they saw the fruits of their labor."
And, the Lakers soaked up every last moment they could celebrating a state title that had eluded several other talented teams over the years.
They gave a statewide audience a group "flex" photo during post-game interviews.
There were photos with the Gold Ball.
Surrounded by hoopla, senior Trenton Hartford walked over to an empty bench area previously occupied by Ellsworth players and sat down. With a bear hug of the game ball, Trenton stared across the hardwood floor. He softly said, "I can't believe I am a state champion." He was later joined by Assistant Coach Andrew Stacy and talked about the incredible ride the Lakers had.
Battling through a tough start
Ellsworth's shining moments came early in the opening quarter when the Eagles enjoyed a 12-9 lead after North tournament MVP Bruce St. Peter, a 6-foot-5 center, completed a three-point play.
"He is a good player. The real key was his footwork. He wanted to seal you high, so he could spin baseline and then go up with his right hand. That was his go-to-move all postseason. It wasn't easy. It was one of my toughest tasks," said LR forward Alex Langadas. "It helped playing some big guys all season."
As they did all season, the Lakers never panicked despite some shooting woes. Nate Smith evened the count on an aggressive take to the rim and added a foul shot to tie the game.
With Lesure picking up his second foul, St. Peter made a foul shot with 2:36 left in the opening quarter. That would be the Eagles' last lead.
Alex Langadas was a bull inside the lane, out working the Eagles front line to pick off four offensive rebounds, including a putback that gave LR the lead. DeVoe converted a three-point play with 57.8 seconds and Walker netted a jumper in the lane as the Lakers took a 19-14 lead after one.
"I was a little surprised that they played so much man (defense) because I had seen some box-and-one, triangle-and-2 and zone on tape. We were ready for it, which I think calmed us down a little. I thought they shot the ball a lot quicker off the catch, whereas in games I saw on tape they were very patient offensively," Coach Mayo said.
Although they hadn't opened up a big lead, the Lakers' defense squeezed Ellsworth, allowing just four field goals in the first and three in the second.
Yet, the Lakers held a slim 28-24 lead at halftime.
One glaring stat was 3-point shooting. LR was 1-of-10 — Nate Smith draining a trey at the 5:23 mark of the first quarter.
"A lot of those shots were in and out, rattling the rim. The kids loved shooting in there when we went up to Bangor for a practice before the state game. I think a few of those shots we may have been a little farther back because they had two lines on the court," Coach Mayo said. "The looks we got were not any different than the ones we normally get. This just didn't go in. We adjusted, and only took three in the second half."
Lesure's foul trouble also contributed to the sluggish first half output, but Coach Mayo felt his club played well without their floor general.
"Everyone can play. We practiced against a box-and-one on Jack, so the other guys knew they would have to step up if he got that kind of attention. We talked all year long that when it was their turn to be great, be great. Other people stepped up," he said. "Yes, Jack has been our leading rebounder, but if you look at the stats, Alex stepped up. Nate had a bunch of rebounds and Tyler did a great job bring the ball up. It was exciting to see that everyone was comfortable about what they were being asked to do. When you play good defense, it doesn't matter which guy is on the floor."
With three fouls, Lesure knew he had to be careful when he started the third quarter.
"When I got my third foul, I just thought, 'I need to get back in the game and pick myself up.' Thankfully, I did. I play so hard that sometimes it can cost me, picking up unnecessary fouls," he said. "I just had to really focus, keep my hands up on defense, and not block anyone."
Making a few adjustments at the break, the Lakers put together a dominant eight-minute span few will forget.
"We found out in the first half they were trying to stop our ballhandlers. So at halftime, we talked about getting the ball to our wing guys and pushing the ball up the floor. We wanted to get the game at our pace, and not us playing at their pace. It was all about dictating the game and playing smart," senior guard Brandon Palmer said. "It was crazy. Us seniors knew that this was the last half of basketball we were going to play together and wanted to come out strong and take this game."
Palmer, who gave a close-up flex to the TV camera during introductions, helped trigger the run with his gritty play.
"I was thinking that in 30 years when I am watching this game again, I wanted to do something memorable. I just wanted to get the team fired up," he said. "We have this swag that elevates our intensity. We want to be the most intense team out there."
There was no question who had captured lightning in a bottle in the third quarter.
Turning points
When the Lakers suffered a 59-50 loss to Maranacook on their home court just before Christmas to drop to 4-2, Coach John Mayo felt his team was at a crossroads.
Yes, the Lakers had talent.
Yes, they were experienced.
Yes, they had the potential to go all the way.
But, to reach a state title game, Coach Mayo felt his players needed to "buy in" to what the coaching staff was selling — that was accept a role, work hard on rebounding and free throw shooting (which included showing up before school starts to toe the charity stripe and shoot), and play together.
"We needed to trust each other. Everyone has a role, and they all bought in. Fifteen personalities but you can only put five on the floor at a time — that can be difficult," Coach Mayo said. "They were willing to make sacrifices. We had a lot of great practice guys. In any other program, many of them would have played a lot more."
Senior Nick Wandishin added, "We all realized that we had to buy into what coach was saying in terms of roles. I still we don't have an answer what went wrong there (Maranacook). We had a bad practice the next day, and Coach Langadas chewed us out. We turned it around from that point."
The Lakers would not lose again.
One player to finally buy in was Alex Langadas. Admittedly, he initially struggled with the idea he was not a starter and was unsure how many minutes he would earn. His approach changed after an honest one-on-one talk with his brother, Laker assistant coach, Matt Langadas.
"Matt turned down some offers from other schools to coach here. He wanted to be with us, with me. He has really helped me mature as a player and a person," Alex said. "I remember halfway through the season, he came to our house, sat down with me and told me I could keep getting upset about playing time, about not starting or I could play my role. I decided I needed to buy in."
Knowing some other teammates were "more talented," Alex quickly identified how he could best help the Lakers reach their ultimate goal.
"I'm a pretty good basketball player, and when I look at the guys around me, they are way more talented. So, I decided the thing that's going to put my name with these guys was my energy," he said. "On the first day of practice, Coach Mayo told us there were three things we needed to work on, and one was rebounding. I took it to heart. Somebody had to go in there and pound the glass. In the playoffs, I realized I really had to go after the ball. I'd rather rebound than score. It's attitude. It's wanting to run into someone or knock them aside to get the rebound."
Brandon Palmer was another player who grabbed and opportunity and ran with it.
"I've been working really hard, since freshman year when I was on the first team. I moved up, and last year, I didn't get the minutes that I really wanted. So, I put in a lot of work this summer, spending a lot of time in the gym. I was focused, and when Coach Mayo gave me the opportunity, I took it," he said. "I tried to slow the game down, and I became more comfortable out there. I've always had the ability to play, but mentally, it took some time to get where I needed to be."
During Saturday's welcome home champion celebration, LR Athletic Director Paul True talked about the incredible journey the boys had experienced.
"This group of young men are so close. They play for each other. They are truly happy for others success. This is one single, humble opinion, that's why we are here today and that's why they brought back the Gold Ball to Lake Region High School," True said.
Captain Nate Smith said the journey was full of lows and then highs. As freshmen, the Lakers were 5-13, out of the playoffs. The next season, LR improved to .500 and nearly stunned second-seed Morse, losing in overtime in the quarterfinals (LR beat Fryeburg in the prelims to earn a ticket to the Expo). Last year, the Lakers were ever so close to reaching the state final, losing a late lead and falling to eventual Class B champion Cape Elizabeth, 51-46.
After a 15-6 campaign, the Lakers felt they were primed for a title run. They did not disappoint.
"We've been playing together for so long. We played all the time all summer. We would play three to four hours every night at a local gym. We really believe in each other — that's the difference, everybody bought in. We knew we had the potential but knew it wouldn't be easy," Smith said.
Congrats and inspirations
As the days passed, Coach Mayo was finally able to take a step back and appreciate what his club had achieved.
He also was flooded with congratulatory calls, texts and e-mails.
"I've heard from guys who won it in 1985, like Brian Clement, who texted me a couple of times. I heard from (former LR varsity coach) Steve Cavallaro, it was pretty special. I was the JV coach then, my first year coaching. He taught me how to run a good practice and insist on doing the right things. He preached defense. I had some nice notes from Coach Whitney. Former teammates," Coach Mayo said. "I heard from a guy, who was a Farmington alum who played for Maranacook, who I had never met before. He liked the way we played, and was proud of another Farmington alum. All the signs around town. When we got back, the number of people welcoming us home was fantastic. People are so proud of what we've done. I've always been a Laker, knowing the history and how long it has been. We've had some super teams that could have done this. We were lucky, too. No serious injuries. They had it in them. They found a way to bring it out — believing they could do it."
Jack Lesure and teammates enjoyed talking with young fans and having photos taken with them and area residents.
"It was amazing seeing the little kids. Maybe they will repeat this, and I'll come back as an old-timer to support them. To see all the fans, I was like, 'Wow!' They could have been doing other things, like going to the movies, but they chose to spend the day supporting us. It's unbelievable," Lesure said.
Brandon Palmer talked with younger kids at the Casco Community Center last week and wished them luck with their remaining games.
"I told them one day they will be up here, and we will be there watching them," he said. "Everybody dreams about going out as a state champion their senior year. We made it happen and we did it together."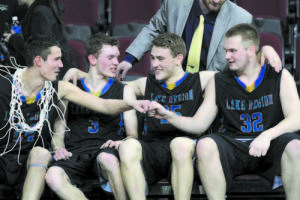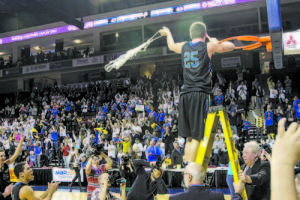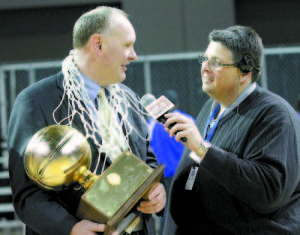 Please follow and like us: