The Gilroy legacy: Center aims to help Native Americans, create awareness
By Wayne E. Rivet
Staff Writer
In life, Frederika Gilroy was known for her energy, intellectual curiosity and strong passion for people.
A survivor of Nazi occupation of her Dutch homeland, she relocated to the United States, where she led a life of charity and kindness.
When Frederika died at the age of 92 in March 2012, her husband of 65 years, Wardner, asked local attorney Glen Niemy what could be done to help her name and good deeds live on. Niemy suggested the creation of a charitable trust.
Wardner, who was a chemist and spent his working career at Sperry Rand (he also served in the U.S. Army, involved in "top secret" projects), funded the trust, which targeted charitable institutions and deserving individuals. Since the couple had resided in Bridgton for 25 years, some funds were used to improve the quality of life here, but were also sent as far as impoverished Burkina Faso in West Africa to help finance hygiene and water projects.
Nine months after his wife passed away, Wardner died at the age of 88. With no immediate surviving family member (the couple were predeceased by their son, Foster), the remaining assets of the Gilroy estate were added to the trust.
"It was originally our goal to spend all of the funds of the Trust on these good causes and close it down. However, upon consideration, we felt that it would be a shame not to carry on the name and works of these two wonderful people," said Niemy, who serves as a trustee and president of the Gilroy Trust.
In May 2013, the Trust applied for IRS 501(c)(3) status and started fundraising efforts.
"We have some great ideas to further enhance the lives of many people in our corner of the world. It is our goal that the Trust spend as little money on administration as possible so that the greatest good can be accomplished with the Trust funds," Niemy said. "The Gilroys were caring, kind, peace-loving people whose goodwill extended to all that they knew. Our goal is to continue the wonderful loving spirit of the Gilroys through unambiguously charitable acts via the Trust that bears their names."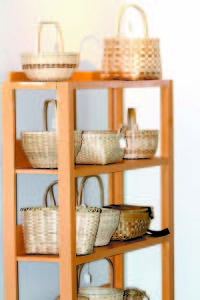 Another "project" the Gilroy Trust has undertaken is the Maine Native-American Center, which opened in late spring on Main Street, in the retail business building across from Renys. Niemy said the Gilroys wanted money to be used for Native-American education, but were vague as to "exactly what."
"I have no idea what their connection was to Native Americans. I didn't know exactly what to do; there was significant amount of money in the estate; I decided to do something here," Niemy said. "I went to the Internet and happened to type in 'Native American Mainers,' and went from there." Niemy's research led him to Maine Indian Education. He wrote to the school district for the Passamaquoddy and Penobscot tribes in Calais informing them the Trust had money available to assist Wabanaki individuals to continue their education and create programs to better their lives. Connections have also been made with the Aroostook Band of Micmac and Houlton Band of Mailiseets (the four tribes are known collectively as the Wabanaki).
"I wanted to make sure that we were not just sending money to someone and not know what happens after that," Niemy said.
So, Niemy met with the chiefs on an informal basis, noting that the Trust's emphasis was on education. He also met with the superintendent and special education director of Maine Indian Education and school principals.
"Although they get money from the federal government, there are many, many things that they don't have (uniforms for soccer, sneakers). The federal government covers the 'basics,' but the things that make things work and make it easier for the kids to have more opportunities are hard to come by," Niemy said. "We started a trust in June 2012. Since this was private money, we were not bound to follow a government checklist. We became familiar with all four tribes, and we left it up to them for the most part to decide what they needed and what is best for the kids. Our first statement we made to them was that the white men were not going to tell them how to live. That is the last thing we wanted to do. We wanted to know what their needs were and how we could help them put into effect programs that will help their children."
Beginning last year, a formal seven-member board of trustees — five members are Native Americans, "which we wanted them to always be the majority on the board," Niemy said — was created to oversee how Trust funds would be spent. There is an application process, and the board decides which requests to fund.
"It's not only for kids just K-8. It's for all of them," Niemy said.
Native Americans in Maine (7,000 to 8,000 according to the latest census) receive a tuition waiver for state schools.
"That isn't the problem. The problem is the little things that no one gives them money for. How do they get to school? They may have a car, but water pump is gone and they don't have the extra money to fix it. We provide for things like this," Niemy said. "We are interested in helping young people to get out there and work for themselves. They have the ability and the skill, but sometimes they don't have the little things that we take for granted, like a computer they will need for school or books. The nice part of having a Native American board (Passamaquoddy and Penobscots) is that they are a tight-knit community. They know the true needs. They make the decisions."
To date, the Trust has helped fund more intensive science programs, summer school and classes to prepare children for high school, the ability to hire mentors and tutors, and finance an academic coordinator, who works closely with Micmac students in grades 7-12 to create personalized learning plans and goals.
"Because there are very few Micmac students who take college preparatory courses all four years of high school, we knew this was a great need," said Dena L. Winslow, Tribal Planner of the Aroostook Band of Micmacs. "We want our tribal students to compete for and succeed at all job levels. The Frederika Gilroy Trust for Native American Education has made it possible to provide our tribal students with the type of culturally sensitive education and guidance needed for successful futures."
The Trust has also financed many programs intended to reconnect the younger Wabanki with their language and culture, and teaching them that being Wabanaki should give them a strong sense of pride.
The Trust helped Shantel Van Dyke, a member of the Penobscot (father's side) and Oneida Nation (mother's side), take part in the People to People program. The Trust paid for the entire trip to New Orleans, where Shantel participated in a Leadership Summit and worked in communities still rebounding from Hurricane Katrina.
Most gratifying, Niemy said, was the Trust giving $25,000 to three elementary (K-8) schools for principals to spend as "discretionary" funds.
"What a lot of them did was to provide things that the children don't get the opportunity to experience, like go to a movie, some have never been to a baseball game or ski, never been on a college campus, things you and I never think twice about," Niemy said. "They are so isolated. Families are often very poor. Kids then see there is a reason to work for something — a better life."
Over a two-year period, the Gilroy Memorial Trust for Native American Education has awarded $375,000.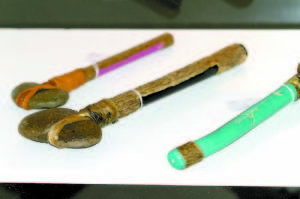 Local awareness and selling point
There is a great deal of work still to be done, and unfortunately more money will be needed to make deeper impacts.
So, the Trust seeks donations and it has opened a local Maine Native-American Center on Main Street in Bridgton.
The Center has a dual purpose. One, visitors can catch of glimpse of Native American heritage by learning some history and seeing handcrafted items. Two, some of the crafts are for retail sale.
Why in Bridgton?
"Obviously, we live here," Niemy said. "When I floated the idea to the board, I said the good part about Bridgton is folks from out-of-state come here, they will never travel that high (north) in the state, like eastern Washington County. We can be a bridge between the two cultures. Quite frankly, we want to use this place to show prospective institutional donors that we have a program that works because we are in close contact and a good relationship with the Native Americans and they are deciding their own destiny. They are very intelligent people. Our prime directive is to not interfere with Native American culture. We are cognizant that they have a very viable culture, and want to support that. When people are proud of themselves — and they are very prideful — they try hard and do better."
The Center is the only facility in southern and western Maine to present some of the history, culture and aspirations of the four tribes.
"We want to emphasize we have people in our midst, whose relatives go back thousands of years. Their ancestors were here 12,000 years. They were living a free and vibrant culturally, acceptable lifestyle. We don't shy away from telling the truth here," Niemy said. "We don't want anyone to think that we are blaming anyone. You can't tell the story of the Native Americans without telling the story of attempted genocide. They have two great fears — their culture will disappear and their children are going to be lost."
Niemy admits this project can "become totally absorbing" both on a business and personal level.
"We want the story to be told, and also want people to realize we have some responsibility as a nation to do something. Being Jewish myself, it has a very personal connection. My respect and gratitude to the people who fought in WWII, I am alive because of them. This is a much longer story, but these are people who were horribly abused and faced genocide before the British were kicked out. Yet, they are still alive and still trying. It is very compelling story. It is right here, right up the Maine turnpike."
At the Center, products from baskets to carved walking sticks to porcupine quill art are all handmade — no machines — by Native Americans.
"People sometimes will say it's a lot of money, but they need to understand that these are very time intensive things. This is a basket meant to last a lifetime. It's not some 7-year-old Cambodian making these things. These are people pouring their hearts and souls into these things," Niemy said. "Yes, we have to charge more. I pay these folks to make them. We could take advantage of them because they need the money, yet we pay a fair price. I am not going to be part of that long chain of abuse. So, we have items for sale. It's not the Center's primary purpose. The primary purpose is to raise consciousness and try to get people, larger institutions, to help us out in what we're doing."
There is no fee to visit and browse inside the Native American Center.
"You don't have to leave a dime," Niemy said. "We are happy to have people visit!"
The Center will be run by Sikwani Dana — her father was a former chief. She can answer questions visitors may have. The Center's summer hours are Thursday and Friday from 11 a.m. to 4 p.m., Saturday from 10 a.m. to 4 p.m., and Sunday from 11 a.m. to 4 p.m. Telephone: 647-2600.
What may have started as a relationship between an attorney overseeing the wishes of a client and an estate has developed into a passionate, humanitarian effort for Glen Niemy.
"The life expectancy for Native Americans is late 50s, which is what you find in Africa. People within the borders of this state have a life expectancy as those in the Congo? You don't have to be a bleeding heart to realize something is wrong here. These people need help, not a handout," Niemy said. "I've become an advocate. I've become passionately involved in this, maybe in part due to my background. These people have gone through a lot and this was their land once. Like the Holocaust, it is indisputable — it was their land once. They fought for this country, WWI and WWII and helped during the Revolutionary War, they fought for us against the British and were very effective."
Niemy is hopeful the Center will be successful on all fronts.
"If one person gets the message, then our efforts here were successful," he said. "You have to believe in something and try to make a difference. I've learned to believe in these people. Let's hope something good comes from this."
Please follow and like us: