Teresa (Paul) Libby, 80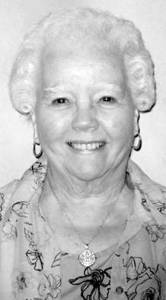 NORTH WATERBORO — Teresa "T" (Paul) Libby passed away on Sunday, May 11, 2014.
She was born on Sept. 8, 1933, in Houlton, the daughter of George D. Paul and Mabel (Tracy) Paul. The family moved to South Windham when Teresa was young and she was educated in the Windham school system. She also took classes at the University of Southern Maine and at Casco Bay College.
Teresa married her high school sweetheart, Harry, who was in the USAF in 1951 and went with him to Laredo Air Force Base in Laredo, Texas, where they lived for the next three years. While in Laredo, they made friends of other airmen and their wives, who they still visit and keep in touch with to this day. She always said she wouldn't live down there again for a million dollars, but neither would she give that time up or the friends that they made for all of the money in the world.
Teresa and Harry loved to travel and for years had a motor home and they traveled around the country. In 2007, they drove by car out to the West Coast visiting AF friends along the way. They covered over 9,000 miles with Harry driving all the way.
"T" enjoyed reading, doing crossword puzzles, knitting, crocheting, sewing and watching quiz and mystery shows on television. "T" retired from Woodard & Curran in 1995, (the first time), and then went back and worked three days a week, retiring for good in 2007. "T" always had a soft spot in her heart for Woodard & Curran and the many friends that she made there.
One of the biggest joys in her life was spending time with her family. Her grandchildren were her special joy. She always told them that there were no grandchildren more special to (Tee-Tee), than they were.
Teresa was predeceased by her parents. Survivors include her husband, Harry B. Libby Jr.; three children, Brad of Limerick, Glenn of Gorham and Linda Libby of Waterboro; her grandchildren; two great-grandsons; three brothers, Robert Paul of Portland, Kent Paul of Windham and Walter (Butch) Paul of Gorham; two sisters, Sandra Sawyer and Judith Morin of South Casco; as well as several nieces and nephews. "T" also leaves her "other daughter," Mary Michaud of Topsham.
A memorial service will be held on Tuesday, May 20, at 4 p.m., at the Little Falls Baptist Church, 746 Gray Road, Gorham. Burial will be private. Arrangements by Dolby Funeral Chapel. Online condolences may be sent to www.dolbyfuneralchapels.com
In lieu of flowers, donations in Teresa's memory may be made to: Maine Cancer Society, 1 Bowdoin Mill Island, Topsham, ME 04086 or to the Maine Alzheimer's Association, 383 U.S. Route One, #2C, Scarborough, ME.
Please follow and like us: