Susan B. Ward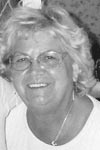 Lewiston — East Oxford lost one of its daughters, Saturday, Jan. 14th at Central Maine Medical Center in Lewiston. Susan B. Ward, 68, passed away peacefully with loved ones at her side.
She was born March 6, 1943, in South Paris, the daughter of Aili (Peiju) and the late Armas Wuori. The oldest of four children, her childhood was spent at the family farm where she learned her work ethic, how to sew, cook, decorate, especially with hearts as a theme. She was a big heart herself and known by all as a thoughtful, caring person. Sue was always quietly willing to help others.
On Sept. 1, 1962, she married Erwin Ward of Casco. Their life together included a large circle of friends with a history of family gatherings (The Frosty Party), travel, and good times. Her family was her pride and joy. The grandchildren had their way when they came to visit. Her quick wit and wonderful sense of humor made for plenty of laughter and family fun. The little ones couldn't get over "Meme" being a domestic goddess.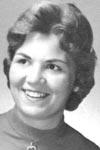 Family members include her husband of 49 years, son Michael, son Mark and his wife Michelle, son Scott and his wife Julie; grandchildren: Eli, Kelsey, Billy, Mikeckney, Kaitlyn, Connor, and Lainey; one great-grandchild "Little Billy;" her brother Peter and wife Betty; her sister Serena and husband Kenneth Dube; special aunts: Lahja, Sylvia, and Pearl; several nieces, nephews, cousins, the ladies at Fluff 'n Fold and fellow golfers at NCC, and many special friends.
She was predeceased by a brother Martti, her grandparents and many aunts and uncles. She will be in our hearts forever.
A very special thank you to Dr. William Medd, Stephens Memorial Hospital, Maine Medical Center, Central Maine Medical Center, Androscoggin Home Health, neighbors, friends, Michelle, Julie, Serena, Ken and Aunt Lahja for their loving care the last month of Susan's life.
A memorial service celebrating Susan's life, officiated by Rev. Donald Mayberry, will be held on Saturday, May 19, 2012 from 1 p.m. – 3 p.m. at their home located at 22 North Town Farm Rd. in Oxford. In lieu of flowers at this time, if you choose, please do a favor for a friend or donate to your favorite charity. Arrangements under the care of Oxford Hills and Weston Funeral Services, 1037 Main St., Rte. 26, Oxford, ME 04270. Online condolences may be expressed to the family at www.oxfordhillsfuneralservices.com
Please follow and like us: