Surprise! Mother Nature dumps 18-plus on Region
By Dawn De Busk
Staff Writer
The second Nor'easter of March impacted the region by altering people's plans and elongating winter with close to 20 inches of snow in a 24-hour period.
No matter how big the storm, people in the community march on with what needs to get done, including driving to and from work or getting rid of the snow accumulation on roads and parking lots.
On Tuesday, schools throughout Maine were cancelled, municipal meetings were postponed, town halls were closed, and most events were delayed until another less snowy day.
On Wednesday, schools cancellations continued for a second day while many town halls waited until noon to open their doors to the public.
The snowstorm — which was predicted well in advance — started around midmorning on Tuesday with snow more akin to lightweight ice. By the late night hours, the storm had become stationary — pausing above an area that encompassed Northern Massachusetts, New Hampshire and Maine, and producing snow at a pace of one to three inches per hour, according to the National Oceanic and Atmospheric Administration (NOAA).
Someone on social media shared a measurement of 18½ inches of snow in Bridgton before midnight on Tuesday. The measurement appeared on the National Weather Service (NWS) website.
At 5 a.m. Wednesday, an employee with NWS had taken a measurement of 17½ inches in Otisfield.
While some families were able to hunker down in their homes, there were those people who had places to be: convenience stores, grocery stores, hardware stores. Other Mainers were truly out in the thick of it, driving plow trucks or emergency vehicles.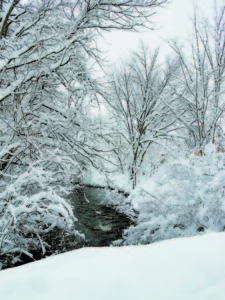 Food City Manager Kirsten Wears said the Bridgton-based grocery store closed during the storm on Tuesday at 6 p.m., three hours earlier than usual. On Wednesday, Food City opened at its regular time of 7 a.m. Wednesday morning, Wears shoveled out, drove to work and arrived an hour early per usual.
"I live in Harrison. It wasn't too bad of a drive. The roads were covered by an inch or two of snow. The plows had done a good job. If you live in Maine, you know during the winter time, you drive slowly and leave earlier to get where you're going," she said.
She provided an estimate of snowfall totals.
"At my house in Harrison, we had close to two feet," she said. "Here, in Bridgton, I am not sure. I had to shovel near my receiving door. I have to shovel a path. There might have been 18 inches out there."
There is a big influx of shoppers the day before a substantial snowstorm, Wear said.
"It was busy. The day before is always insane because people tend to panic. They need their milk and eggs. Who knows? They can be trapped for months."
"The weather — it's the topic of conversation. It is the same story with every customer. 'It's going to snow again. I don't know where we are going to put all the snow,' or 'It's a spring storm. The sun should be shining,'"
While the snow was falling and customers were stocking up on necessities in the 11th hour, technical difficulties were added into the equation.
"The problem for us is our systems were down so we couldn't process credit cards or debit cards. So, there was already the crazy mayhem and we had to do things manually. That was horrifying. But, our customers were patient with that," Wears said. She did not know if the weather was to blame.
Certainly, it is nice to be able to count on a plow truck driver, she said.
"Justin Gibbons, with Hilltop Roofing, does a great job on our parking lot. He is always great to work with. If I say he missed a spot, he comes back and takes care of it. Kudos to him," Wears said.
She extended her thankfulness to all the plow drivers that keep the local roads manageable.
"The plow guys have done a great job keeping up with this mess," she said.
Please follow and like us: