Student of the Month: Monica Couvillion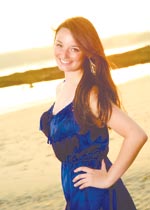 Monica Couvillion has been selected as the area Lions Clubs' "Student of the Month" for January.
Each month, area Lions Clubs recognize a Lake Region High School senior who has excelled academically. The recipient is honored at a Lions' dinner meeting and is presented a monetary award.
Name: Monica Couvillion
Class of: 2012
Residence: Sebago
Parents: Carolyn Cutting and Kurt Couvillion
Activities: Field Hockey, Tennis, National Honor Society, Varsity Club, Student Council, Prom Committee, Math Team.
Community activities: Alternative Spring Break Club with Habitat for Humanity, volunteered at the Casco town Halloween parties and local recreation field hockey league, Spanish tutor at Stevens Brook Elementary in Bridgton.
Hobbies: Photography and writing.
Future Plans: A four-year college, majoring in communication with a focus in broadcast media and journalism.
Schools that you have or will apply: Flagler College, Marist College, Elon University, Susquehanna University, Lynchburg College, McDaniel College, St. Bonaventure University, Allegheny College, and Curry College
Schools that you have been accepted to: All!
What is your favorite class? Yearbook is my favorite class because I love graphic design and I also love learning more about my classmates and being very involved.
What is your toughest class? AP Government is the toughest because there are always new topics and new things to study and remember.
How do you balance your class work and your extracurricular activities? I balance my class work and extracurricular activities by practicing good time management and working my hardest at both.
What is the biggest challenge high school students face today? The largest challenge that students face today is balancing extracurricular activities with schoolwork. It is clear that in order to successfully move on to college, both areas should be equally represented, but it is very difficult to keep up with both at once.
Who has inspired you educationally? My mother has inspired me educationally. She has always encouraged me and helped me to do my best inside and outside of school while using her own college experiences to assist me in the application process.
Please follow and like us: