Straw Bale Home Building As Education
By Joyce White
Special to The News
The McKeith family in Sweden seems to have found a way to live well by living simply. On their 70 acres, the family has built a distinctive, solar-powered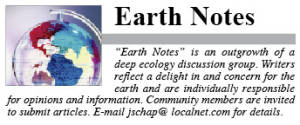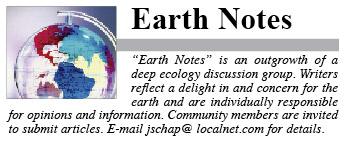 home for five humans, two dogs and Hubert the cat. The house is small with beautiful, simple lines and white plaster exterior finish. The interior is equally appealing and seems larger than the 850 square feet of floor space, open, airy and efficient.
The building of their straw bale house began in 2000, Stefanie McKeith says, "as a home school project." Son Thayer is now 21, Trevor 18 and Colin 13 and when they moved into the house in 2004, all the boys were still being home schooled.
"Children need to be outdoors in nature," McKeith said. "They shouldn't sit in school all day."
As a child growing up in Germany, she said kids didn't go to school for a full day until fifth grade. What an ideal learning experience for three boys to learn with their parents to build their own home as part of their education! She described her husband John — who earns his living as a photographer but who obviously has many other skills as "an inveterate planner." They pored for months over a variety of books about building with straw bales and creating electricity from the sun before making final plans for the house.
They had some help with cutting the trees on their property which they used in framing the house and some help with the foundation, she said. Noah Wentworth, an alternative builder in Arundel, helped with the plaster. Wentworth also gave them a one-day workshop on fitting the straw bales. Otherwise, the family of five built their home using a timber frame in-filled with straw bales.
The timber was milled on the property with a Wood Miser Alaskan sawmill. The whole area had been clear-cut in 1990 before they bought it. Ninety percent of the lumber came from their land. The carrying timbers underneath — wet hemlock — were purchased because they needed to be 24 feet long. They used wet hemlock, she explained, "because you can't drive a nail into dry hemlock."
The straw came from Canada, especially packed 50 to 60-pound bales, "so that when you cut the strings, they don't break apart," McKeith explained. They used lime plaster — mostly sand from the sandy esker on their land plus a little Portland cement. (An esker is a long, narrow ridge of coarse gravel or sand deposited by a stream flowing in or under a decaying glacial sheet.) A low-tech, tow-behind truck mixer did the mixing while the family applied it to inside and outside walls.
An open kitchen/living/family room occupies most of the floor space with room left for a bathroom and bedroom. The boys sleep in the loft space now, with plans in the works for an addition next year. McKeith says she loves the looks of straw bale homes, that it reminds her of European homes. Theirs is esthetically pleasing as well as functional.
It is also energy efficient, R45, with good air exchange, she said. The only heat is from a wood stove and they cut their own wood. The fridge and cook stove run on gas. Their photovoltaic system furnishes electricity for all the buildings — they also have built a timber frame barn and another shelter for their growing alpaca herd plus a small, cheery building for Stefanie's fiber work. Solar electricity does require some lifestyle adaptations, McKeith acknowledged. Even an electric toaster uses 1500 W, she pointed out, so they use a low-tech camp toaster over the burner on the stove. But the ground-mounted solar panel provides for lights, a computer and a washer.
They bought their photovoltaic system in a kit from New England Solar Electric and installed it themselves. It puts out 1250 watts per hour at peak efficiency. The 24 batteries in their cellar — which, she says, stays above 40 degrees — require some maintenance. Since the DC electricity produced by the solar set-up needs to be converted to AC for use in the house, they also have a large inverter. Using electricity from the sun is not difficult, McKeith said, but not as simple as flipping switches whenever we choose and paying Central Maine Power.
Joyce White is a resident of Stoneham.
Please follow and like us: