Sports year in review
By Wayne E. Rivet
Staff Writer
Everyone likes an underdog.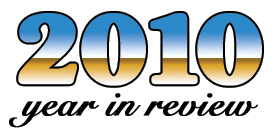 2010 had its fair share of sport stories where athletes ignored long odds to succeed when few thought they would.
In 2010, we also learned:
Sometimes, a phenom truly lives up to the hype.
One can play hard, yet also be a good sport — and be recognized for it.
Past glories and excellence can be remembered and celebrated.
There is a race on the Fourth of July that equals in stature the highly-publicized run in Freeport.
An outstanding coach can truly mold talent, make kids believe in a system, and accomplish the unexpected.
And finally, sports has its violent side. Kids play hard, but sometimes hard knocks can result in an injury that has lifetime repercussions if ignored.
Like any Top 10 list, there is always room for debate, but here are The News' top picks:
HM. Mind over physical shortcomings. This year's honorable mention goes to two inspiring athletes who refuse to allow either a medical condition or previous injury from preventing them to compete.
Kate Hall of Casco is an eighth grader, who excels at both basketball and track & field despite battling Type 1 diabetes and celiac disease. Kids love to eat just about anything under the sun, but Kate has to be very cautious. Not only does she test her blood sugars throughout the day and be subjected to about 2,500 insulin shots a year, she must avoid all food products containing gluten. Despite these issues, Kate has set six Poland Panther Track Club marks and state records in the 40 meters and 150 meters. "She had the right attitude," Kate's mother, Jen, said. "She doesn't like to be singled out. She always works as hard as she can."
Mike Lessard of Bridgton could easily have given up cycling after a terrible fall while cruising down a mountainside left him with six broken bones inn his neck, three broken ribs, a tear to the lining of his lung and trauma to his back, which required 14 hours of surgery. Losing some function in his right arm, Mike vowed to get back onto a bicycle seat and ride. "I knew I wasn't going to play baseball or basketball again, but my goal was to get back on a bicycle again," he said. "The one constant in my life was biking. I do believe it kept me sane."
A pharmacist at Bridgton Hospital, Mike rode in honor of cancer patients at the Dempsey Challenge for the second straight year this past fall, completing the 100-mile loop. The ride was part of a much bigger personal challenge. Before the Dempsey Challenge, Mike had logged about 4,500 miles since purchasing his present road bike last year. Riding about 130 miles per week, Mike is proof that where there is a will, there is a way.
10. Good sports do get recognized. The Lake Region varsity girls' basketball team may have failed in their quest to reach the State Finals, losing to eventual champ York in the semis, but they did capture a prestigious award — the Maine Principals' Association "Sportsman Award." It was the third time in Lake Region history that a LR basketball squad earned the honor. MPA committee members voted at the end of the West tournament for the team they felt was most sportsmanlike — and the Lakers got the nod.
9. Recalling the glory days. Fryeburg Academy remembered some of its glorious athletic past and tipped its hats to 13 members making up the first class to be inducted into the new Hall of Excellence. The selection committee received over 50 nominations, and after applying some very specific criteria, the group chose: Harvey Dow Gibson, Cliff Gray, Rayfield Payne, Robert Graustein, Colin Hurd, Vincent Manoriti, Scott Kelly, Thomas "Ned" McSherry, Gerald Durgin, Larry Gallagher, Patricia Wood, Marcus Nash and Jackie Eastman Buzzell.
8. Coach of the Year. Fred Apt is somewhat humble when fans, parents and sportswriters talk about his success as a softball coach. He is quick to recognize his assistants' input and hard work, as well as the dedication and commitment put forth by his players. However, stats do tell a compelling story. Returning to the Raider program after a leave, Apt turned around Raiders after a 1-15 campaign to win four straight Western Maine Conference titles, two state crowns and he nearly added a third. He also won a state title in hockey. Earning his 100th softball win in 2010, Apt went on to be named the Maine Sunday Telegram Coach of the Year. A system and a strong leader truly makes a difference in sports.
7. Nearly unbeatable. Middle school is often looked at as a training ground — the years before young athletes reach the bright lights of varsity sports. In 2010, the Lake Region eighth grade girls' basketball team put forth a magical run, going 20-2. Coach Kevin Hancock juggled his line-up to give all players an opportunity to experience basketball and hone their skills. It worked perfectly as the Lakers averaged 41 points per game, while surrendering less than 25 points 15 times and less than 20 points in eight games. LR lost is first game to Westfield, Mass. on Dec. 12 and would not be on the losing end again until Feb. 1 when an undefeated Falmouth team ended the streak. The Lakers gained some revenge, beating Falmouth 33-30 behind Tianna Carter's 18 points. Today, Carter anchors the center spot for the Laker varsity, averaging double digit rebounds.
6. Hard knocks to worry about. Years ago, when an athlete took a hard shot to the head and felt a little woozy, they were encouraged by their coaches to just "shake it off."
"They gave us smelling salts and I went right back inn," recalled Lake Region varsity football coach Jason Simmons, who was a lineman during his high school days.
In the United States, athletes sustain an estimated 300,000 sports-related concussions each year. With a greater understanding of head injuries and the lifetime effects of concussions, today's athlete is being more carefully evaluated following a hard knock to the head area. Both Lake Region High School and Fryeburg Academy utilize the ImPACT program, which assesses athletes who have suffered a concussion. Specific standards must be satisfied before athletes can return to competition.
"Concussion has always been there. Now, there's a move to study it more and development treatment," said Patrick Burford, an athletic trainer with Mountain Center Physical Therapy & Sports Rehab, who works with FA athletes. "People have seen what brain injury can do. They saw images of a great man — Muhammad Ali — who has been reduced to a shell of himself."
5. Kings of the Mat. Fryeburg Academy has a long and rich wrestling tradition. In 2010, Peter Bacchiocci and Stefan Emery continued that excellence. Bacchiocci captured the Class B state title in the 145-pound weight class with a pin in 1:23. Emery earned a hard-fought 1-0 decision in the 152-pound weight class. Both champs return to the mat this winter.
4. Hall of Fame race. Freeport seems to draw a lot of publicity for its Fourth of July road race. Well, Bridgton can be spoken in the same breath — some will tell you that's always been the case. Now, the Bridgton 4 on the Fourth has the hardware to back up its argument. The race attracted a record field of 1,895 (1,756 finished, another record) in 2010, and was named into the Maine Running Hall of Fame. Director Jim Cosey along with past directors Loraine and Jay Spenciner accepted the honor in November. The race celebrates its 35th year in 2011.
3. Out of nowhere, a champion rises. Everyone figured two Mount Blue skiers were the favorites to win the Class A Nordic title. And why not, they were racing on their home turf and they were 1-2 state finalists a year ago. Janna Kurnick, a senior at Fryeburg Academy, didn't worry about any of that. She just skied — her best "classic" effort of the year, beating the defending state champ by 35 seconds. "It was one of the most impressive races a Fryeburg skier has had in many years," FA Coach John Weston said.
2. Living  up to the hype. All season, sophomore Silas Eastman had a target on his back. After an impressive freshman year, Eastman was one of the "runners to beat" in Class B cross country. Meet after regular season meet, Eastman was a minute or better ahead of the competition. But, could the phenom handle the pressure and win it all? He did, and he did it with class. Silas posted the second fastest time of the day, winning the Class B crown. He was slightly off the pace set by Class C champ Matt McClintock of Madison. A few weeks later, Eastman was the fastest Mainer at the New England Championships held in Vermont.
"What makes Silas a special runner is his ability to endure under great stress," FA Coach Bill Reilly said. "As Steve Prefontaine said, 'When it boils right down, the one with the most guts win the race.' Very few runners in Maine ever reach the level Silas is at now. If Silas chooses to go to the next level, that will be his choice."
Is back-to-back titles a possibility? Silas already plans to run more during the summer months to prepare for his title defense. "I will be more serious and work a lot harder during the season," he said. That will certainly spell trouble for the opposition.
1. Who would have 'thunk it?' Nobody saw this coming. No one. Losing five starters including star pitcher Hannah Hill — Miss Maine Softball 2009 — daily newspaper sports writers figured two-time defending champion Fryeburg Academy would return to the middle of the pack in 2010. Even FA coaches figured going 8-8 was a realistic goal. While the coaches expected the Raiders to be a playoff team, they certainly didn't talk about a third trip to the State Finals.
Surprise, surprise! Fryeburg won its first 13 straight games, including a 10-4 thumping of preseason favorite Gray-New Gloucester, and landed its fourth straight conference title. How did they do it? Players were eager to step forward, make the most of their opportunities, and carried a chip on their shoulders wanting to prove to the rest of the league that they too were talented, they believed in each other, and they were as hungry to win as their predecessors. With every win, including three comeback victories in the West playoffs against Lisbon, Gray-New Gloucester and Maranacook, the top-ranked Raiders exclaimed, "Who would have thunk it?" Although the magic carpet ride would come to a screeching halt in Brewer as Hermon won its first title since the 1970s with a 6-1 victory, the Raiders certainly held their heads high with pride with what they accomplished in 2010. Over the past four seasons, Raider softball has gone 72-6. Will the streak continue inn 2011? Don't count the Raiders out.
Please follow and like us: