South champs! Not to be denied, Laker boys take care of unfinished business
By Wayne E. Rivet
Staff Writer
PORTLAND — A year ago, Nate Smith and Jack Lesure made a promise to each other as they sat on the bench watching Cape Elizabeth players cut down the nets at the Civic Center.
"Jack and I made a promise to each other after last year's (West final) game that we were not going to cry again on that floor unless we were winning. We were really determined to pull this one out," Smith said.
Smith scored 17 points and hauled down 7 rebounds, and Lesure added 14 points and drew two game-changing fouls as top-seeded Lake Region pulled away from third-seed Yarmouth 53-43 last Saturday to win the Class B South basketball title.
The Lakers (19-2) advance to the state championship game this Friday at the Cross Insurance Arena in Bangor against North champ, Ellsworth.
"It was an amazing feeling," said Smith about looking out into the large sea of white Laker shirts in the fan section behind the team bench. "Our fans are the best fans in the state."
From Day 1, Coach John Mayo has preached to his club that defense was the key to reaching their ultimate goal — a shot at a Gold Ball.
He was right on.
In a game that saw the score tied eight times and four lead changes, it was the Laker defense that turned the tide in the second half.
First, a shot at the buzzer by Bailey Darling was waved off as the Lakers were able to draw a player-control foul, keeping the game tied at 35-35 while saddling the Clipper guard with his fourth foul. He would foul out with 3:06 left in the game.
With the Lakers up 41-37 following a Brandon Palmer 3-pointer to open the final period and a Lesure 3-point play with 5:38 left, Lesure braced himself in the lane and took a charge by Yarmouth's 6-foot-7 center Aleksander Medenica, whose score was negated. It was Medenica's fourth foul.
"Jack does a great job. He reads it well coming off the ball. He's done it all year. At the rim, you get yourself set and get there early, it's not a hard call for the official," Coach Mayo said. "I'm nervous about those plays because they can go either way and you don't want your guy getting into foul trouble."
Medenica stayed on the floor, and Lesure went to work.
"I looked up at the display and saw that he had four fouls. I knew I had to go right at this guy and try to pick up his fifth and get him out of the game. I tried to go into him first, draw some contact first," Lesure said. "Once he was out, it was a big weight taken off our shoulders trying to stop him. He's a scholarship-type player. He's really good."
Smith agreed. Medenica had a team-high 15 points and 11 rebounds.
"He's a great player. He can do anything. He can dribble, shoot, pass. The only way to stop him is team defense. We had to make sure if Wando (Nick Wandishin) was fronting him, we had to have help side on the other. If he got into the post, we needed to double down. We knew he was going to score, but we tried to contain him," Smith said.
When Coach Mayo saw Medenica still on the floor, he wanted someone to go right at him.
"Jack was already down there looking to post him up," the coach said. "It was a big player off the floor for them."
Lesure made both foul shots with 4:47 left, putting the Lakers up 43-37. With Medenica out, the Lakers attacked the lane and were rewarded with 12 trips to the foul line. They made seven shots to pull away and lock up a South title.
Close early on
With each team owning a victory against the other in the regular season, both teams looked forward to the tiebreaker for the South crown.
"It would have been nice to play Maranacook to get some revenge because we definitely feel we should have beaten them. It was a bad game," Lesure said. "Yarmouth, we've had a big rivalry with. There is definitely mutual respect between the teams. We go at each other really hard."
Smith concurred, "We knew we needed to play them tough and we needed to stay focused. They're a good team. We're a good team. If we stayed focused and played defense the way we know how to we were confident we would win."
Both teams got off to sluggish starts with the Lakers holding a 7-5 lead after one quarter. Marcus DeVoe opened the scoring with a 3-pointer, but quickly drew some attention for the remainder of the game as the Clippers remembered his record-setting seven trey outburst in last year's semis.
The Clippers built an 18-11 lead as guard Musseitt M'Bareck netted a 3-pointer, his only trey of the game. Coach Mayo credited Brandon Palmer with keeping the shifty Clipper guard in check.
"We knew they run everything through Moose (Musseitt M'Bareck), (Aleksander) Medenica and (Nolan) Hagerty — their top three guys. We liked our match-ups. Wando did a great job playing Medenica. He made some great shots over Wando, who made him spin yet he still made the shot. You can live with that. We limited it," the coach said. "I thought Brandon did a great job on Moose. The last time, he hit five 3s. We had to contain him, not let him shoot the three. We gave up a few here and there early, but really didn't let them go off."
The Lakers made their own run at the tail end of the quarter as Smith scored inside and then dropped a 3-pointer.
"Coach Langadas really helps me to stay aggressive and have the confidence to get going early in games," Smith said. "It's good to work the defender, trying to take him both inside and out, keeping him off balance as to what I might do."
Alex Langadas has a flair for the dramatic because of his high-energy approach to the game. But, now one can also add a flair for the bizarre.
After a Yarmouth miss, Langadas collected the long rebound with 5.4 seconds left on the clock. He took a couple of dribbles and then launched a long two-handed chest shot. The ball slammed off the left side of the backboard.
"To tell you the truth, I can't see very well and when I looked up at the clock at the top of the basket, I thought there was just a second left," the senior forward said. "When I realized there was more time, I ran up the floor and was able to get the rebound."
He rebounded the ball, and scored before the buzzer sounded.
"I've not seen anything like it before. I had to look at the clock because I thought we had a shot at a layup, and thought he was going to push it up the court. Then, I see the ball in the air, look up at the clock and when I look down, he already had the ball again. A lot of kids don't do that, which is a real credit to Alex. Most kids realize they made a mistake, hang their head and stop playing. He just kept going, that's the type of kid he is. He plays hard until he hears a whistle or horn," Coach Mayo said. "I thought that play stole some of their momentum headed into halftime (LR trailed just 22-21). It got everyone going for us. That's what Alex does, he brings energy to our team."
Coach Mayo loves the energy and spark Langadas brings as the team's first guy off the bench.
"Everyone likes to start, but Alex likes coming off the bench. Sometimes, when you bring in subs, you lose a little. When Alex comes in the game, he brings a lot to the floor. He brings that energy which is infectious," Coach Mayo said.
The Lakers were both focused and energized in the second half. Smith got the offense chugging by scoring the team's first 10 points to put the Lakers up 31-28.
Yarmouth regained the lead when Darling went coast-to-coast for a layup. But, Palmer pulled a quick trigger and swished a 3-pointer from the left corner to tie the game, 35-35.
"Brandon's shot was huge. He really stepped it up as he has done all season. He is confident. He knows his role. He is comfortable out there. Brandon plays great defense, which he showed holding Moose to just 4 points. He does the little things that people don't talk about. He has been the most solid defender we've had," Coach Mayo said. "We had good looks at the start of the game, but missed some easy ones (9-of-23). We got caught up in the moment and were looking where their big kid was. In the second half, we refocused, got more quality looks and had fewer turnovers (nine in the first half, just two in the second half)."
As the Lakers paraded to the foul line over the final 3:49, Langadas was again involved in a very strange moment. After making a pair of free throws, he went back to the stripe with 52.1 seconds left. He missed the first. Yarmouth called a timeout. When the teams returned, Langadas shot his second free throw. He missed, but a game official caught the ball under the hoop. Everyone stood still, except for Langadas, who went to the official, took the ball out of his hands and scored.
"Alex was the only kid in the gym that knew what was going on. He was the first one there," Coach Mayo said.
After some discussion, the officials gave Langadas another shot. He missed it, but still managed a big smile as the clock started to wind down and Laker Nation started to celebrate.
"Our defense, especially in the second half, was the difference. In the fourth quarter, they didn't score much. It helped us pull away," Smith said.
During the awards ceremony, Jack Lesure was named the tournament's Most Valuable Player, receiving the Pierre Harnois Award, the fourth Laker to be selected for the honor since its inception in 1961.
"I think it's nice, but not my goal. I'm thankful for my teammates, who are the reason I got the award. If it weren't for the guys pushing me to get better every day, that award wouldn't have been mine. I'd rather get the Gold Ball than that. I think Nate Smith easily could have gotten that award. He is by far been our best player throughout the tournament. It's nice but I have bigger things in mind," Lesure said. "The 11 seniors, the chemistry we have, is incredible. We've been best friends so long and have been playing against each other and with each other since we were in rec basketball, I'll have relations with these guys until we're long gone. I'll never forget the experiences we've shared. It's more than basketball. We're having a great time playing the game and having fun. But to just be competing still when a lot of teams are done, it's something I'll cherish forever."
Lesure went to the bench early in the second half against Lincoln Academy due to a persistent shin-splint/ankle problem, but said there was no way he would miss the Finals.
"I've been dealing with shin splints for a good part of the year. Because I have been compensating for it, now I've had problem with my ankle, as well. Our trainer, India Bell, has done a great job in making it feel better. I know she is the trainer and what she says goes, but if I broke my wrist, I'd find a way to play," he said. "There was no way that I have gone through everything I've had with these guys that I would miss out."
Later, Coach Mayo received the game ball and then held it high for Laker Nation to see.
"There was a little sense of relief that we had accomplished a goal that we had set, which isn't always the easiest thing to do. You have to play well, shoot well, have a little luck on your side, no injuries. It felt great," the first-year varsity coach said. "But, we now have one more to worry about. Enjoy the moment, but we have to move on."
Up next is North champ Ellsworth.
"I've seen some tape on Ellsworth. It still comes down to the same stuff we've talked about all year — we have to play great defense, rebound and make our free throws. They're a great team. They have a kid (center Bruce St. Peter) who likes to post up or come off a ball screen. They like to go inside. They play man. So, we just need to be ready. We're suited to play anyone and their style," Coach Mayo said.
As for how his club will settle in at a likely raucous Bangor gym, Coach Mayo believes his players will be just fine.
"It's not about the environment, it's about do the right things. If you can shoot in the Civic Center in Portland, you can shoot in any gym.
"These guys love crowd noise. It helps us. The louder it is, the more they like it. These guys like the big stage. It's just another game we're going to play — the only difference it's the last one, the biggest one," the coach said. "How many teams can say they've beaten four teams playing for state titles — South Portland, Falmouth, Waynflete and Medomak Valley? We have. We can play with the best around."
Looking to the State Championship, Nate Smith said the Lakers' approach will be simple.
"The biggest key for us is to just stay focused. Keep it simple. We just need play the game the way we know how, just like we did all season. That's how we will be successful," he said.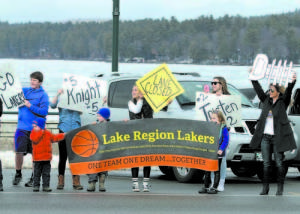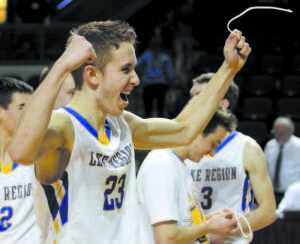 Please follow and like us: