Slow farming
By Joyce White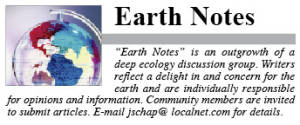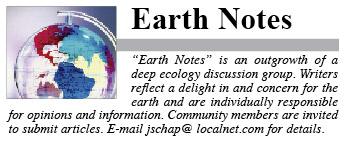 Remember "The Garden Song" popularized by Pete Seeger, the one that starts, "Inch by inch, row by row"? Somewhere in those lyrics — composed by Dave Mallett — are the words, "All you need is a rake and a hoe and a piece of fertile ground."
I've always liked the song, but anyone who has actually gardened recognizes the lines as metaphor rather than reality. It does remind us that gardening can be simple and satisfying.
It is not the inexpensive process that it was when I grew my first 4-H garden in 1942. Garden seeds then were five cents a packet, I think. Fertilizer was manure from our cows. We had to buy lime but that was pretty cheap. We were organic gardeners before the term was coined.
So, even though gardening is no longer simple and inexpensive, it doesn't need to be as fancy and expensive as garden catalogs would have us believe. Liz Como describes their approach to growing food as "slow farming." With husband Andy Chakoumakos and five-year-old Sofia, they use innovative ways to grow organic vegetables, herbs and flowers in their rustic setting in Stoneham.
In the limited space claimed from the surrounding woods to accommodate their house, they have created raised beds from three-foot lengths of clay drainage pipe from a farm in Greenville, the former Outward Bound base. She salvaged them from there, bringing some home after each course she led there one summer.
"Folks thought I was crazy but I couldn't see a good resource thrown away," Liz said.
So she rescued them from a landfill fate and stood them on end, side-by-side in the ground to form attractive and unique raised beds.
To clear more area around their house, rather than hire an expensive bushhog for a day, they borrowed two pigs, Spotty and Mary Ann, from a friend last summer. In two and a half months, Liz said, they turned over the soil, pulled out stumps and rocks and fertilized the area with their manure. Mary Ann is visiting again this summer, clearing another area. She apparently recognized it as a good place to be, Liz said, because she got out of the trailer enthusiastically and went right to work.
This spring, Liz noticed an interesting phenomenon. She had brought sweet pepper plants inside last fall to see if the small peppers would mature and by November, they had edible-sized peppers. They stayed green all winter, Liz said. "I was just kind of curious to see what would happen."
Those plants presented a nice surprise this spring. They began flowering as soon as the days grew longer, sometime in March, Liz said. By mid-April small peppers had formed and they're still growing. She has repotted them into larger pots and added more soil and compost.
She didn't know they would do that — nor did I — but the Garden Alive Library site with Mike McGrath reminds us that peppers are perennials in their native habitat with warmer winters than ours. Mike describes a complicated method for bringing peppers inside, saying they should grow under a shop light 24/7, not plant lights which he considers too dim.
But, Liz and Andy have, without knowing it is possible, wintered their pepper plants over just using the light from the sun through their south-facing windows and the heat from their new radiant-heated floors.
Using their unique "slow farming" method and creative innovation, Liz and Andy, with help from Sofia, grow some of their own food even while working at regular jobs. Liz, a licensed massage therapist and RN, teaches at the massage school in Bridgton and works as a nurse at Bridgton Hospital. Andy works at Patagonia. They organize their work schedules as much as possible to share in the care of Sofia. They also raise sled dogs, now down to 12 from the 20 they had for several years. When there is snow, they take people on sled dog runs. They can be reached at sleddogs@fairpoint.net
Joyce White is a resident of Stoneham.
Please follow and like us: