Shirley A. Kimball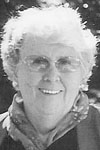 No. Waterford — Shirley Ann Kimball died on Saturday, Feb. 25, 2012 at her home in No. Waterford after a long and courageous battle with cancer.
Shirley was born on Oct. 7, 1935 in So. Paris, Maine to Ida Mae (Lapham) and George Gurney.
Shirley grew up and spent much of her adult life in Norway. She graduated from Norway High School in 1954. She worked as a clerk at Herbie's Shop-Rite until she became a full-time homemaker and then later in life as a butcher's assistant for Herbie Roberts Meats.
Shirley married Richard Kimball in 1965. The couple had one daughter in 1973. Shirley was a devoted wife and mother and enjoyed her time as a homemaker. She was the quintessential neighborhood Mom: an eye on everyone, whether they knew it or not, and always ready with snacks and an ear, and perhaps a bit of advice if asked. After their own daughter went off to college, Shirley and Richard both cultivated relationships with some of the younger families around Lovejoy Lane in Norway. They developed a particular affection for the McLaren and Mosley families who have continued to visit and provide support despite the Kimball's change in neighborhoods after they moved to No. Waterford. Shirley thought a great deal of all six children in the two families and happily received updates and photos through the years.
Shirley participated as a Girl Scout troop co-leader when her daughter was in scouts. She was very active in the Norway-Paris Fish and Game Association, not only participating in their activities and projects but holding offices in the organization as well. She served as the organization's President in 2002, one of only two women to hold that position up until that time, and  also held other offices after that. She enjoyed getting out and being social and helping others. She periodically worked alongside a high school classmate to help with the Community Lunches at the Unitarian Universalist Church in Norway, until recent years when she became unable.
Shirley was an active hunter and fisher. Though she didn't swim, many summer weekends were spent in a boat and most winters were spent on the ice. She enjoyed music and loved to dance.
She is survived by her husband, Richard Kimball, of No. Waterford; a daughter Jennifer Colburn and her husband, Jeffrey of Rockland; a granddaughter, Allison Colburn of Rockland; two step-granddaughters, Erin Colburn Hall and her husband, Erik of Durham and Nicole Colburn and her fiancé, Travis Campbell of Union; as well as two step-great-grandchildren, Bryce Colburn and Olivia Campbell of Union. Other surviving family members include a brother-in-law and sister-in-law, Arthur and Bernice Kimball of Williamsburg Va.; a sister-in-law, Eve Gurney of El Dorado, Kansas; a nephew, Larry Gurney and his wife Annette; two nieces, Lora Walker and her husband Steve, and Lynda Queen; a step-nephew Todd Plummer and his wife Shelly, all of Kansas, as well as several great-nieces and nephews.
Shirley is predeceased by her parents Ida and George and her sole sibling, a brother, Lawrence Gurney.
Much appreciation is expressed by the family for the work by Androscoggin Hospice staff to make Shirley's end-of-life care as comfortable and enjoyable as possible, as well as to the many family members and friends who visited throughout her illness and provided support.
Those wishing to pay their respects and express condolences may do so on Saturday, March 3rd, at 2:00 p.m. at the No. Waterford Congregational Church. A graveside service will take place in the spring at the Elm Vale Cemetery in So. Waterford, time and date to be announced at a later date. In lieu of flowers please make donations to the Memorial Fund of Norway-Paris Fish & Game, P.O. Box 123, Norway, ME 04268, or to the American Cancer Society, 1 Main Street, Topsham, ME 04086. Arrangements under the care of Oxford Hills and Weston Funeral Services, 1037 Main St., Rte 26, Oxford, Maine. Online condolences may be expressed to the family at www.oxfordhillsfuneralservices.com
Please follow and like us: