Scott M. Westberry, Sr.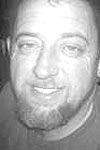 NORWAY — Scott M. Westberry Sr., 46, of Norway, passed away Saturday, Sept. 24, 2011.
He was born June 14, 1965, in Germany, to Allen Sr. and Maryjane (Munro) Westberry.
Scott worked at various restaurants as a cook and recently at Camp Waziyatah in Waterford. He loved to fish and hunt and had a hobby of junking. He was a wonderful father and husband.
He is survived by his wife, Melissa; mother, Maryjane Campbell of Portland; children, Joshua Westberry of Bucksport, Sara Thibodeau of Saco, Peter Thibodeau of Bangor, Deana McClain of Auburn, Scott Westberry Jr. of Norway, Emily Westberry of Norway and Elizabeth Westberry of Norway; a grandchild, Michael Lavoie of Bridgton; brothers, Allen Westberry Jr. of Norway, Mark Westberry of Pennsylvania and Larson Lincoln of California; a sister, Janene Westberry of Portland; former wife, Ann Marie Westberry of Norway; many nieces and nephews.
Visiting hours will be held on Saturday, Oct. 1, from 1 to 4 p.m. at Oxford Hills and Weston Funeral Services, 1037 Main Street, Route 26, Oxford, followed by graveside services at Arlington Cemetery, Route 302, North Windham.
Please follow and like us: