Ruth N. Trumbull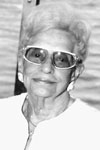 Littleton, N.H. — Ruth N. (Jones) Trumbull, formerly of Fryeburg, Maine and Jensen Beach, Fla., and the originator of The Joe Jones Shop, passed away on Saturday, Feb. 25, 2012 at Maine Medical Center in Portland, Maine from complications of lung disease. Ruth was born May 29, 1922. Ruth was one of nine children of Fred and Gertrude Northrop of Conway, N.H. Her twin brother, Richard, passed away at nine months of age from pneumonia. She graduated from Kennett High School and married her first husband, Joseph A. Jones. In the early 1950s, together they created The Joe Jones Shop, which was located on Kearsarge Street in North Conway, where Hooligans Restaurant now stands. She also kept a rooming house where she rented rooms both in her home and over the shop. Joe Jones passed away in 1965.
Sadly, the shop and home burned in 1968 and she and her second husband, Charles F. Trumbull, moved the Joe Jones Shop to Mechanic and Main Street, its current location. Ruth and Charlie sold the shop in 1973 to the Badger family along with other partners. Ruth became a snowbird and traveled back and forth between Jensen Beach, Fla. and her summer home at Lovewell's Pond in Fryeburg.
Upon the death of Charles F. Trumbull, Ruth became best friends with her neighbor in Fla., Edward J. Connolly and they shared 23 wonderful years, until his death in 2008.
Ruth leaves behind her brother, Willmont Northrop and his wife Delores, of San Diego, Calif.; Ruth's daughters, Jo-Ann Jones of North Conway, N.H. and Carol-Ann Solari of Fryeburg, Maine; four grandchildren, six great-grandchildren; as well as nieces and nephews, her two stepsons, Alan Trumbull and wife Cathy, Fred Trumbull and wife Nancy, and five step-grandchildren. Ruth will always affectionately be known as "Mamie," a name she chose for herself when her first grandchild was born.
Ruth was a very private person, but was always straight forward. At her request there will be no services. In lieu of flowers memorial contributions may be made in Ruth's memory to Eastern Slope Ski Club, P.O. Box 248, North Conway, NH 03860 for the benefit of the Junior Ski program. Arrangements are made with Wood Funeral Home, Fryeburg, ME. Online condolences may be expressed to the family at www.woodfuneralhome.org
Please follow and like us: