Ruth A. Bonney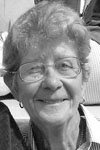 PORT CHARLOTTE, Fla. — Ruth Ann (Bourgault) Bonney, 79, of Port Charlotte, Fla. since 1988 and formerly of Auburn, died unexpectedly from lung cancer on Saturday, June 18, 2011 at Peace River Regional Medical Center with her three loving children by her side.
Ruthie was born on March 7, 1932, in Tilton, N.H., to Raymond and Annie Bourgault. In 1951, she graduated from Edward Little High School, and worked at a variety of jobs, including at Lepage Bakeries and Maine Electronics, and as a waitress and in health care.
Ruthie was a very outgoing person and loved to talk to anyone that she could strike up a conversation with. She loved the ocean, and enjoyed camping with her family, knitting, crossword puzzles, picture puzzles and garage sales. She always had a dog or a cat to keep her company.
Ruthie is survived by her sister, Lorraine Lane; two sons, Ross Bonney of Sabattus and Neil Bonney of Port Charlotte, Fla.; two daughters, Sheila Curley of Bridgton and Marjorie Wilbur of Oakland; five grandchildren; two great-grandchildren; nieces and nephews.
She was predeceased by her parents; and two brothers, Alfred and Richmond Bourgault.
There will be a memorial gathering on Friday, July 22, from 2 to 4 p.m. at Dillingham & Son, 62 Spring Street, Auburn.
In lieu of flowers, please make donations in her memory to Alzheimer's Association National Office, 225 Michigan Ave., Floor 17, Chicago, IL 60601.
Please follow and like us: