Rowena F. Lane
AUBURN — Rowena Foster Lane, 95, of New Gloucester, passed away peacefully on Tuesday morning, Jan. 25, 2011, at the Hospice House, after a period of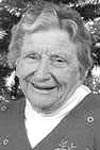 declining health.
She was born in Charleston on April 26, 1915, the daughter of Fred and Ila Foster. She grew up and was educated in the East Corinth area.
She was sister to Frank, Othel, Jocelyn and Freida; the wife of Everett Lane Sr.; and also the mother of nine children: four sons, Hubert of Texas, Frank of Gray, Paul and Everett Jr. of New Gloucester; and five daughters, Marilyn Lovley of Tucson, Ariz., Carolyn Rue of Evansville, Ind., Florence Leduc Merry of New Gloucester, Loretta Kuhn of Tyler, Texas and Darlene Farnum of Sebago.
She was married in 1941, lived five years in the Portland area then moved to New Gloucester, raised her family and spent the last 10 years with her daughter Flo. She worked at the Opportunity Farm and Pineland Center as a cook and dietician. She loved to go to church, travel, crochet, take care of her flowers and be with her family.
She has 22 grandchildren, 27 great-grandchildren and more arriving — including stepchildren and step-grandchildren.
She was predeceased by husband Everett; two grandsons; and brothers, Frank and Othel.
Graveside burial and celebration of her life (all welcome) will be held on May 26, 2011, at 2 p.m., at Brooklawn Memorial Park, 2002 Congress Street, Portland. Arrangements are under the direction of Wilson Funeral Home, 24 Shaker Road, Gray.
In lieu of flowers send donations to: The Hospice House, 236 Stetson Rd., Auburn, ME 04210 or The First Assembly of God, 70 Hogan Rd., Lewiston, ME 04240.
Please follow and like us: