Rosemary K. Wolkoff, 71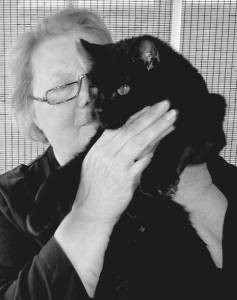 TALLAHASSEE, FLA. —Rosemary K. Wolkoff died on Friday, May 2, 2014, at the Big Bend Hospice in Tallahassee, Fla.
She was born in Superior, Wisconsin, on Nov. 23, 1942, and was predeceased by her parents William and Agnes (Corcoran) Weston, and her brother William.
She is survived by her husband of 32 years, Edwin Wolkoff; her sister Lucy Olson and her brother-in-law Don of Superior; her nephew Adam Olson of Kingsford, Mich., and her sister Jane Weston of Superior. She will also be missed by her three stepchildren, Amy of Belchertown, Mass., Andrew of Turners Falls, Mass., and Ruth of Stinson Beach, Calif.; as well as Ruth's daughter Rose and Amy's sons Zack of Pelham, Mass., and Simon of Belchertown. Also, she was recently predeceased by her beloved cat Minou, who was sustained by Rosemary's devoted care for 23 years!
One of Rosemary's many talents was ice-skating. She performed with a national ice show, touring the country, including Las Vegas and Miami. After she hung up her skates, she became a stained glass artist, joined a cooperative art gallery and taught people how to do it. She was working out of a studio at a friend's resort when she met Ed, whose work as a scientist brought him to Wisconsin from New London, Conn.
Rosemary moved to New London in 1982, and lived there with Ed for 20 years. They got an RV and explored their way to Maine, where they eventually discovered Rosemary's beloved cabin by Woods Pond in Bridgton. In 2002 they permanently moved to the cabin and a few years later they began spending winters in Florida.
Rosemary will be dearly missed by her special friend Jack in Florida, and by her friends in Maine. She enjoyed showering them with gifts and food, especially lobster rolls! She loved to organize social gatherings, and she was a volunteer for the Bridgton Historical Society for a number of years.
Rosemary had a keen appreciation of beauty and the connection between nature and art. She loved to explore the back roads, seeking out galleries, bakeries and scenic vistas. Other pastimes included stenciling, gardening, and making soy candles. She had a passion for hummingbirds, and always kept their feeders full.
A gathering to celebrate Rosemary will be announced at a later date.
Please follow and like us: