Robert S. Tripp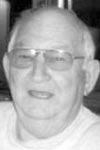 LEWISTON — Robert S. Tripp, 76, of Stoneham, died Monday, Oct. 3, 2011 at Central Maine Medical Center.
He was born in Lewiston on Jan. 17, 1935, the son of Stanley and Rebecca Johnson Tripp. He graduated from Edward Little High School in Auburn.
He had been employed as a machinist at Penney's Machine Shop, Bailey Manufacturing and Sanborn Machine. He loved hunting, motorcycling, snowmobiling and old cars.
He married Geneva Nelson in 1985.
He is survived by his wife of Stoneham; two daughters, Tammy White and Becky Tripp; a son, Bobby Tripp; three stepsons, Craig, Gary and Ed Millett; a stepdaughter, Carol Davis; two brothers, Bill Tripp and Neal Tripp; and many grandchildren, great-grandchildren and nephews.
Graveside services will be at the convenience of his family at Pine Grove Cemetery in Poland. Arrangements are under the direction of Chandler Funeral Homes & Cremation Service, 26 West Dwinal Street, Mechanic Falls.
Please follow and like us: