Robert O. Kilkenny
TOGUS — Robert (Bob) Wayland Orie Kilkenny, 67, of Lewiston, passed away peacefully on Dec. 30, 2010, at Togus Veterans Hospital with his family by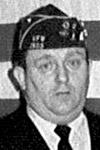 his side.
Bob was born in Farmington, Aug. 20, 1943, the son of John Russell Kilkenny and Charlene (Sprague) and George Bachelder.
He attended Wilton schools and later served 14 years in the U.S. Army including two tours in the Vietnam War from 1967 to 1969 and the Korean Peninsula from 1969 to 1978.
Bob was also a lifetime member of the VFW Post 1603 serving as commander from 1988 to 1989.
For several years, Bob worked for the Auburn Police Department as Animal Control officer. He retired from Hartt Transportation as a truck driver.
Bob, his sons, and several family members, enjoyed NASCAR, fishing, camping, and many outdoor activities together. He especially enjoyed listening to country music with his wife at numerous jamborees they attended over the years.
Bob was married in Hebron on April 13, 1985 to Linda Donahue Kilkenny, who survives him.
He is also survived by his two sons, John and Lawrence Kilkenny, both of Lewiston; stepchildren, Stephen Harrington Sr. of Hebron and Sherry Corbiel of Harrison; five grandchildren; one great-granddaughter; a brother, Carrol Russell Kilkenny of Jay; a sister, Sandra Hammond of Rumford; and several nieces and nephews.
He was predeceased by an infant son, Robert Kilkenny; his parents; and a very special grandmother, OlIa Brown of Kingfield.
Committal prayers followed by military honors were held Jan. 6 at the new Maine Veterans' Cemetery, Mount Vernon Road, Augusta.
Memorial donations in Bob's memory may be made to the Greater Androscoggin Humane Society, 55 Strawberry Avenue, Lewiston, ME 04240.
Arrangements by Dillingham & Son Memorial Chapel, 62 Spring Street, Auburn.
Please follow and like us: