Robert L. Flint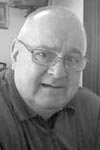 HARRISON — Robert L. Flint, 70, of Harrison, was called home by his Heavenly Father, at his residence on Thursday, July 21, following a two-month illness.
He was born in Portland, Dec. 31, 1940, the son of Pascal and Inez Reed Flint. A lifelong member of the National Rifle Association, he was the youngest child in Maine at age eight to be classified a marksman.
A graduate of Deering High School, Class of 1959, he also attended Palmer Chiropractic College in Davenport, Iowa, and served in the U.S. Air Force, ultimately as a marksmanship instructor and in military intelligence.
He had a lifelong love of music, and played the guitar and several other instruments and rocked Maine as a member of the Kingtones, a rock and roll combo and as founder of several country-western groups from the late 1950s to the early 1980s. For a period of time, he was involved in the automotive industry having worked for Soule Auto Sales, Maine Mall Auto Sales and Rowe Ford, all in the Portland area.
On Nov. 11, 1988, he married the former Claire I. Comeau. He owned and operated Great Falls Professional Services for 15 years specializing in business consultation and has been a distributor of Amsoil products for 20 years.
He is survived by his loving wife, Claire, of Harrison.
He was predeceased by his parents and his brother, Richard.
Visitation will be held at the funeral home on Friday, July 29 from 6 to 8 p.m., and Saturday, July 30 from 9 to 10:30 a.m., followed by a service in the Chapel of the Basilica of Saints Peter and Paul. Interment, St. Peter's Cemetery. Donations may be made in his memory to Androscoggin Home Care & Hospice Services, 15 Strawberry Ave., Lewiston, ME 04240. Albert & Burpee Funeral Home.
Donations, condolences, and a photo tribute may be accessed online at www.albert-burpee.com
Please follow and like us: