Richard W. "Dick" Andrews, 76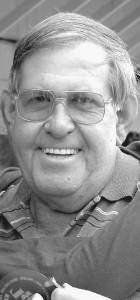 FRYEBURG — Richard W. "Dick" Andrews, 76, passed away unexpectedly on Thursday, Oct. 4, 2012, at his home in West Fryeburg.
Dick, the son of Phillip G. and Eleanor Priest Andrews, was born at home on April 30, 1936 at his family's farm in Stow. He attended Fryeburg elementary schools and then Fryeburg Academy, proudly graduating with the Class of 1954. While at Fryeburg Academy, he was a member of 4-H and the Future Farmers of America. He attended the University of Maine at Orono for a brief time, majoring in agriculture.
He, his parents and brothers and sister, owned and operated Riverside Farms in North Fryeburg, which at one time was the largest dairy farm in the state.
Dick married Marilyn Bennett in 1957 and they had four children. Dick and his family left Riverside Farm when he and Marilyn started their own farm in Fryeburg Harbor. Dick left active farming in 1969 and went to work for the Oxford County Sheriff's Department and became the Chief Deputy Sheriff. He loved his law enforcement days and was pleased later in life to be featured in the book, "Vacationland" written by David E. Morine. Morine recounts, with a mixture of humor and drama, meeting Dick as the local sheriff when Morine's cabin on Kezar Lake was rented by burglars. Dick went on to work for Bailey Manufacturing and was the Mountain Manager at Pleasant Mountain Ski Area.
In the 70s, he began Andrews Associates, an excavation and building company, and operated it until the time of his death.
Dick was the Head of Public Safety and Police at Fryeburg Fair and was the longest active employee, serving 55 years. He began his policing and security activities at the Fair, riding the perimeter of the fence on horseback in the 50s. The Fair was a huge source of pride for him, and a place that combined his love of agriculture and farming with a large group of his best friends and associates. Dick worked at the Fair up until the day before he died.
He was a gardener, a lover of animals, a generous and kind person, and especially appreciated social time with his many friends and family.
He was a member of the Pythagorean Lodge of Masons in Fryeburg, the Fryeburg Lions Club, and was a member of the Town of Fryeburg's Budget Committee.
Dick was predeceased by his brother, Gordon Andrews.
He is survived by his children, Rachel Andrews Damon of Fryeburg and partner, Jeff Bartlett, of Denmark; Richard Andrews II of Fryeburg; Mark Andrews and his wife, Mariam, of Austin, Tex.; and Elizabeth Andrews of Fryeburg; son-in-law, Keith Damon of Conway, N.H. and partner, Kimberlee Daley; grandchildren, Bailey Damon, Bennett Damon and Tai Andrews; brother, Roy Andrews and his wife, Duddie; sister, Pat Andrews Hofmann and her husband, Roger; sister-in-law, Audrey Andrews; two close cousins, Barbara Harrigan and Judy Harrigan; nephews, John Andrews, David Andrews and his wife, Jean, and Andrew Hofmann and his wife, Annette; nieces, Christine Andrews Estes and husband, Craig, and Cynthia Andrews McAllister and husband, Ormie; his first wife, Marilyn Bennett and partner, E. Harlan Bartlett; his second wife, Rozamond Manwaring, his companion, Millie Naylor, and close friend, Cathy Trumbull. As well, Dick left a very long list of close friends gathered over his lifetime.
A celebration of Dick's life will be held at the Fryeburg Fairgrounds' Specialty Foods Pavilion on Friday, Oct. 12 at 4 p.m. All are welcome.
Memorial contributions may be made to Fryeburg Academy or Fryeburg Rescue.
Please follow and like us: