Reflections with a small-town doctor — Dr. Gene Royer
By Rachel Andrews Damon
Special to The News
FRYEBURG — When Dr. Gene Royer and his wife, Vicki, arrived in Fryeburg in the mid-80s to visit college friend and Fryeburg physician, Dr. Reuben Bell, they fell in love with the area.
The two physicians had been classmates in medical school. Dr. Bell had been president of his class and Dr. Royer was vice president at Oklahoma's College of Osteopathic Medicine and Surgery in Tulsa.
"We really loved the area and were ready for a change. Reuben needed help and so the trip was meant to be," Dr. Royer said.
Gene Royer had been a great student and athlete back in high school in Indiana. He went on to attend Purdue University, where he met fellow student, Vicki Berger, the woman who would become the true love of his life.
Vicki says, "Gene had a beard and a motorcycle and that did not go over well with my parents."
Gene adds, "Much to their dismay we got married anyway. We knew it was going to work."
As students, they were married in September of 1971 less than a year after meeting. Gene was majoring in psychology and civil engineering and at the same time held jobs at St. Elizabeth's Hospital and Purdue's Aerospace Library. After graduation, he took a job as a technical writer for the company Holiday Rambler based in Indiana.
"I liked it and they were great to me but I had always wanted to become a physician and that dream was becoming clearer. I hadn't thought it possible because we were not wealthy people and I really didn't have the time for leaving the work world to attend medical school. But finally, I just determined that I'd do it. I learn easily and knew it was possible for me. I wasn't afraid to jump right in," he said. "We moved to Tulsa and from 1976 to 1979, I attended the accelerated program at Oklahoma College of Osteopathic Medicine and Surgery. It was a three-year program with no time off. At night, I worked for a local ambulance service. If I had a big exam, I would dispatch and study in between taking calls."
After graduating with honors, Dr. Royer began his internship in Muskegon, Mich.
"A requirement was that I had to deliver 50 babies in order to graduate and at one point I was on the staff at three hospitals. No problem!" he recalled.
His first private family medicine practice was in Hesperia, Mich., as well he was moonlighting in emergency rooms.
"Gene was working 90 hours a week and we had four kids at home. Life was crazy! He often made house calls. There was 24% unemployment in Michigan back then and Gene sometimes got paid with maple syrup, fish, chickens, cords of wood. And, we didn't even have a fireplace or woodstove!" Vicki noted. "Gene always helped people. He has always felt strongly, and still does, that medical care should be affordable."
In 1986, Gene and Vicki Royer and children Dale, Mark, Anna and Lori, moved permanently to the old Walker home on Main Street in Lovell. Dr. Royer went into practice with Dr. Bell on Main Street in Fryeburg. In the years to follow, Dr. Royer became the sole owner of the practice.
"Eventually, I sold to Bridgton Hospital and became their employee. They built the new offices of Fryeburg Family Medicine on Route 302 about 15 years ago. I've been with them until last month," he said.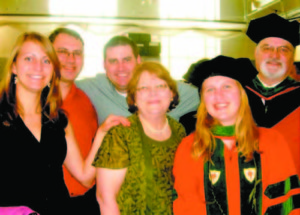 Dr. Royer's Fryeburg patients will have to drive further to see him now. And the vast majority of them will. He is a very respected and trusted physician. Now 68 years old, it would seem he's just getting started. His vast knowledge and comprehensive medical skills were gained before the profession became more segmented and specialized.
With his typical care and concern, Dr. Royer reflects on his practice, "I always tell my patients they can inherit things, diseases and tendencies, and you need to protect yourself from those. The ones you don't inherit, don't start. Like smoking, addictions, bad diet, etc. Stay active always. People say they work too hard. It's not working too hard that is bad for you, it's sitting around that's bad for you."
Dr. Royer says he has particularly enjoyed the people of Fryeburg.
"Their attitudes are different than in the Midwest. People around here are more self-aware, more self-capable and independent. They're not afraid to go out and do things on their own. It has been very gratifying to help people make their lives better," he said. "It has been very emotional to leave after 30 years, but I'm not going far away. From my house in Lovell to Porter is 27 miles. I like it very much at Sacopee Valley Health Center. We are partially federally funded and are able to offer quite a lot."
He adds, "Some of my patients in Fryeburg have been with me for my entire time in Maine. I've cared for their children and grandchildren, as well. I have really enjoyed being part of their lives."
Please follow and like us: