Ralph D. Gatchell
WATERFORD — Ralph David Gatchell, 62, of Waterford, died Friday, March 11, at his home.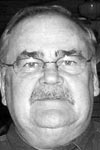 He was born on March 2, 1949, in Lewiston to Milton and Betty Hodsdon Chase. Ralph attended Oklahoma Baptist College, Francis Marion College and the University of Tennessee, studying chemistry and mathematics.
He worked as an arson investigator and then as an insurance adjuster for Colonial Adjustment in Westbrook. Ralph was a member of Mt. Tirem Masonic Lodge in Waterford.
He is survived by his son, Christopher Gatchell; his daughter, Kaitlynn Gatchell; his mother, Betty Penland and her husband, Arthur; and a sister, Sharon Theriault.
Online condolences may be shared with his family at www.chandlerfunerals.com
A memorial service was held yesterday, Wednesday at Chandler Funeral Home and Cremation Service, 45 Main Street, South Paris.
In lieu of flowers, donations may be sent to the Greater Androscoggin Humane Society, 55 Strawberry Ave., Lewiston, ME 04240.
Please follow and like us: