Raider Profile: Trevor Henschel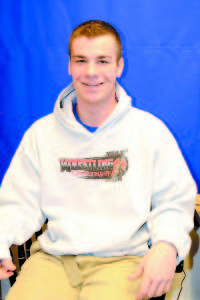 What's your name?  Trevor Donald Henschel.
Where are you from?  I've lived in Lovell all my life!
Who are your people?  My mother is Kara Kiesman Henschel.  She went to FA, Class of '81 and works as a dental hygienist at  Dr. Ieni's office in North Conway.  My father is Mark Henschel.  He is a chef at Bridgton Hospital.  I have one sister, Ashley, a junior at UNE studying dental hygiene.  She graduated from FA in 2011. My grandparents are Donald and Claire Kiesman, they live in Fryeburg, My other grandparents are Bob and Charlene Coakley, they live in Massachusetts.
Are you a good student academically? Yes.  I am an honor student.
What about athletics at FA?  I am on the baseball team and play mainly shortstop and second base, although I've played most every position.  I was on the cross-country team my junior year to train for wrestling, which is my main sport.
You have just won a state championship, right?  Yes, I won the Maine State Class B title this year in the 182-pound class.
Don't you have to do crazy diets when you're a wrestler?  No crazy diets this year.  But I did have to lose 23 pounds my freshman year to secure a varsity spot. Not the healthiest experience. My sophomore year, I had to lose 15. This year only 10. I have a lot more energy after weight loss.
Oh, do tell how you lose weight?!  Basically, I watch my carbohydrate intake and obviously I have to watch how much sugar I eat.
Obviously? Yes, I eat a lot of eggs and salad and an abnormal amount of water. It flushes out all the bad stuff.
Okay, back to wrestling, what's your record? My season record is 43 wins and 4 losses.  Two of those losses were to the same guy I beat seven times. My high school accumulative win record is 93 and I look forward next year to reaching the milestone of 100 wins.
What is the key to your wrestling success?  I have a really good coach. I've been wrestling under Coach Bryce Thurston since first grade. I also have great teammates to partner with here, Angel Escalante, Willie MacFawn and Mike Dandenau. You have to have a lot of determination and perseverance.  I don't like to lose. And even if I'm losing, I keep going. Multiple times I've been predicted not to win or been down and it's just been pure determination to win. I've been wrestling a long time and it's about quickness and strength and what's in your head. Peoples' concept of wrestling is that it's pure strength but it is very much a mind and technical sport. My semi-final match was against the kid expected to beat me. I went all out and pinned him in less than two minutes.
What do you have to say about the WWE?  (After laughing)…. I'm guilty, I watched it when I was younger. It doesn't give wrestling a good perception. It's just not the same thing and it's really, really fake.
How about clubs and other extracurriculars at FA?  I am treasurer of Student Council for my class. I am also a member of the Daniel Webster Society, which gives tours to potential FA students from other places.  I am a third year Latin student and a member of the Latin Club. I'm a member of the youth group with the United Church of Christ in Lovell. I have been involved in Interact since my freshman year. I am also in Raider Patrol. During the summer, I'm a counselor with the Fryeburg Rec Department. We go on field trips and do different things.  I grew up in Lovell and went on all the field trips and looked up to the counselors. I do lots of the sports-oriented events with the Rec kids.
How about hobbies?  I wakeboard and swim and love being on the water. Kezar Lake is just a few minutes from my house. I like golfing, but don't do it that much. I like bowling and hanging out with friends. And I collect $2 bills!
Who are your favorite teachers at FA? I'd say Mr. Frost and Ms. Gilman. I really like math and baseball, Mr. Frost teaches math and coaches baseball. He is such a good, cool guy and very down-to-earth. I think he's one of the best teachers here. Ms. Gilman has taught me a lot about English.She's been a really great teacher; I haven't had her since freshman year but she is currently teaching my SAT prep class. She is really funny and more educated about Major League Baseball than I am!
What's your favorite book?  I don't have a lot of time to sit down and read for pleasure although I really enjoyed "The Hunger Games."
What music do you like?  Basically everything, but country. I like Jack Johnson. I like some rap, but not if it's degrading to women and full of crude language. I also like pop music.
What's your favorite movie? I like action movies and comedies, anything with Will Ferrell, like "Anchorman."  I liked, "Death Race," but it's pretty violent. I watch a lot of Netflix and really like the series, "Breaking Bad" and "Dexter."
What does your future hold?  Well I'm only a junior, but I think I want to go to UMaine for mechanical engineering. I like math and science a lot. Over the summer, I'm hoping to get into a program working with engineers to learn what it's all about. I've actually been thinking a lot about my future lately. I think I want to get out of Maine, but when I have a family and settle down I want everything Maine has to offer. In the meantime,  I want to experience other things outside of Maine. I love this state. I don't hunt or fish, but I love the summer and the smallness of it. I love the Academy because it's so diverse and I've made so many friends from everywhere. I want to explore the world. Having the diversity of Fryeburg really opened up my desire to see more…and experience more.
Please follow and like us: