Raider boys gain some payback with win over Lakers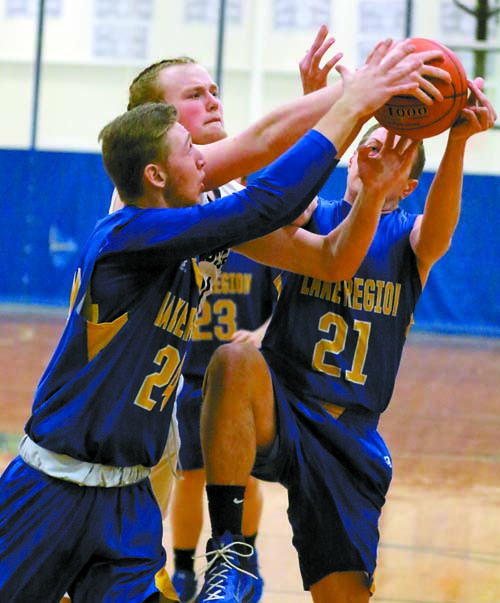 By Wayne E. Rivet
Staff Writer
FRYEBURG — Maybe Oscar Saunders has a little Michael Jordan in him.
Being a "little under the weather," Fryeburg Academy's senior point guard put on a show with the game on the line Tuesday night, scoring nine straight points to squash a third quarter Lake Region rally as the Raiders rolled to a 55-46 victory on Senior Night.
Saunders recorded a game-high 23 points, including a pair of 3-pointers and seven foul shots, as Fryeburg Academy snapped a five-game losing streak and avenged a late December loss to the rival Lakers.
FA Coach Sedge Saunders was happy to see Oscar bounce back from a sub-par showing in Naples, and turned in the kind of performance the Raiders (7-10) need if they are to go deep into the upcoming Class A South basketball tournament.
"That's why I was so frustrated at Lake Region because there is no excuse for him not to play like that. When he plays like he did tonight, he's as good as anyone in the league. When he's passive or defers to someone else, he's not doing us any good. He was a little under the weather, so maybe he's a little like Michael Jordan that he plays better when he's sick," Coach Saunders said. "It was good to see on Senior Night. He's been playing for four years, and tonight, he gave us exactly what we needed. I am proud of him, and hopefully, he can keep it going."
The win pushed the Raiders into the #6 playoff spot. If the season ended right now, FA's playoff opponent would be Falmouth, but a whole lot could change depending on the regular season finale, which sees the Raiders traveling to Greely to face the top-ranked Rangers (14-3).
Entering Tuesday's home finale, Coach Saunders felt his team had to stop the Lakers' top threat, senior center Mark Mayo.
"In the other games, it was mainly my fault for not making it a priority to shut down the big gun of the other team. Against Freeport, we were alright, but against G-NG, we didn't take Martin out like we should have. Against Greely, we didn't take out Bagshaw like we should have. It's been a problem. You have to take the other team out of their comfort zone, and we hadn't been doing that," Coach Saunders said. "Tonight, we said there was no way that we were going to let (Mark) Mayo take over this game, which he is capable of doing. He is one of the best low post players in the league. He's a handful. So, we put Tucker Buzzell on him because we don't have anyone else who can get around him, and Tucker is strong enough and quick enough to cause him some problems. That was the priority, shutting down Mayo and not letting #22 (Evan Willey) get going, and being efficient offensively. We wanted to press a little, maybe cause some trouble because Lake Region doesn't handle pressure well — that's been their Achilles heel."
As expected, both clubs opened the game with a lot of energy as play raced back and forth. LR took a quick 4-0 lead as Derek Langadas found open looks with the Raiders placing a lot of attention on Mayo.
"We still ran our offense, and with them focusing on Mark (Mayo). It gave other guys opportunities. Derek (Langadas) had a couple of quick baskets early, and then there was some foul trouble for him. He did get some easy looks in the post," LR Coach John Mayo said. "Foul trouble hurt us. Having Mark on the floor, he occupies space and people, which makes it a little easier for his teammates — those are the things that people don't see. We're fine with other people shooting the ball and scoring."
A 3-pointer by Nate Knapp and a nifty drive, foul and free throw by Saunders put the Raiders up 6-5. Off a turnover, Tucker Buzzell shifted into overdrive and beat his defender for a layup, and Knapp followed with a runner in the lane as the Raiders took a 10-7 lead.
The Lakers (4-13) responded with an Isaac Holland 3-pointer to tie the game. One game official nearly wore out the bead inside his whistle as the foul count reached 12 (six per team) with 3:08 left in the first period. Holland put the Lakers up 11-10, but FA rallied to close out the quarter as Knapp connected on a baseline jumper and Saunders scored off a fastbreak layup.
FA 14, LR 11.
Turnovers and foul calls seemed to take both teams out of a scoring rhythm in the second. LR went up 18-16 as Evan Willey drained a 3-pointer. FA regained the lead as Knapp answered with a 3-ball from the left corner, and later added a pair of foul shots as the Raiders entered the half up 25-21.
FA seemingly set the tone early in the third, attacking the lane and opening up an eight-point lead. The Lakers closed the gap with some pin-point passing by Holland, who zipped the ball inside to Langadas, who tallied six straight points to cut the deficit to four.
Then, the Big O went to work for the Raiders. He had a step on any defender the Lakers tried to match up with him, resulting in strong takes to the rim. If the defense backed off, Saunders was content to pull the trigger on a deep ball, nailing a 3-pointer to put the Raiders up 40-33. During the nine-point scoring surge, Saunders showed he was fired up with a burst of emotion that fired up his teammates and Raider Nation. He added another trey to close out the third quarter with 2.3 seconds left as FA took control, 47-35.
"Oscar had a run which he took over the game. He's that type of player. He was focused and really looking for his shot. We tried to play no help on him to keep (Tucker) Buzzell and Knapp in check," Coach Mayo said. "In the first half, he found (Nathan) Knapp, who hurt us again (Knapp finished with 15 points). We went to a zone for a while, but they figured it out so we had to go back to man."
If there was one negative on the night for the Raiders, it was the team's foul shooting down the stretch. FA went just 4-of-10 from the charity stripe, but their defense continued to force turnovers, resulting in a 15-point spread halfway through the final quarter.
"(Turnovers) have plagued us all season, but we always battle back. Tonight, it compounded quickly — end of the half, end of a quarter. It's a couple in a row, instead of one here and there, that's what turned the game tonight. It was timely," LR Coach Mayo said.
It was a satisfying win for the Raiders, who avenged a four-point loss to the Lakers in late December.
"It doesn't matter what happened before because any time we get together, it's going to be a battle. It doesn't matter what the records are. We know Lake Region has had some tough times and some tough losses, but they came out and battled tonight. Mark Mayo has had a great career, and I'd like to see him finish with something positive," Coach Saunders said. "It's always a good game."
Coach Saunders hopes his club can continue to turn it up a notch.
"No doubt about it, this group likes to compete. You're looking at four seniors who play three sports for four years now, and I think they hit a bit of a wall. We don't have a lot of depth, so at times, I understand that they don't have as much in the tank as they would like. But, you could tell tonight, they were ready and they gave it their all. When they play with that type of energy and passion, they're pretty good," Coach Saunders said. ""The big goal for us is always to play a little better the next time. Last year, that was the case. We played really well down the stretch. Tonight, it was a step in the right direction. Now, we have to go to Greely, and we have to play well and just focus on that. And then, we'll have some time to prepare. We have to go back to the basics and focus on the little things that will allow us to compete with whoever we are matched up with. We need to push ourselves."
Stat Lines
FA scoring: Oscar Saunders 23, Nathan Knapp 15, Reece Kneissler 8, Tucker Buzzell 7, Eloi Terricbras 2.
LR scoring: Derek Langadas 12, Mark Mayo 10, Liam Grass 9, Evan Willey 7, Isaac Holland 3, Noah Neal 3, Dawson Smith 2.
Turnovers: LR 25, FA 15
Free Throws: LR 9-16, FA 13-23
Field Goals: LR 15-42, FA 19-43
3-Pointers: LR, Holland, Neal, Willey; FA, Knapp (2), Saunders (2).
Please follow and like us: