Rachel E. McNally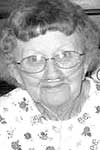 AUBURN — Rachel E. McNally, 88, of Lewiston, died Thursday, Dec. 22, 2011 at the Hospice House of Androscoggin Home Care and Hospice.
Born in Denmark, on April 20, 1923, she was the daughter of Jesse and Alvina Richardson Kenison. Educated in Bridgton schools, she was a graduate of Bridgton High School, Class of 1940.
On Oct. 6, 1940, she married Frederick McNally, who passed away on Nov. 29, 1991. She worked several jobs over the years, including serving as bookkeeper for her husband's business, and spent several years working at J.C. Penney, where she enjoyed her co-workers' company. An accomplished pianist, she played the piano at the former Warehouse Restaurant in Lewiston for many years.
A devout Catholic, she was active in the Queen's Guild and served as a sacristan in St. Joseph's Parish.
Survivors include three sons, David of Warwick, R.I., Francis of Windham and Gerard of Lewiston; three grandchildren; and two great-grandchildren on the way.
Besides her parents and husband, she was predeceased by a brother, Larry Kenison; and a sister, Olive Hartford.
Condolences and donations may be accessed online at www.albert-burpee.com
Visitation will be held at the funeral home from noon to 2 p.m. on Thursday, followed by a service at 2 p.m. Interment will be in the spring, Forest Hills Cemetery, Bridgton.
Donations may be made in her honor to the Androscoggin Home Care and Hospice House, Development Department, 15 Strawberry Ave., Lewiston, ME 04240.
Please follow and like us: