Priscilla F. Pouzol
BANGOR — Priscilla Frechette Pouzol, 88, of Lewiston, died Sunday, Sept. 5, 2010 at St. Joseph's Hospital in Bangor following a long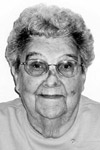 illness.
She was born on Nov. 17, 1921, a daughter of Achille and Angelina (Bergeron) Frechette.
Survivors include two sons, Gerald Pouzol of Bridgton and Philip Pouzol, of Orrington; three grandchildren; one great-grandson; her two nieces; and a nephew.
She was predeceased by her husband, Gerald Pouzol.
You are invited to share your thoughts, condolences and fond memories with the Pouzol family by visiting their guest book at www.thefortingrouplewiston.com
Visitation was held at Fortin Funeral Home in Lewiston on Monday, Sept. 6. A Mass of Christian burial was celebrated at Prince of Peace Parish at The Basilica of Sts. Peter and Paul Chapel on Monday, Sept. 6. Committal will be held at a later date at St. Peter's Cemetery.
Those wishing to make donations in her memory may do so to St. Joseph's Hospital, 900 Broadway Street, Bangor, ME 04401-1900, or the Maine Veterans Home in Bangor, 44 Hogan Road, Bangor ME 04401-5602.
Please follow and like us: