Priscilla Bassett Johnstone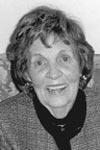 HOLIDAY, FLA. AND BANGOR – Priscilla Bassett Johnstone passed away Sept. 16, 2011, in her home, with her loving family at her side. Priscilla was born March 8, 1929, in Lovell, the daughter of Jack and Edna Bassett, and was the wife of Russell E Johnstone. She graduated from Fryeburg Academy, and was a member of Lovell United Church of Christ and Ladies Auxiliary. She worked for the U.S. Postal Service, Center Lovell, becoming postmaster — a position she held until her retirement. Priscilla was a loving and supportive wife, mother, grandmother, aunt and friend. She was a generous and strong woman with a wonderful sense of humor.
She is survived by her son, Russell Johnstone Jr. and wife, Roberta "B.J.," of Old Town; daughters, Jill Jutras and husband, David, of Poland, Jayne Libbey and husband, Dennis, of Bangor, and Jacalyn Fearon and husband, Paul, of Gorham; sister, Beryl Hull of Braintree, Mass.; brothers, Jack Bassett and wife, Beverly, of Lovell, and Walter Bassett; grandchildren, Jenny (Johnstone) Murphy and husband, John, Jessica Libbey, Bethany (Johnstone) Tocci and husband, Michael, and Justin Libbey; great-grandchildren, Patrick Murphy, Jack Murphy, Ryan Murphy and Charlie Tocci; nieces, Brenda (Bassett) Cookingham and her husband, Russell, and Marlane Bassett; and nephew, Bruce Bassett. In addition to her parents, she was predeceased by her husband, Russell Johnstone; and sister, Beverly Mackay.
At her request, a private service will be held at a later date. Her family asks that donations in Priscilla's memory be made to Hospice of Eastern Maine, 885 Union St., Bangor ME 04401, thanking them for all their help, love and compassionate care.
Please follow and like us: