Player of the Week: Wes Sulloway
By Wayne E. Rivet
Staff Writer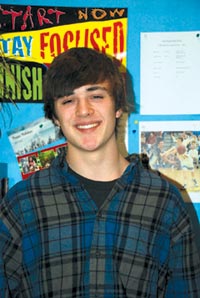 When Lake Region alpine ski coach Jaime Fontaine had to consider whom to nominate as her player of the week, Wesley Sulloway seemed to be the natural choice.
"Wesley is our team captain this year, and he is a very well-rounded skier," she said. "He has taken on a leadership role with the younger racers. He is working with them to help improve their form."
In recognition of his strong work ethic, determination, commitment and good sportsmanship, Wesley is this week's Boosters and Hancock Lumber "Player of the Week." Each week, a Lake Region athlete is recognized for his/her dedication (does more than what is asked), work ethic, coachability and academic good standing. Recipients receive a specially-designed t-shirt, sponsored by Hancock Lumber.
The Sulloway File
Name: Wesley Sulloway
Year in School: Senior
Town: Bridgton
Parents: Brook and Misty Sulloway
School Activities/Sports: Soccer, alpine skiing, tennis, golf
Q. Why did you choose skiing? WS. I have been a skier my entire life, so racing for my school and getting to ski almost every day sounded really exciting to me.
Q. What do you hope to accomplish this season? WS. I would really like to finish almost all of my races without falling. Falling on your run is a real bummer because it basically just throws away all of your hard work and preparation in just a few seconds.
Q. What do you enjoy the most? WS. The thing I enjoy the most is probably just getting to ski four more days a week. Between races and training, we get a lot of snow time and every moment out there is a good one for me.
Q. What do you like the least? WS. Since we race at night, it gets really cold at race time, and our light aerodynamic suits don't help too much. Being cold is no fun.
Q. What makes you successful? WS. When I am racing, I always try to just stay focused and have fun. I feel that this helps me a lot.
Q. What would your dream moment be? WS. It would be amazing for me if I could get Top 10 and get announced at Western Maine's or States.
Q. What has skiing taught you? WS. It has taught me that there is always room for improvement. I could work forever on my turns on the race course and still be far from perfection.
Q. Who has inspired you? WS. Charles "Chachi" O'Brien. He definitely has the biggest passion for skiing I have ever seen. From staying up all night making snow to coaching us high school kids to shredding huge Alaskan powder lines, Chachi absolutely loves skiing. I'm bummed that knee surgery will unfortunately be keeping him off skis much more than he would like this year.
Please follow and like us: